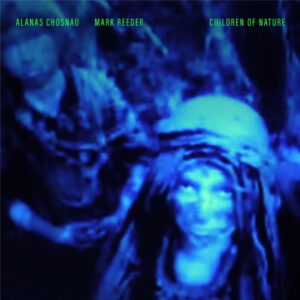 Mark Reeder first met Alanas Chosnau at the Lithuanian International Film Festival in 2015.
Chosnau was born to a Lithuanian mother and Iraqi-Kurdish father, growing up in Baghdad before returning to Lithuania to be raised by his grandparents in what was then part of the Soviet Union.
When The Iron Curtain came down, he became the singer of the DEPECHE MODE influenced duo NAKTINĖS PERSONOS before embarking on a successful solo career and becoming a national celebrity.
Meanwhile Reeder's musical past of bringing JOY DIVISION to perform at Kant-Kino in Berlin, introducing NEW ORDER to electronic dance music, co-managing DIE TOTEN HOSEN and establishing the MFS label which introduced Paul Van Dyk to the club masses is well documented.
Attending the screening of Reeder's documentary film about his life before the fall of the wall 'B-Movie (Lust & Sound in West Berlin)', Chosnau connected with what he saw and sharing some common ground, the two discussed working together.
Reeder remembered: "Alanas wanted to make an album in English, an album that reflected upon a time when he was a kid growing up in the Soviet Union, and not able to absorb the sounds of synthpop coming from the West". So the pair conceived to make a retro-modern sounding album evoking an illusion of a creative music era that was initially denied to Soviet citizens, while simultaneously presenting a record for today. That record being 'Children of Nature'
.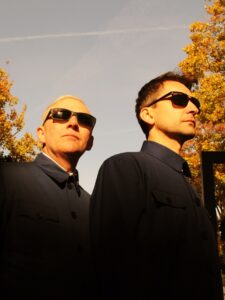 'How Do You Feel?' is a fine start, with cimbalom samples amongst the steadfast programmed electronics for an authentic Eastern European flavour. Hinting at a circus of death with its stark rhythmic swing punctuated by white noise, 'Fade On' comes over as more texturally resonant than much of DEPCEHE MODE's output in the 21st Century.
Reflecting the worldwide lockdown, 'All Alone' uses a classic four chord progression shaped by sequencers, chilling string synth and a midtempo Compurhythm. And when Chosnau emotively asks "Does anybody feel the same way like me?" in a chillingly forlorn manner recalling Peter Heppner of WOLFSHEIM, it captures the physical and mental emptiness of solitude.
Raising the tempo, the 'Children of Nature' title song uses a lively percussive lattice for some appealing Europop with a spy drama edge bolted on, thanks to some NEW ORDER derived six string and trancey keyboard stabs.
Meanwhile, bathing in an atmospheric lake of OMD allows Chosnau to provide what can only be described as a heroic start to 'Drowning in You'. As the Synare lightning crashes point south of Berlin to Vienna, it all paces up with a splendidly uplifting second half that vocally recalls 'I Feel It' by LORRAINE, a lost Norwegian band whose artwork was designed by Peter Saville.
The guitar based intro to 'Stand Up' provides a chromatic spin and Chosnau's diction suits the dark but rousing backdrop that could be interpreted as a call to arms for resistance. Despite some sparkling synths, 'Tonight' though doesn't quite hit the heights of the impressive run of tunes gathered in the first half of the album.
But Reeder revisits his SHARK VEGAS past by dusting off 'I Can't Share This Feeling', a previously unreleased number from a period when his combo opened for NEW ORDER; with a solemn electronic bassline and minimal fretwork, it rings with a nostalgic air of longing despite a wall blocking the passage of love.
'It's Who You Are' sees Chosnau in a spiritually majestic mood with Reeder's sparse synth and guitar backing not that far off Brian Eno-produced U2 numbers such as 'With Or Without You' or 'Promenade'.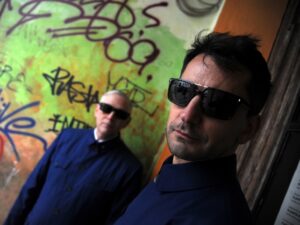 Hypnotically rigid, 'Love of My life' is perhaps more typical of Mark Reeder's 'Reordered' restylings for BLANK & JONES and perfect for a European dancefloor.
Continuing the club friendly vein, 'Heavy Rainfall' could be a grooving NEW ORDER disco number with Reeder's rhythm guitar syncopating off an exquisite range of electronic patterns while some spacey magic flies within the soundspace.
With a further reflection on the worldwide lockdown, 'Losing My Mind' is the cinematic number that Chosnau and Reeder contributed to the French Cold War movie 'Le Chant Du Loup'. Its sonic arrangement wouldn't have sounded out of place on a Bond film soundtrack, especially with the virtual brass ensemble and string cascades. And when the cimbalom solo kicks in, a widescreen vision of Maurice Binder's iconic title sequences cannot be avoided.
After Chosnau announces "Everybody wants to feel love", 'A Loving Touch' has looming vocal topline references to Shannon's 'Give Me Tonight', while its catchy tech-house template is not unlike the work of the Hungarian DJ Corvin Dalek, a past collaborator and close associate of Reeder.
Chosnau offers some confessional yearning on 'Heartburn' to close and the entry of piano motifs over a minimal arpeggio and sparing guitar before synthetic strings sweep towards the horizon with the sombre demeanour of a less apocalyptic take on Gary Numan's 'My Last Day'.
As Mark Reeder and Alanas Chosnau have outlined, 'Children of Nature' is a reflection of their personal experiences and hopes for the future. But while the album has a melancholic air, it is optimistic and hopeful. It is a record that does not hide its multi-generational influences, but uses them to present quality songs with superlative vocals and sympathetic instrumentation, marrying East and West European approaches.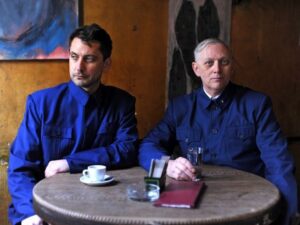 Surmising the context, Reeder concludes that: "Over the decades, solitary dancing in a club has become the norm. After months of isolation, to be dancing and the desire to hold and touch each other is probably even greater than before. Dancing on your own is no longer an attractive prospect and that will change once the clubs reopen again. Maybe people will appreciate what that feeling is like to actually hold someone in your arms on the dancefloor?"
Because this album has been made by two people who personally experienced the divisive spectre of the Cold War head on, 'Children Of Nature' symbolically captures that emotion of desiring love and intimacy in isolation, something that is very relevant in these strange times.
---
'Children of Nature'
is released by MFS on the usual digital platforms including direct from Bandcamp at https://markreeder.bandcamp.com/album/children-of-nature
https://www.facebook.com/alanaschosnau/
https://www.instagram.com/alanaschosnau/
https://www.facebook.com/markreeder.mfs/
https://twitter.com/markreedermfs
https://www.instagram.com/markreeder.mfs/
https://open.spotify.com/album/6QinQBH8STYT86s59YRO8t
---
Text by Chi Ming Lai
Photos by Martyn Goodacre
26th May 2020