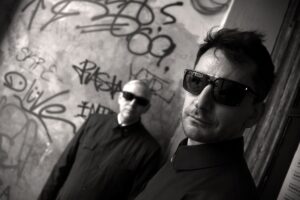 The worldwide lockdown has produced a number of fitting and poignant musical responses from muscians and artists.
SNS introspectively told of their 'Small World', while Zachery Allan Starkey was much fiercer in his appraisal as he reflected in collaboration with Bernard Sumner on how New York had become 'Fear City'
The latest song on the topic is 'All Alone' by Lithuanian-Kurdish singer Alanas Chosnau and Berlin-based producer Mark Reeder. Following on from the equally relevant 'Losing My Mind', a cinematic number that Chosnau and Reeder contributed to the French Cold War movie 'Le Chant Du Loup', 'All Alone' comes from the pair's upcoming album 'Children of Nature'.
Co-produced by Mark Reeder with his regular studio partner Micha Adam, 'All Alone' uses a classic four chord progression shaped by sequencers, chilling string synth and a midtempo Compurhythm.
Meanwhile, Chosnau projects the solemn vocal air of Peter Heppner of WOLFSHEIM as he emotively asks "Does anybody feel the same way like me?". 'All Alone' of course comes in a single mix because as can be seen in the striking video crafted by award winning director Aleksandras Brokas, he is in on his own…
Reeder first met Alanas Chosnau at a film festival and have put together a collection of retro-modern love songs which now feel prophetic in the current situation, so much so that they probably could have named their project CORONA CRISIS.
Alanas Chosnau was born to a Lithuanian mother and Iraqi-Kurdish father, growing up in Baghdad before returning to the then Soviet-governed Lithuania to be raised by his grandparents. After the fall of communism, he became the singer of the domestically popular DEPECHE MODE influenced duo NAKTINĖS PERSONOS. He said: "We had no idea what was to come, but it seems we touched on a frequency from the future and the song appears to have been derived from a deep, inner-feeling we both had at the time".
Dedicated to all currently living a life in lockdown, Mark Reeder told ELECTRICITYCLUB.CO.UK: "I've been in isolation-lockdown for 59 days now. I've actually not been outside at all in this time, except for the occasional quick breath of fresh air on the balcony. I'm treating this like being in a spaceship. As if I was on my way to a new world."
---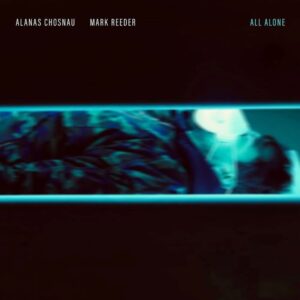 'All Alone (Single Mix)'
is released digitally by MFS on 18th May 2020
https://www.facebook.com/alanaschosnau/
https://www.instagram.com/alanaschosnau/
https://www.facebook.com/markreeder.mfs/
https://www.instagram.com/markreeder.mfs/
---
Text by Chi Ming Lai
Photos by Martyn Goodacre
16th May 2020