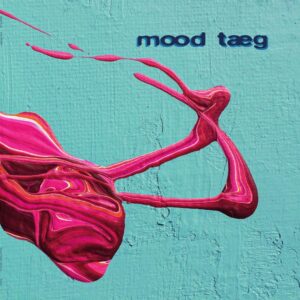 MOOD TAEG are a detached combo split between Düsseldorf and Shanghai.
From the likes of CAN, CLUSTER, NEU! and HARMONIA to more recent exponents of the form like CAVERN OF ANTI-MATTER and IMMERSION, MOOD TAEG follow in the tradition of instrumental kosmische experimentation.
Just like those records of cosmic yore, their debut album 'Exophora'
on Happy Robots Records comprises of five lengthy tracks exploring the rhythmic hypnotism of Apache beats, half speed guitar and expansive electronic soundscaping.
With a heart that is both analogue and metronomic, over the course of just under ten minutes, the mantic opening number '2MR' pays respectful homage to 'Hallo Gallo' from the first NEU! album. Running at just six minutes, 'Deictics' adds a synthy rumble to proceedings with schizophrenic voices before a bass guitar run morphs in, adding to the mind bending trance laden effect.
The frantically motorik 'Corpora' comes closest to being a pop tune despite the gargoyle grumblings and glistens with a cristallo shine that has pulsing electronic keys acting as a melodic engine room as well as a rhythmic one.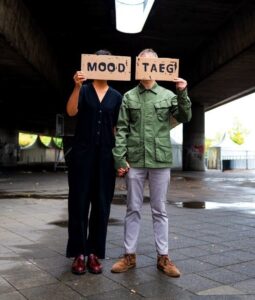 'Interrogative' displays an affinity with HARMONIA using a offbeat and a psychedelic vibe, but 'Mood Block' changes tact with a delightful rhythm unit on a speedy Schaffel setting while Mellotron derived pipe passages add a blurry haze to the spacey cocoon of bleepy sound.
This music is not wholly avant garde, so if a blended cacophony of drifting textures and occasional melody over some tightly rigid rhythm construction appeals, then 'Exophora' will satisfy the ears and minds of many kosmische enthusiasts, sitting nicely not far from the most recent FUJIYA & MIYAGI.
---
'Exophora'
is released by Happy Robots Records on 22nd May 2020 in vinyl LP and digital formats, available from https://happyrobotsrecords.bandcamp.com/album/exophora
https://www.facebook.com/MoodTag/
https://www.happyrobots.co.uk/mood-taeg
---
Text by Chi Ming Lai
19th May 2020