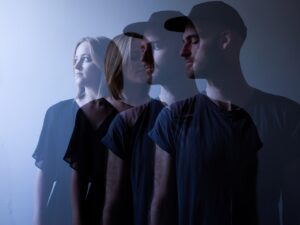 Describing themselves as "Slacker synth-wave refuseniks", POLYCHROME's brand of filmic dreamwave as showcased on their self-titled 2018 debut album found favour with TV producers and advertising agencies around the world.
The duo of Vicky Harrison and Oliver Price wrote the majority of their first record in isolation around the serene surroundings of Grianain Eco Lodge near Fort William.
Utilising grainy Lo-Fi synths, old drum machines, WEM copycat tape echo, minimal guitar textures, the emotional centre comes from Vicky Harrison's angelic vocals filtered through vintage microphones but airily layered using modern production techniques.
Having recently signed to Outland Recordings, both parties are celebrating their union with the release of a brand new single 'Starts With A Kiss'. Vicky Harrison chatted about the evolving sound of POLYCHROME.
How would you describe the sound of POLYCHROME?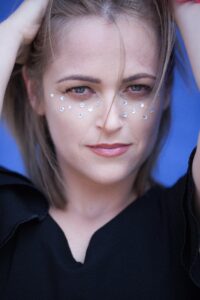 Our debut album was a mix of dreampop, synthwave, chillwave and shoegaze, so it wasn't very specific, no! It shows how interested we are in different genres, especially underground electronic styles. But bands tend to end up sounding like the bands they like don't they? People say "oh, you sound like so-and-so…" and you reply "Oh yeah, I love them, they're one of my favourite bands so…" *laughs*
Which acts have been key influences, it would appear ELECTRIC YOUTH and CHROMATICS are but who else?
Definitely the 'Drive' soundtrack, we were making music in that kind of style but because our track 'Final Kiss' did so well, we decided to continue POLYCHROME.
When the first album came out, we got a lot of references to COCTEAU TWINS, M83 and we also had dreampop references, LANA DEL REY and GOLDFRAPP, that sort of thing.
POLYCHROME are very active on social media, how did you and Oliver go about developing this?
It's more me driving the social media, but Ollie does a lot more of the production so it evens itself out. I've been thinking a lot more about how we can connect with fans and try to change my attitude to online platforms being a barrier to people, to being a way of connecting with our fans. It's trying to think about what they want, rather than what I like or want *laughs*
It's been very interesting actually, I noticed quite a lot of our fans seem to like metal music as well, as I'm not really a fan… a lot of rockers have come into synthwave, I don't know what it is, the dark basslines maybe?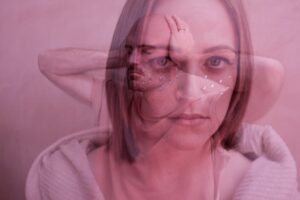 From a visual image point of view, you are comparatively more understated to go with the music?
It's all about the music maaaan… *laughs*
I'm not against a strong visual image at all, in fact I've just ordered a really cool catsuit that I may be wearing in our next live video and I want to very much consider our look as well.
But I've always been just a bit of a music geek and in my old band VICTORIA & JACOB, the whole thing was set on the music and being very much understated and introspective with the stage presence.
I've analysed it quite a lot since to understand why I decided to go down that route, because I really wanted people to connect with the emotion of the songs. But with POLYCHROME, I want to go a step up from that and think more about my stage presence, the look and how I present myself. Our aesthetic is to be more shimmery, glitter and that sort of thing. You will see more of that, a strong visual image does make people look and check out the music.
It's got to be considered even if it's understated… when I think of understated, I think of LONDON GRAMMAR, I love that band and I love her voice, but I love that she just wears a pair of jeans and a black top. And THE XX, every time, black tops, black trousers, it's still considered and not random.
What do you think when you look back on your self-titled debut album?
I'm really happy with it, I do think it's a grower and me myself, I like albums that grow on you. I like weird underground electronic music or I like something pop, so I think we do have some of that pop sensibility in quite a few of our tracks. There were lots of soundscapes in there.
But there are always things you'd want to improve; our writing process is in the studio so we're recording and writing at the same time.
So sometimes it's the final product although we do go back and tweak. You need to sit on it for a few months to review it with a little bit more perspective.
So is a lot of it done with you both sitting in a room together rather than remotely by exchanging files?
We did one track sending files to each other but yes, we had this friend in Scotland who has this amazing lodge which she let us stay in. We felt quite at home and we were definitely inspired by the landscape.
We'd go out on long walks, meet with my friend who is an amazing cook and it all felt very comfortable. We wanted to make sure we had this time to reflect and put it into the writing process. It was really fun and we probably won't get the chance to do it quite like it again.
'Synesthesia' was the tune you opted to get behind to do a video for. What was it for you about that song particularly?
We did work with a PR company so they might have had some influence, we did want their advice. I really that track, we worked with a guy named Stephen Hodd who co-wrote it with us, he's done a lot of work with PASSENGER and LAMB so I think you do get those influences in 'Synesthesia' from him, so there's an element of folkiness and trip-hop.
The closing track 'Don't Be A Stranger' took its lead from 'Stranger Things', how influential do you think that series has been on popular culture?
We're big fans of 'Stranger Things', especially the first series. We're influenced by anything with a nostalgic element to it and 'Stranger Things' had that 80s thing going on. It was one of the big shows that really captured people's attention. I did meet Nora Felder, the 'Stranger Things' music supervisor, at an event so I asked if she'd consider putting POLYCHROME in their but she said "No, we only take 80s originals!" *laughs*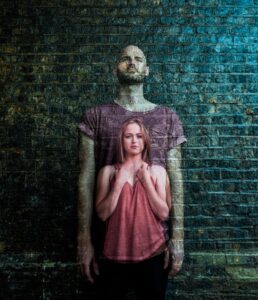 'Final Kiss' has become your most popular track and has a disco lento femme fatale air about it, what was its catalyst in terms of writing and production?
It was a long time ago! I did a fair bit of the production on this and the vocal for 'Final Kiss' was done with a mic we found in a car boot sale, a vintage harmonica microphone.
Whenever we record, we try out a lot of microphones but quite often, we come back to that one because it just seems to capture the best frequencies of my voice. I don't know where that Italo disco thing came from, it must be in me and Ollie, the nostalgia from that era must just resonate *laughs*
'Final Kiss' did particularly well and what sort of kicked POLYCHROME off to do a whole album. It's had quite a bit of coverage, we've had it on adverts in Poland and Denmark, it was part of a Russian brand campaign.
More recently, it was on 'The Unorthodox', a series on Netflix. Denmark has particularly brought in a lot of fans and we'd like to tour that region at some point when we're ready.
Many artists say they have a lifetime to prepare for a debut album but for the second, its much less, any thoughts?
After our first album, we took a break because we put a lot of effort into it; we started a record label called Hi-Lo-Lo-Hi to release it ourselves. There was a lot of investment and being an independent band, it takes a lot of time to make back what you've put in, so we needed a bit of recovery time after that.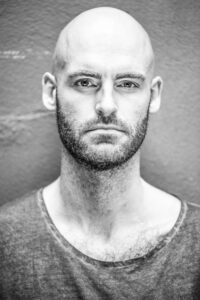 Then we re-evaluated our approach to the business and releasing music, hence my improvement with social media. It was to get rid of this belief that somehow, a PR company is going to make something happen for you… sometimes they get something and sometimes they don't. But you have to make sure you are consistently in control of your fanbase and building it, keeping it and giving them what they want.
I think me and Oliver were a bit stuck in the old model, a record label and a PR company because that's how we'd done it in the past but things have moved on. And there aren't that many print magazines now so you can't get a write-up there either!
What would be the creative dynamic between you and Oliver?
Oliver comes to life in the studio and there's this great dynamic. We just bounce off each other I guess.
I'll send Ollie quite a lot of samples or source out a new piece of equipment but he does most of the production stuff. He has quite a clean pop sound although I don't know if he would agree with me there! *laughs*
The new single is 'Starts With A Kiss', so you like kissing as it appears to be a recurring theme? 
I know! That's what we wanted because we'd finished with a kiss, so now wanted to start with one. We had originally delayed the release due to the sensitivity with the current situation but now we've just decided to go for it.
It has vocoders and a FM rock guitar solo too…
The guitar solo is by Bjorn Ågren from RAZORLIGHT who is a friend of Ollie's, apparently he just loves his 80s stuff so he was really up for it. We've gone a little more synthwave with our new tracks so we've tried to be a bit more specific, but even when we try, we still come out synthpop! *laughs*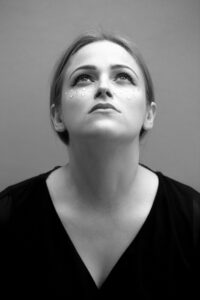 On the new material like 'Signs' , there appears to be more of the vocal glitch processing techniques that were heard on the first album with 'Dreaming About You', 'Final Kiss' and 'The Call', do you see the voice as being as much an instrumental aesthetic as much as synth or guitar, so fair game for treatment?
Yes, like with 'Final Kiss', the vocals were a hook so we wanted to keep and develop our signature sound. It's definitely part of the instrumentation but it's also part of the interpretation of the story, crossing the humanity with the technology.
At the moment, I'm working a lot on how to interpret our own songs for live, thinking more about what the songs mean. So I've come up with a character that lives throughout the stories of the songs.
This is so I can keep a consistency through the interpretation in the hope of keeping a stronger connection with the audience. The character is a young Asian girl called Lucy and she's in this post-apocalyptic world and she is living under water in the sea as one of the last humans; she's developing a connection with a romantic partner and there's this strange dependency going on between the two of them, there's hope and comfort in there.
The journey will take you through the story as the characters are relying on technology. In my mind, they are partly made of technology and Lucy is relying on the technology to interpret her own feelings.
You mentioned previously that you feel vocals are the most important aspect of a recording?
That's going to be very individual to the listener but for me in any track, the vocals are important to me. I'm a singer, I'm a voice teacher, I've analysed the voice, I'm studying the voice, so for me, the voice has been so important to me in my life as a means of emotional expression.
I'm just fascinated by it, how it works, how you can get different sounds and create different connections to your audience, using just your voice, it creates a sense of humanity and makes it more personal. You can have great instrumental tracks but in my mind for it to stick out, the voice is essential. You make what you love. I am used to instrumental versions of our tracks because we want to get our music out on TV and films for producers to consider using as an atmosphere to back a visual.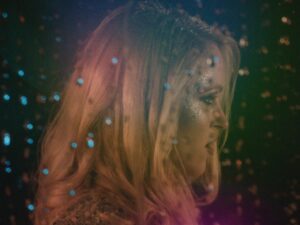 How has your voice changed over the years?
I used to use a clearer tone but with POLYCHROME, I'm a lot more breathy, it just happened.
I just liked the atmosphere so I added in more breath. It matched the style of the music but contrasted it as well against the electronic sounds and made it a little bit sexy and eerie.
Atmospheric would be the made word here because with dreampop, you're not using the lyrics so much but creating more of atmosphere or feel, an emotion or vibe. The lyrics perhaps aren't as important… you might not hear them on first listening and be drawn to the melody, and then later on, you become involved with the lyrics.
Another new song 'UltraViolet' seems to sound more aggressive musically with that loud rimshot and layers of synths?
It does! I don't know why! *laughs*
It's quite driving with a faster tempo and I think it leans more towards synthpop, but there was no particular conscious choice. We made a series of electronic vibes and picked what we liked and started sculpting those. We might do that in a few sessions on one song, it still needs a lot of work but the main body is there by the time we get to the end.
You've signed to Outland Recordings for your next release, what are your hopes and fears with regards the future of POLYCHROME?
We're very excited to be working with Outland, we met Stuart McLaren about a year ago and he's a fantastic chap who is well into the synthwave scene. I guess that's drawn POLYCHROME a bit further in that direction and it's been interesting to get to know that scene.
I met a lot of lovely and dedicated fans, they're always super friendly so that's really nice. So regarding the future of POLYCHROME, we're just going to release these tracks and see how they go.
We have a good direction with regards our music being used in television for adverts and we'd like to continue that as our music seems to go down well. At the moment, we are looking to try and find people to represent us in different countries for that and we're hoping Outland gets us some good playlisting.
---
ELECTRICITYCLUB.CO.UK gives its sincerest thanks to Vicky Harrison
'Starts With A Kiss' is released as a digital single by Outland Recordings on 12th June 2020, pre-save via https://ffm.to/startswithakiss
'Polychrome'
is available as a name your price download from https://soundofpolychrome.bandcamp.com/
https://www.facebook.com/soundofpolychrome/
https://twitter.com/soundofpolychro
https://www.instagram.com/polychromesounds/
https://www.weloveoutland.com/label
---
Text and Interview by Chi Ming Lai
Photos by Héloïse Faure
20th May 2020, updated 25th August 2020