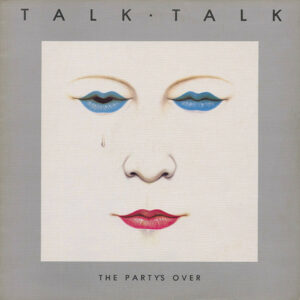 Following the sad passing of Mark Hollis, front man and songwriter of TALK TALK, many of the obituaries that followed focussed on their final two records 'Spirit Of Eden' and 'Laughing Stock'.
But very little mention was made of TALK TALK's 1982 debut long player 'The Party's Over'.
Even Alan Wilder, executive producer of the 2012 tribute 'Spirit Of Talk Talk', admitted that although "I liked the sound of the singles 'Today' and 'Talk Talk'", he had "never heard the first album" adding "In fact I still haven't heard that album in full."
Synthpop has often had a credibility problem, especially among too cool for school hipster writers and even so-called commentators of electronic music. But 'Spirit Of Eden' and 'Laughing Stock' might not have happened had TALK TALK not had single success in 1982 during one of the most exciting and enjoyable years in music.
It was a year that saw ASSOCIATES, SOFT CELL, SIMPLE MINDS and JAPAN slugging it out in the Top40 alongside ABC, DURAN DURAN, SPANDAU BALLET, YAZOO, THE HUMAN LEAGUE, VISAGE, ULTRAVOX, DEPECHE MODE and BLANCMANGE, while HEAVEN 17, CHINA CRISIS and B-MOVIE were knocking on the door and looking for a way in.
At the time, TALK TALK comprised of Paul Webb on bass, Lee Harris on drums and crucially Simon Brenner on keyboards who came armed with a Roland RS09 and Oberheim OBXa. Signing to EMI, TALK TALK were originally dismissed by the press as DURAN DURAN copyists as they shared the same label, the same producer in Colin Thurston and even had a repeated word name!
Released in July 1982, 'The Party's Over'
was an impressive synth flavoured collection devoid of guitar that very much captured the sound of the era with its thundering Simmons drums and fretless bass. It opened with the very immediate 'Talk Talk', a heated song which began life in 1977 as a song for THE REACTION, a punk band that Hollis was in, which was co-written by his brother Eddie Hollis who managed EDDIE & THE HOT RODS.
Although it flopped on its initial single release in April 1982, it belatedly became a hit later that Autumn in a remix by ROXY MUSIC producer Rhett Davies. 'Talk Talk' possessed an anguish and frustration in Hollis' voice like Bryan Ferry through clenched teeth and it was a seed that was to serve him well through the band's small recorded portfolio.
A band composition, 'It's So Serious' was a delightful number influenced by OMD with catchy hooks and the then state-of-the-art production techniques. But things were to get even better. The moody 'Today' dominated by Webb's melodic bass playing showed TALK TALK had more in common with artistically thoughtful bands like JAPAN rather than more obvious pop combos like DURAN DURAN; it reached No14 in the UK singles charts but deserved to go much higher.
The template of Sylvian & Co was taken further with the magnificent title track, another band composition which made impressive use of penetrating oriental overtones and an epic gothic backdrop for the track's conclusion.
Beginning the second side, the aggressive chant-laden 'Hate' did as the title suggested, frantically laced with Harris' reverberant percussive barrages reminiscent of ULTRAVOX's live version of 'The Voice' from that period.
The serious lyrical matter of the solemn 'Have You Heard the News?' with a narrative about the aftermath of a car accident highlighted how TALK TALK were indeed not part of the SPANDAU BALLET league. But the album exposed its weak link with the ploddy 'Mirror Man', surprisingly issued as the first TALK TALK single with its noticeable BEATLES-influenced string aesthetics.
But it all got back on track with 'Another Word', a song from the solo pen of Paul Webb and his only one in the TALK TALK catalogue. With an enjoyably memorable chant and uptempo rhythm construction, it was released in its own right as a single in Germany thanks to its use in the domestic TV detective series 'Derrick'.
That German single was backed with 'Candy' which closed 'The Party's Over'. Here, TALK TALK aped FOREIGNER and featured some fabulous piano playing from Brenner; it was a final moment that was to be symbolic.
Although there was an excellent interim non-album single 'My Foolish Friend' produced by Rhett Davies and co-written by Brenner in 1983, the keyboardist left TALK TALK with good old fashioned musical differences cited.
In 1984, Mark Hollis said to Electronics & Music Maker: "Each album should be a definite move on from the one before it. Now y'see some people understand that and other people don't understand that. Some people think that if you have a hit with something like 'Today' then what you should do is maintain that style and that will ensure more hits right?"
Simon Brenner's departure was to be significant as for TALK TALK's second album 'It's My Life'
, Hollis was to find his ideal collaborator in producer Tim Friese-Greene.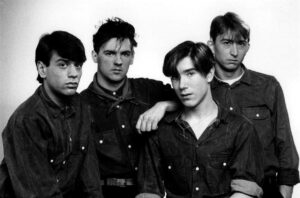 He had been an unlikely writing partner as his studio credits included STIFF LITTLE FINGERS and somewhat bizarrely TIGHT FIT's 'The Lion Sleeps Tonight', but it was to be the start of a fruitful partnership.
Although the more sonically adventurous 'It's My Life' album sold well in Europe, TALK TALK would not actually have another UK Top20 hit until 1986 with 'Life's What You Make It'.
It was here where Hollis headed into the more traditional instrument direction he craved and was to become lauded for with 'The Colour Of Spring'
album. And as if to prove that TALK TALK were maybe ahead of their time, the 'It's My Life' single finally became the UK Top20 smash it deserved to be on its 1990 re-release to promote the excellent singles compendium 'Natural History'
.
Becoming a reclusive artist in the mould of Scott Walker and David Sylvian, who each also had successful pop careers before venturing into more experimental territory, Mark Hollis left a legacy of artistic ambition over commercial success. But without the latter, as with the aforementioned Walker and Sylvian, it might not have happened.
While 'The Party's Over' is very much of its time, as a result, it still retains much of its charm.
Despite being generally glossed over in TALK TALK history, the album is an excellent under rated synthpop jewel that has aged well, thanks to the quality of its songs and is probably a better body of work than say 'Quartet' by ULTRAVOX from the same year.
---
In memory of Mark Hollis 1955 – 2019
'The Party's Over'
is still available in CD, vinyl LP and digital formats via Universal Music
https://www.facebook.com/SpiritOfTalkTalk/
---
Text by Chi Ming Lai with thanks to Peter Fitzpatrick
2nd December 2019