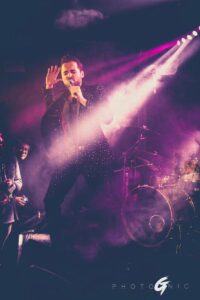 If BILLY IDOL was punk's crossover success story into the international mainstream, then OLLIE WRIDE could become synthwave's…
Although best known as the voice for FM-84 and featuring on the acclaimed 2016 album 'Atlas'
, Wride's recently released solo debut 'Thanks In Advance' co-produced by Michael Oakley proved that the suave Brightonian could cut it outside of the nest.
Channelling his inner Lindsey Buckingham with a dash of Kenny Loggins, 'Thanks In Advance'
possessed swagger, style and most importantly of all, good tunes. Embracing that Trans-Atlantic friendly sound which was once the staple of MTV when it bothered to play music, OLLIE WRIDE unashamedly partied like it was 1985.
Indeed for his sold out debut solo show at London's Camden Assembly, that era was effectively recreated and began in earnest with the feisty synth rock of 'The Driver'. Coming over like a cross between Jim Kerr and Billy Idol, its groovy vibe brought to mind the productions of Keith Forsey who not only worked with SIMPLE MINDS, THE PSYCHEDELIC FURS and ICEHOUSE but also the man born William Michael Albert Broad.
Having also co-wrote 'Flashdance… What A Feeling', 'The Never Ending Story' and 'Don't You (Forget About Me)', the former Giorgio Moroder apprentice and drummer could in some ways be seen something of an indirect muse in The World of Wride, such has been Forsey's impact on the cultural landscape.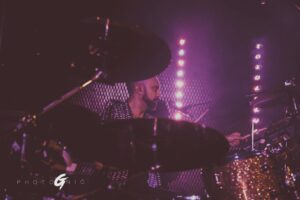 With a natural energetic on-stage charisma, Wride was effectively off the leash as he posed and strutted along the 'Miracle Mile'. Following on, the rousing 'Never Live Without You' rocked with a fine balance of synths and guitar; backed on the latter by Josh Dally who played with Wride in FM-84, drum duties were conducted by another FM-84 cohort James Cross who did a superb job to compliment the electronically laden sound and crucially, did not overplay.
The TEARS FOR FEARS drive time shuffle of 'Overcome' kept the momentum going as Wride played the keytar man but for the gently percussive ballad 'The Rising Tide' with its hints of MR MISTER, he walked over to his M-Audio keyboard before settling down Richard Marx style for the appropriately moonlit 'Luna'.
A nice surprise from the soon-to-be-issued deluxe edition of 'Thanks In Advance' came with 'Stranger Love', a new collaboration with SUNGLASSES KID which perhaps unsurprisingly sounded like a NINA track but with a male vocal.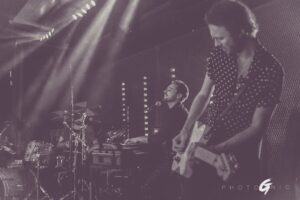 However, this premier got trumped by an unexpected cover of Peter Gabriel's 'Sledgehammer' with its classic art funk satisfying the enthusiastic crowd and perhaps summing up Ollie Wride's ultimate ambitions.
To close the main set, a hypnotising performance of the brilliant 'I'm A Believer' saw its synthy cascade point towards Hollywood but what everyone wanted now was an encore.
With chants from the audience of "ONE MORE SONG!", Wride actually gave them two in the shape of the soulful pop of 'Back To Life' and 'Running In The Night', probably his best known song with FM-84. With an anthemic state of tension and urgency in the vein of 'The Boys of Summer', the response from all those present was nothing short of ecstatic with a mass communal singalong.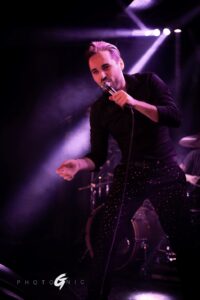 One thing that stood out tonight was Wride's endearing stage craft which was not only engaging but also probably as good George Michael when he was in his live prime.
What OLLIE WRIDE has managed to do is straddle a variety of musical styles and blend them into a melting pot of accessible pop. Some might consider it bland, but others call it entertaining and his aspirational persona is a refreshingly uplifting tonic in these darker times.
So don't snooze and lose when he next performs somewhere near you. If there is any justice, he will be playing arenas within a few years and it won't be so easy to get so close to one of the scene's undoubted stars.
---
With thanks to Outland
'Thanks In Advance' is still available from https://newretrowave.bandcamp.com/album/thanks-in-advance
https://www.facebook.com/olliewrideofficial/
https://twitter.com/OllieWride
https://www.instagram.com/olliewride/
https://www.weloveoutland.com/
---
Text by Chi Ming Lai
Photos by Gina-Leigh Smith at Photo-G-Nic
29th November 2019