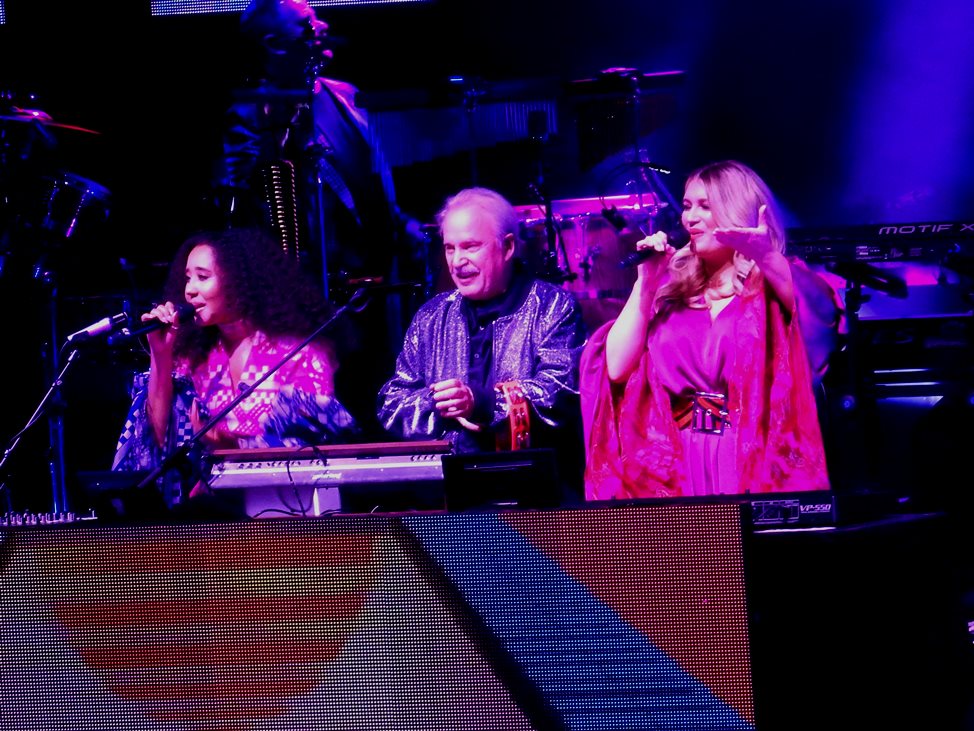 Since his return to making music again with 'Racer' in 2013, GIORGIO MORODER has been in demand as a DJ.
This has been thanks to his glorious catalogue of productions spanning over five decades.
Despite this, the ever modest three-time Oscar and four-time Grammy Award winning Italian from South Tyrol has downplayed his role as an electronic music innovator and disco pioneer.
Having once stated that '74 Is The New 24', the 78 year old brought his first ever live tour to London's Hammersmith Apollo for what was billed as 'A Celebration of the 80s', but which actually covered material from 1969 right up to the present day.
Leading a 13 piece ensemble comprising of a five piece band, a string quartet and four vocalists, the evening began senza il Maestro with the exotic if haunting overtones of '(Theme From) Midnight Express', the 1978 track which as good as invented the currently fashionable Synthwave sub-genre.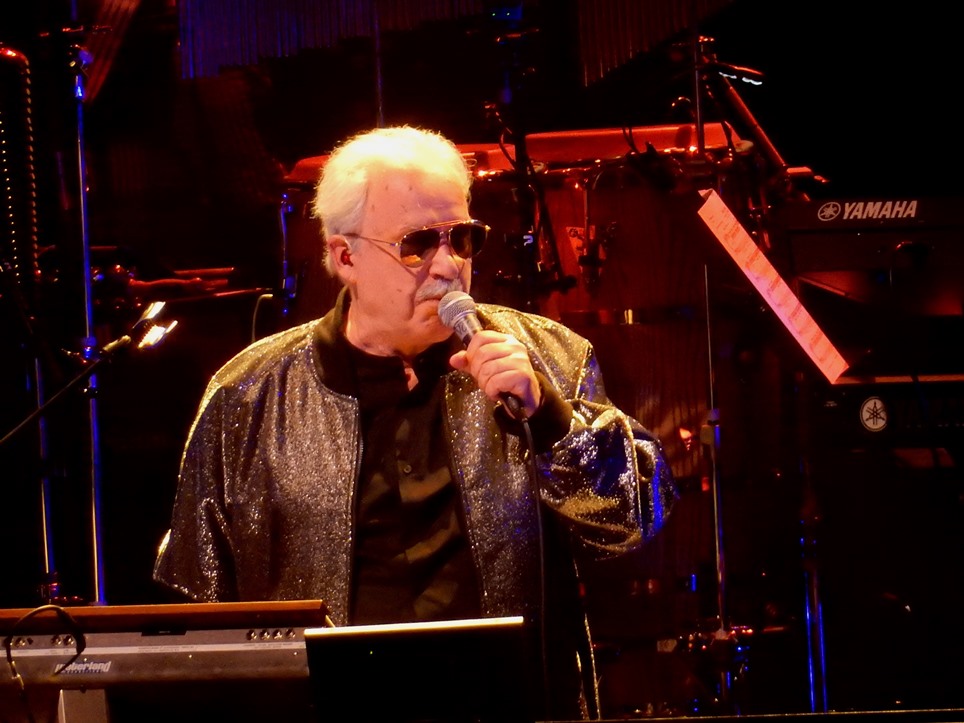 But if that was an unexpected if welcome introduction to proceedings, when Moroder finally took his place on the stage behind a Minimoog, no-one was quite prepared for the amusing Schlager Kasefest of his 1969 million selling European hit 'Looky Looky'! "It paid my rent for four years" he endearingly quipped, effectively preparing the audience for a fabulous glitterball evening that was firmly aimed at the populist vote and not intended to be taken too seriously.
As a producer known predominantly for working with female vocalists like Donna Summer, Chris Bennett, Debbie Harry, Irene Cara, Terri Nunn, Britney Spears, Sia and Kylie Minogue, a fine British threesome in Amy Diamond, Shanice Steele and Raya Clark had been assembled to do justice to vintage disco numbers such as 'Love To Love You Baby', 'Bad Girls' and 'On The Radio'.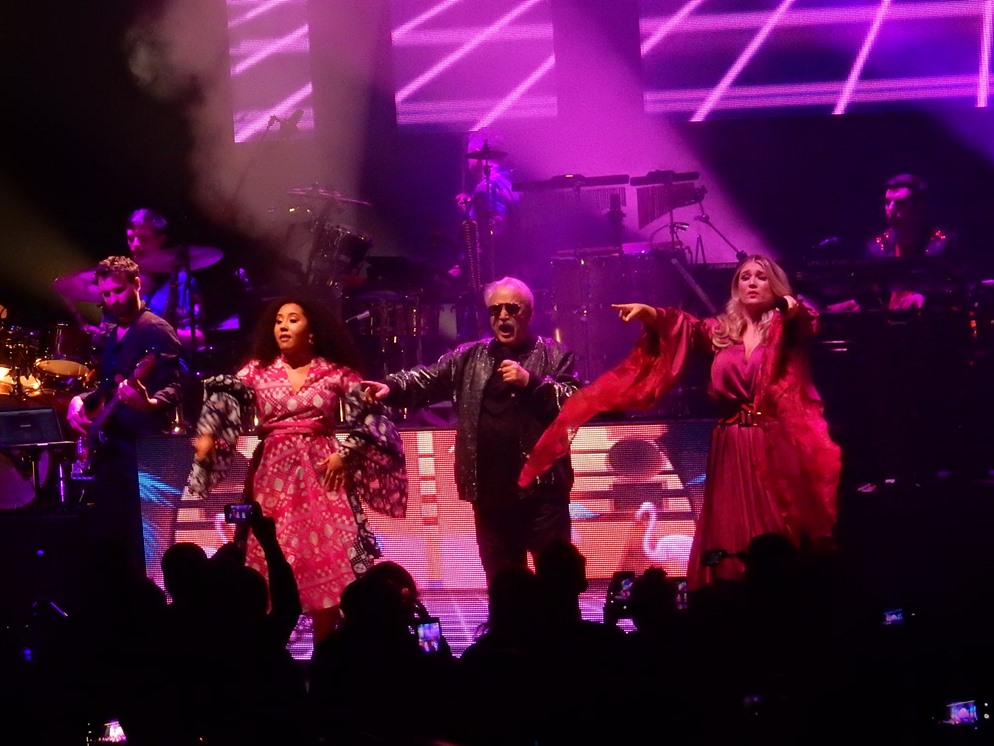 Steele was particularly impressive on the Donna Summer material and a rapturous 'Flashdance… What A Feeling' while Diamond held her own on 'Right Here Right Now' and 'Take My Breath Away', although the latter was slightly let down by the band with the song's iconic synthetic fretless bassline virtually inaudible. But that was the only time the band faltered as they successfully grooved on DAFT PUNK's 'Giorgio By Moroder' and kept a strict metronomic tempo on 'Chase'.
Fairing less well however was flamboyant Dutchman Simon Feenstra; although he pulled off the rockier voice required on 'Danger Zone' from 'Top Gun', his conventional approach was unsuited to the unique monotone forever associated with 'Together In Electric Dreams' courtesy of Phil Oakey while perhaps surprisingly, he was underwhelming on 'Never Ending Story' with both tunes saved by enthusiastic crowd singalongs.
Moroder took his turn on the microphone again with the hypnotic throbbing electro of 'From Here To Eternity' with dazzling neon visuals to boot while for the rest of the show, he happily acted as cheerleader and watched his ensemble perform his work while occasionally banging a tambourine or phrasing on his vocoder.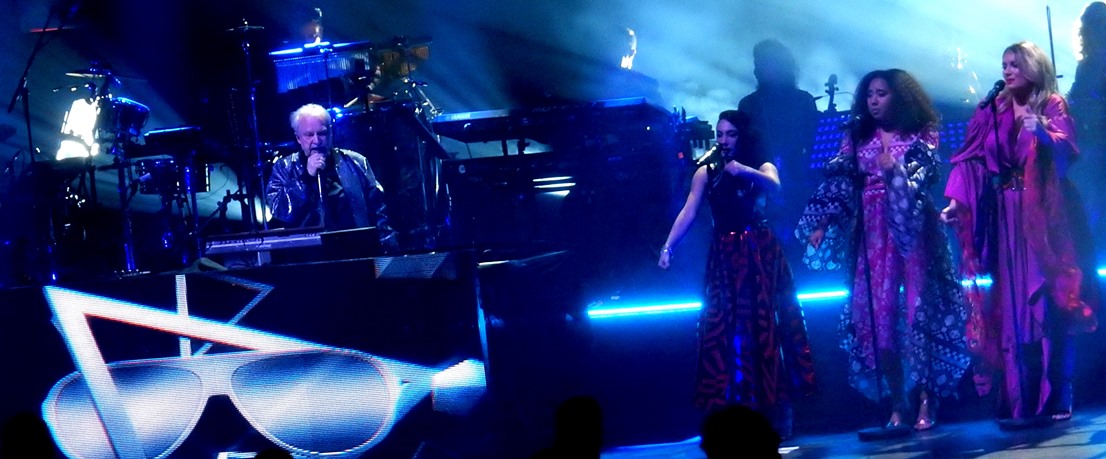 He then gleefully told the story of how he invented "the sound of the future" as David Bowie and Brian Eno labelled it as he went through the component parts of Moog, white noise, Farfisa organ and bass drum that formed 'I Feel Love' with his band before a euphoric and powerful rendition of the song that indeed changed music and still sounds like the future over 40 years on!
The closing section of the show saw Moroder play tribute to his departed friends Donna Summer and David Bowie with their heavenly voices making their presence heard on versions of the Gothic drama of 'Cat People (Putting Out Fire)' and Jimmy Webb's heartfelt epic 'MacArthur Park'. Appropriately ending the main set with 'Last Dance', Moroder wasn't done yet as he left his pulpit to join his singers at the front of the stage for some 'Hot Stuff', before a rousing instruction to all those present to 'Call Me'.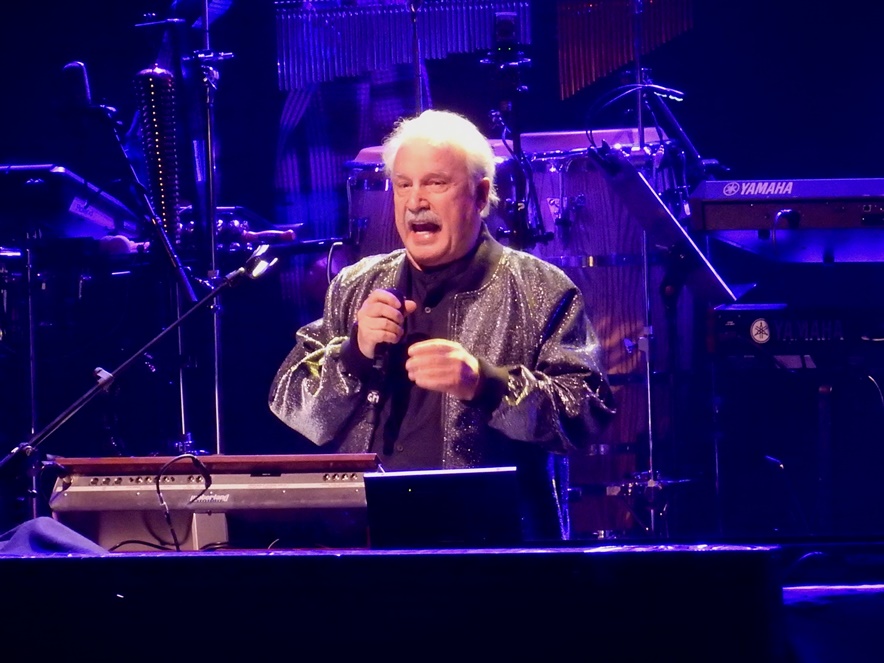 As far as hits were concerned, GIORGIO MORODER delivered, although those who were hoping for more "electronic live to digital" or cooler soundtracks like 'Metropolis' or 'Scarface' will have been disappointed, while 'Love's Unkind' and 'No1 Song In Heaven' were notable absentees in a very crowd pleasing setlist.
Yes, perhaps proceedings occasionally bordered on cruise ship cabaret, but from the minute Moroder went "OOM-MOW-MOW, PAPA-OOM-MOW-MOW"  on 'Looky Looky', his intent was to entertain and have a lot of fun.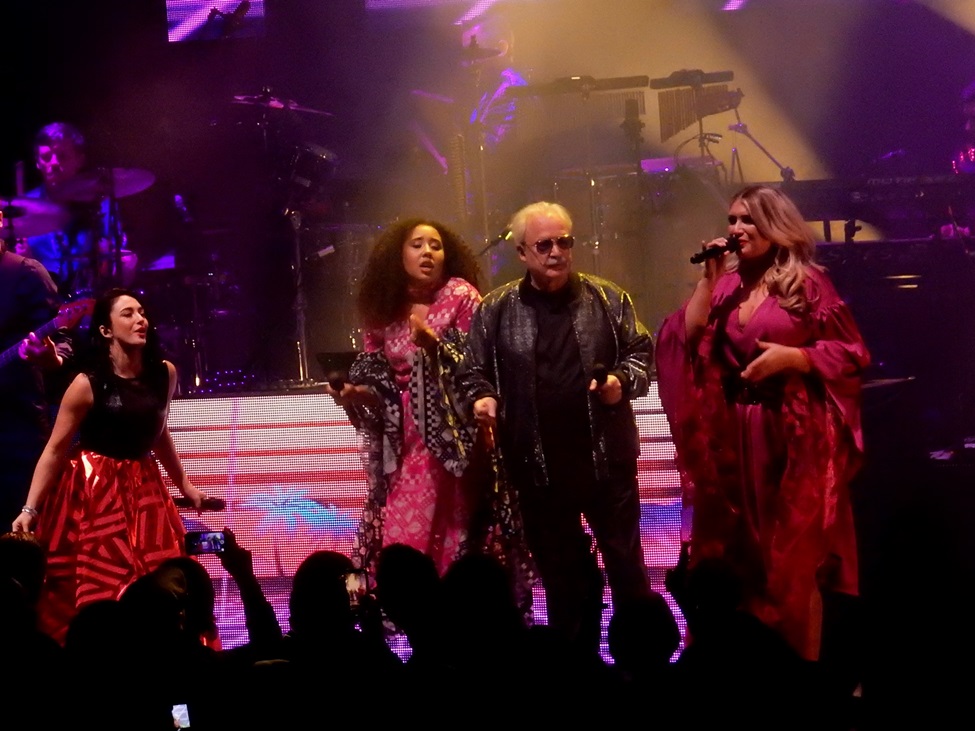 The man has nothing more to prove and is now touring because he really wants to, so mission accomplished. Appropriately for a gentleman totally free of ego, tonight it was Moroder's songs that were the stars of his show.
Popular music has been effectively mining the Moroder legend since 1975, so it is only right for him to have a platform to remind the world where it all came from. And as the majority of those attending left the Hammersmith Apollo with big smiles on their faces, it was a truly enjoyable reminder.
Now ain't that what it's all about??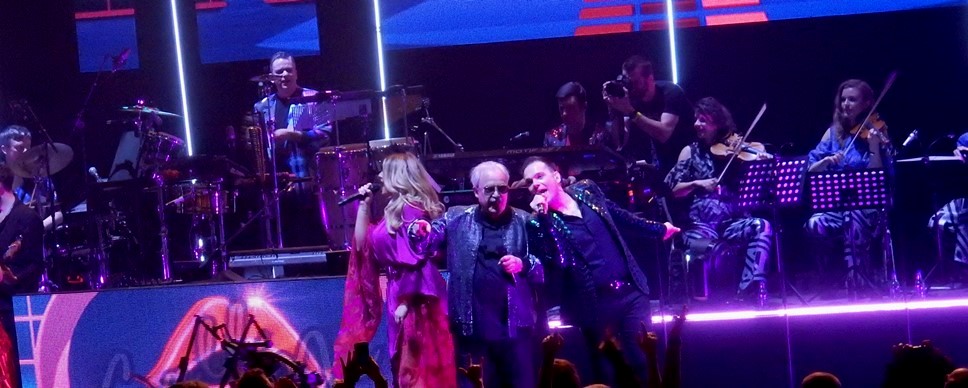 ---
GIORGIO MORODER 2019 live dates include:
Brussels Ancienne Belgique (9th April), Brussels Ancienne Belgique (10th April), Berlin Tempodrom (12th April), Düsseldorf Mitsubishi Electric Halle (13th April), Frankfurt Jahrhunderthalle (14th April), Amsterdam Paradiso (15th April), Moscow Crocus City Hall (13th May), Vienna Gasometer (14th May), Budapest Papp Laszlo Arena (15th May), Milan Teatro Ciak (17th May), Florence Nelson Mandela Forum (18th May), Rome Auditorium Parco della Musica (19th May), Amsterdam Paradiso (21st May), Paris Grand-Rex (22nd May), Copenhagen Store Vega (24th May), Odense Tinderbox Festival (29th June), Brussels Summer Festival (16th August), Biddinghuizen Lowlands Festival (17th August)
https://www.giorgiomoroder.com/
https://www.facebook.com/GiorgioMoroderOfficial
https://twitter.com/giorgiomoroder
https://www.instagram.com/giorgiomoroder/
https://soundcloud.com/giorgiomoroder
The Spotify playlist 'Morodered' compiled by ELECTRICITYCLUB.CO.UK can be listened to at: https://open.spotify.com/playlist/05D4jefsqlqNpDXs31gW1u
---
Text and Photos by Chi Ming Lai
5th April 2019