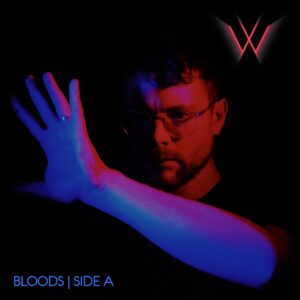 Following the acclaim for his accomplished and acclaimed third album 'Infinity Mirror', Ryan A James returns as MAN WITHOUT COUNTRY with his latest long form release 'Bloods, Side A'.
MAN WITHOUT COUNTRY has been held in such high regard that Ryan A James has worked with notable artists such as RÖYKSOPP and IONNALEE. Having become a father, James' perspective has changed and while shoegaze may have been an element to MAN WITHOUT COUNTRY in the past, the synthwave overtures of acts across the Atlantic like COM TRUISE, FM ATTACK and BETAMAXX have caught his attention.
But also having released a cover of Phil Collins' 'Another Day In Paradise' in 2020, the MTV era of decades past has also figured. From 'Infinity Mirror', the song 'Beta Blocker' was a sign of his future musical direction, featuring a meaty programmed electronic bassline of the type adopted by PROPAGANDA and FRANKIE GOES TO HOLLYWOOD.
Beginning with 'Pilot' and accompanied by subtle stuttering beats, this is a short delightful instrumental that showcases the influence of both FM ATTACK and BETAMAXX. But the excellent 'Savannah' springs a total surprise with a dreamier take on the sort of rhythmic new wave pop that adorned many a John Hughes or Jerry Bruckheimer movie montage and at times, it sounds as though it might morph into a track by expat Scot popwave exponent Michael Oakley.
Drawing from COM TRUISE, the moodier 'Gardener In A War' features a great self-deprecating line about how "I'll wash the petri dish for you". Although it is more typically MAN WITHOUT COUNTRY in its introspective outlook and presentation, as its intensity is enhanced by a hypnotic cacophony of electronics, there are also unexpected Shakuhachi samples and programmed bass patterns with shades of Howard Jones.
Short but sweet, despite being less than a minute and a quarter, 'Our Silences' gives room for a fabulous freeform synth solo before 'Ultra-Nightmare' closes the A Side and sees the return of the Shakuhachi while the driving pulse journeys onto an expansive synthwave adventure with a sinister manipulated voice creeping back and forth to provoke a sense of unease.
With guitar seemingly absent, 'Bloods, Side A' acts as a fine pointer as to how MAN WITHOUT COUNTRY has evolved. While the sound remains melodic and reflective, Ryan A James has headed West and is now even more electronic than before; 'Side B' is now eagerly awaited to complete the set.
---
'Bloods, Side A' is released on 16th July 2021 as a CD and download, pre-order from https://bc.manwithout.country
https://www.facebook.com/manwithoutcountry/
https://www.instagram.com/mwc_music/
https://patreon.com/manwithoutcountry
---
Text by Chi Ming Lai
12th July 2021