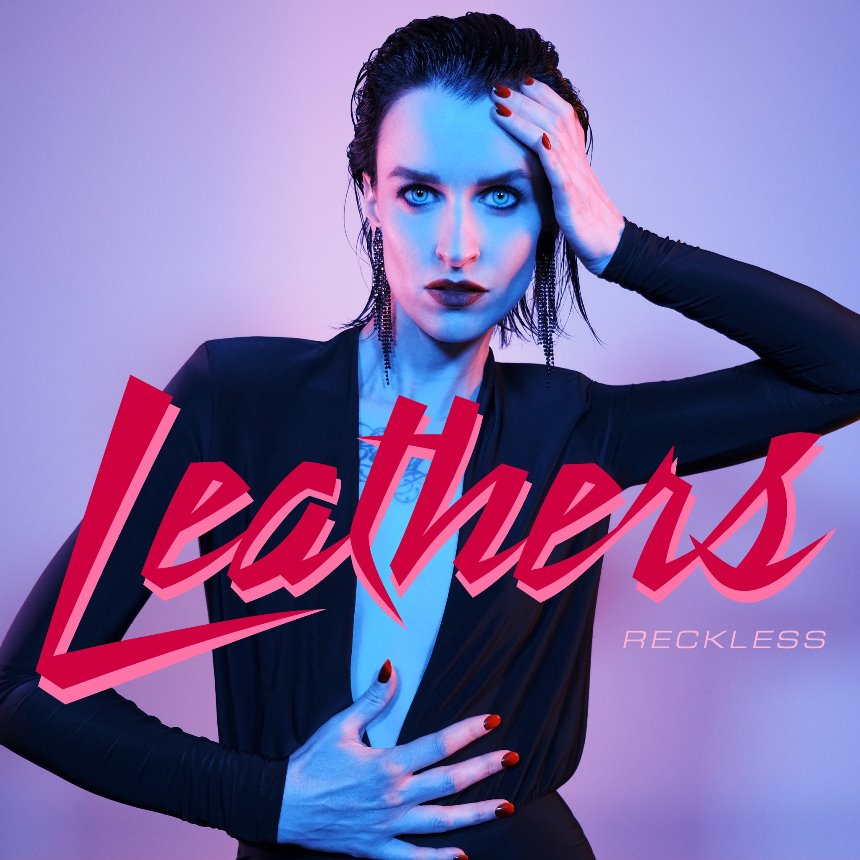 The recent emergence of post-post-punk internationally have seen acts such as Belarus' MOLCHAT DOMA, JAKUZI from Turkey and Canadian band ACTORS take the haunting legacy of JOY DIVISION into the 21st Century.
Although primarily guitar driven, post-post-punk is often distinguished by its bed of icy synths and mutated disco rhythms. And from ACTORS comes their keyboardist Shannon Hemmett with her more synth focussed solo project LEATHERS. However, it is not completely divorced from the ACTORS family as frontman Jason Corbett acts as producer on her debut EP 'Reckless'.
With a blend of pop melodies and the gloomier overtones of DEPECHE MODE, COCTEAU TWINS and BAUHAUS, Hemmett brings her mysterious air and voice from the background of her day job to become a confident lead, contrasting lightness with darkness, femininity with masculinity, fantasy with reality and creation with destruction, all in one plot.
The undoubted highlight is the title song itself. It's a rather lovely slice of synthpop in that classic melancholic vein with an infectious steadfast motorik beat, showing that Canada is again leading the way in the modern version of the form. Resigned and accepting, Hemmett is alluring in her voicing despite the heartbreak of her love being so cruel and dangerous.
Exuding a darker spectre, 'Phantom Heart' is fiercer and perhaps not that far removed from ACTORS with Hemmett being more contralto to suit, while 'Day For Night' is an introspective synth-laden ballad with the occasional six and four string intervention that allies it to the moody atmospheres of CHROMATICS and structurally comes over like a dreampop version of MAZZY STAR. But for those who want something more like a female fronted take on THE CURE, 'Missing Scene' goes the full post-post-punk hog and rocks with a cavernous gothique to close the EP.
The 'Reckless' song is worth the purchase price alone and as LEATHERS, Shannon Hemmett has demonstrated she can pursue a career outside of ACTORS that has the authenticity to appeal to a purer synth inclined audience if she so desires.
---
'Reckless' is released by Artoffact Records and available on the usual online platforms including https://leathers.bandcamp.com/
https://www.facebook.com/leathersmusic
https://twitter.com/LEATHERSmusic
https://www.instagram.com/leathersmusic/
https://open.spotify.com/album/3AePWkMJ5YWAjHYKu5xSpb
---
Text by Chi Ming Lai
14th July 2021