COM TRUISE is well known in the world of synthwave, being often cited as one of the greatest in the genre, providing sci-fi synth delicacies of the otherworldly type.
An obvious play on the name of one of the most prolific Hollywood actors, New Yorker COM TRUISE was born Seth Haley. Currently working out of Los Angeles, while his previous long player brought a completion of a space saga concept, the new opus 'Persuasion System'
concentrates on the changes on our planet, in the present tense.
With Haley switching digital audio work stations, the mini LP began as an experiment, created in a more fluid, unregimented way, with the outcome being a non-linguistic utopia of today.
If you're in the market for wild retro dancing á la TIFFANY, this record isn't for you; the receiver is to plug in into something timeless, eclectic and out of space, instrumental style. Whether it's gracious beats of 'Ultrafiche Of You' or 'Gaussian', or perhaps more melodic piano of 'Kontex' which works as a perfect cinematic piece, COM TRUISE has it all to suit any tastes of gaming geek or hardcore synthwaver.
Described as COM TRUISE's "most grounded work to date", 'Persuasion System' ideally reaches out to the borders of unknown universes, transcending the message of peace and hope, like on 'Existence Schematic', with its sublime progressions and elaborate electric schemes.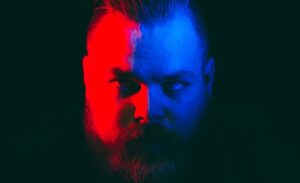 'Laconism' generates some urgency, while 'Privilege Escalation' leads flatly to 'Departure' from the ordinary.
The album's eponymous track is possibly the strongest here, sounding like a form of FM or karplus synthesis, gently modulating into an extravaganza of Earthly gravitation forces.
While this is not for everyone, what the elaborate experiment has done for Haley is free him of "expectations and permitted a process that echoed the tones of more immediate external environments. A gravity had seeped in; resulting material shifts between bleakness and sublime suspense, awe at the expanse of existing, in looking back and letting go".
---
'Persuasion System'
is released on 17th May 2019 by Ghostly International in CD, vinyl LP and digital formats
https://www.facebook.com/comtruise/
https://www.instagram.com/comtruise/
---
Text by Monika Izabela Trigwell
Photo by Effixx
14th May 2019