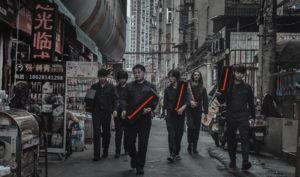 Along with FIFI RONG and Re-TROS, STOLEN are part of a new generation of Chinese creatives combining East with West.
Having released their excellent breakthrough album 'Fragment'
last year and undertaken a successful domestic live tour, the Szechuan six-piece consolidate with a new single 'Enter The Gap'.
Recorded and produced by Mark Reeder and Micha Adam, while 'Copyshop', 'Turn Black' and the self-explanatory 'Why We Chose To Die In Berlin' have exemplified STOLEN's hybrid sound, their post-punk techno rock takes a breather on the whispery and almost psychedelic 'Enter The Gap'.
A moody Sinomatic piece that showcases STOLEN's musical diversity, 'Enter The Gap' has a visual presentation written and directed by Formol. Using the mysterious twist of the band's distinctive red logo as an inquisitive focal point, it makes a symbolic statement on the clash between traditional values and capital growth, capturing the nature of modern China.
China's Szechuan province is an area that specialises in some of the world's hottest cuisine, thanks to their locally grown peppercorns. And now in STOLEN, the region has the hottest band in South East Asia.
STOLEN confess to being influenced by the likes of JOY DIVISION, PORTISHEAD, BLUR, MASSIVE ATTACK, KRAFTWERK, NEW ORDER, RADIOHEAD, DEPECHE MODE and APHEX TWIN.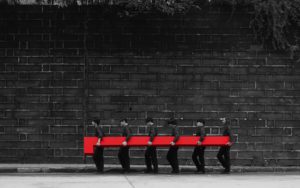 But as Liang Yi, the growly charismatic lead singer of STOLEN said to ELECTRICITYCLUB.CO.UK during an 2018 interview: "It is our basic principle to try and separate our sound from other music. We can let others hear our influence, but we don't want to become a 'copy shop' ourselves! We are trying to inspire others to join us and create our own Sino-sound."
---
'Enter The Gap' comes from the album 'Fragment'
released by MFS in vinyl LP and digital formats, available from https://mfsberlin.com/
STOLEN open for NEW ORDER on the following European live dates:
Prague Lucerna Praha (3rd October), Munich Philharmonie Im Gasteig (5th October), Berlin Tempodrom (7th October), Paris Le Grand Rex (11th October), Brussels Forest International (14th October), Amsterdam AFAS Live (17th October)
https://www.facebook.com/STOLENfromChina/
https://www.instagram.com/stolen_official/
https://twitter.com/KAIGUANCULTURE
---
Text by Chi Ming Lai
12th May 2019, updated 21st June 2019