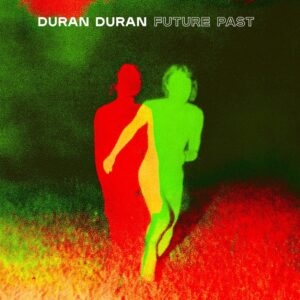 Celebrating forty years as recording artists, DURAN DURAN release their fifteenth studio album 'Future Past', a "live for the moment" reference of how something today can become a cherished memory in times to come.
Simon Le Bon, John Taylor, Roger and Nick Rhodes' previous album 'Paper Gods' was a disappointment, especially after the return to form of the Mark Ronson produced 'All You Need Is Now' released in 2011. With the latter's own 2007 predecessor 'Red Carpet Massacre' (with its contributions from Justin Timberlake and Timbaland) being as underwhelming as 'Paper Gods', will 'Future Past' see DURAN DURAN regain their groove?
The credits certainly indicate some potential with two tracks produced by electronic disco maestro Giorgio Moroder. But the majority of 'Future Past' has been helmed by British producer Erol Alkan of BEYOND THE WIZARDS SLEEVE fame. Also contributing guitar on most tracks is Graham Coxon of BLUR who might be seen as an unusual collaborator, but Britpop anthem 'Girls & Boys' was to all intents and purposes, a DURAN DURAN homage.
Certainly the chiptune inspired 'More Joy!' is reminiscent of former glories, its syncopated disco poise capturing DURAN DURAN at what they do best and with hypnotic electronics offset by a wonderful bass guitar run and chants by Japanese rock band CHAI, it exhilarates in a manner that is greatly appreciated.
Meanwhile, Giorgio Moroder lends his deft touch to 'Beautiful Lies' and 'Tonight United'. With early DURAN DURAN songs like 'Planet Earth' and 'Careless Memories' having owed more than a debt to the Italian's influence, the two songs deliver what is expected and that is no bad thing. The more immediate of the pair, 'Beautiful Lies' is a cousin to 'Being Followed' from 'All You Need Is Now' while 'Tonight United' swoops and rouses in a slightly funkier manner.
Sonically, the Moroder produced tracks have a clarity and power over the Erol Alkan produced offerings which suffer in places from the percussive harshness that seems to plague modern music, with recordings by acts such as BLANCK MASS and AVEC SANS being recent examples. 'Invisible' particularly falls victim to this and it would have been interesting to hear how Mark Ronson might have handled it as there is a good chorus in there!
Ronson does appear on guitar for 'Wing', a cinematic tune with Bond theme characteristics but this too is ruined by the drum sounds, although they are less obtrusive than on 'Invisible'. More pleasing to the ear is the pumping and self-acknowledging 'Anniversary' which offers hints of 'The Wild Boys', 'Girls On Film' and 'Save A Prayer' like Easter eggs in an ode to four decades of friendship.
Following in the footsteps of Kelis, Ana Matronic, Janelle Monáe, Kiesza and Lindsay Lohan, Swedish songstress and Max Martin collaborator Tove Lo features on the introspective 'Give It All Up' which is enjoyable enough with an uplifting chorus and some soothing orchestrations, but 'Hammerhead' with drill rapper Ivorian Doll sees DURAN DURAN fall into prey to their often misguided desire to be current and contemporary.
Arranged to be epic, the 'Future Past' title track is a bit laboured while 'Nothing Less' sees Saffron Le Bon duetting with her father on a pleasant enough ballad. But for those preferring something of a more contemplative and arty vein, the lengthy drum machine driven 'Falling' sees David Bowie's longest standing band member Mike Garson present his famed jazzy ivory runs to close.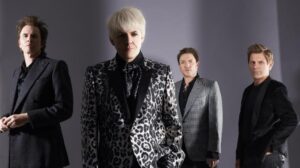 Although a mixed bag, 'Future Past' is a vast improvement on 'Paper Gods', although it doesn't hit the consistent heights of 'All You Need Is Now'. There are enough good tracks in the classic DURAN DURAN mould to keep long standing fans of the band happy, with those likely to be live favourites as the band host on their belated Ruby anniversary parties around the world.
---
'Future Past' is released by Tape Modern / BMG to all digital platforms as well as being available as a CD, limited edition deluxe hardback book CD with additional tracks, coloured vinyl LP and cassette
https://www.facebook.com/duranduran
https://twitter.com/duranduran
https://www.instagram.com/duranduran/
https://open.spotify.com/album/7GyGHJ1jv0v2Sa0pcgs4fD
---
Text by Chi Ming Lai
Photo by John Swannell
22nd October 2021