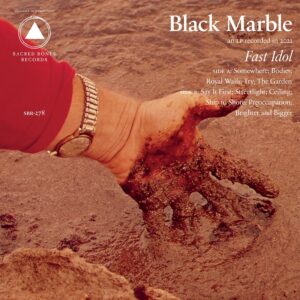 'Fast Idol' is Chris Stewart's fourth album as BLACK MARBLE and his second on Sacred Bones Records, home to THE SOFT MOON and ZOLA JESUS.
Capturing the uncertainty of the future provoked by world events, Stewart pays homage to "the forgotten bedroom kids of the analogue era" such as ASYLUM PARTY, FUTURISK and OPPENHEIMER ANALYSIS.
While the previous BLACK MARBLE album 'Bigger Than Life' looked at cultural shifts in the US inspired during bus rides to his Los Angeles studio, 'Fast Idol' is more enclosed and inward looking, solitary even…
The sub-six minute 'Somewhere' acts as a fine opener with a beautiful filmic introduction before suddenly speeding up for its vocal section to offer some vibrant stoner synthpop reminiscent of New Yorkers NATION OF LANGUAGE, dressed with digital chimes, plonks and incessant pulsations.
Wonderfully lo-fi, 'Bodies' sees its gloomy vocal tone offset by bright synthesizer tones and a hypnotic passage of nocturnal moods to finish. Also as charming, 'Royal Walls' offers bell-like keys and groovy electronic bass like PET SHOP BOYS if they had beards while with a lilting octave shift, 'Try' gives a take on NEW ORDER, complete with higher end Hooky bass.
The minimal structuring of 'The Garden' presents a doom-laden drum machine waltz and is given a barrage boost of toms and cascading keys. But more guitar driven with an optimistic Far Eastern tone, 'Say It First' plays on post-punk Northern Englishness like THE DURUTTI COLUMN gone perky.
'Streetlight' reveals the influence of acts like CLUSTER with its shuffling take on Motorik and THOBBING GRISTLE dropped into moonlit gothic cocoon while the percussive 'Ceiling' is a homage to NEW ORDER's early tribal gothic disco.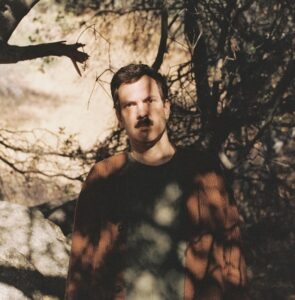 Despite its array of offbeats, 'Ship To Shore' remains constant with its driving staccato backbone, but 'Preoccupation' is phat and pumping with counter-melodies galore before 'Brighter & Bigger' closes with a spacey ballad that cleverly doesn't reveal itself to be a waltz until about a minute in.
The nonchalant vocals, while a trademark of BLACK MARBLE sound, will not be to everyone's taste and will begin to grate over what is a long album at 53 minutes. However, musically and synthetically, the content of 'Fast Idol' is intriguing and appeal despite not having the more immediate accessibility of say, NATION OF LANGUAGE.
---
'Fast Idol' is released by Sacred Bones Records in vinyl LP, CD and digital formats
BLACK MARBLE 2021 live dates featuring special guest DISCOVERY ZONE include:
Bournemouth Anvil (23rd October), Cardiff Club Ifor Bach (24th October), Milton Keynes Craufurd Arms (25th October), Hull The Adelphi (26th October), Edinburgh Mash House (27th October), Glasgow Stereo (28th October), Dundee Hunter S Thompson (29th October), Newcastle Anarchy Brewing Company (31st October), Chester Live Rooms (1st November), Oxford O2 Academy (2nd November), St Albans The Horn (3rd November), Bath Moles (5th November), London Moth Club (6th November), Hebden Bridge Trades Club (7th November)
https://www.sacredbonesrecords.com/collections/black-marble
https://www.facebook.com/blackmarblenyc/
https://twitter.com/blackmarblenyc/
https://www.instagram.com/blackmarblenyc/
---
Text by Chi Ming Lai
Photo by Ashley Leahy
22nd October 2021