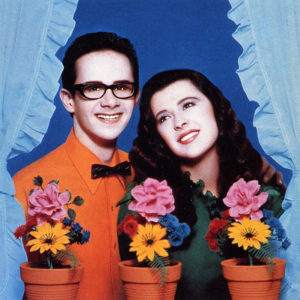 Cult electronic duo MIKADO have a new expanded version of their anthology 'Forever' released by Les Disques du Crépuscule, the Belgian label who issued their first single 'Par Hasard' in 1982.
Comprising of chanteuse Pascale Borel and instrumentalist Grégori Czerkinsky, the pair joined forces in 1982 to create a bittersweet chi-chi sound.
Czerkinsky used a Wilson Condor T organ with its rhythm box, a Jen Pianotone J-600 and later a Micromoog to complement Borel's wispy vocal tones.
They exuded a Gallic sophistication which was enhanced by a retro-kitsch visual presentation directed by Pierre et Gilles. Taking their name from the popular Japanese stick game which was also the title given to the Emperor of Japan, MIKADO accquired a local following there after a short Crépuscule package tour of the country in 1984.
One notable fan was Haruomi Hosono of YELLOW MAGIC ORCHESTRA who became the executive producer of their self-titled debut album and released it through his Non-Standard label in 1985. Although Borel and Czerkinsky started recording demos in 1988 for a second album, they split up in 1991.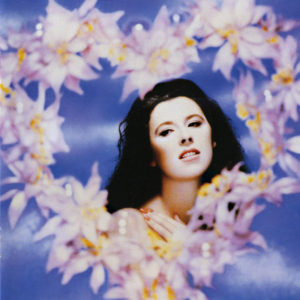 This collection features all of MIKADO's singles, B-sides, jingles like 'La Sardine' and 'La Tour Eiffel' plus demos from that unfinished second album.
'Forever' begins with 'Par Hasard', their wonderful first single and signature tune. Czerkinsky's pretty keyboards and Borel's eloquent air reminiscent of Françoise Hardy, France Gall and Brigitte Bardot made this a cult classic; the English version 'Romance' is also included as a bonus track and while cute, the tune works far better en Français. 'Ce Garçon Là' and 'Au Jeu du Mikado', the two B-sides from 'Par Hasard' affirmed MIKADO's musical intentions.
Meanwhile, the breathy 'Les Enfants du Piree' is a charming cover of the Greek song 'The Children of Piraeus'. Written by Manos Hadjidakis, the song won the Oscar for Best Original Song in 1960 after being featured in the film 'Never On Sunday' and was a No1 hit in France by Dalida, which is likely to be how MIKADO first heard it.
Their 1984 single 'Un Naufrage en Hiver' was their first studio liaison with Haruomi Hosono and signalled MIKADO's move towards a more punchier pop sound while still retaining their inherent elegance. It laid the path for their debut album in 1985.
On self-titled long player, songs like the cover of Serge Gainsbourg's 'Attends Ou Vas-t'en' saw live drums and marimbas join the expanded instrumental palette, while the sophisticated synthpop of 'Anita' indicated how MIKADO were maturing.
Indeed, the unearthed cover of the haunting theme to the Robert Mitchum film 'Night Of The Hunter' showed MIKADO could do dark and introspective too, coming over like a blueprint of 'Felt Mountain' era GOLDFRAPP. Following up the album, the bouncy single 'Carnaval' threw in some driving digital claps a la PRINCE and guitar to the synthy mix.
'La Fille Du Soleil' released in 1987 by Epic France secured a domestic hit single with an enjoyable boy / girl duet, although the big club friendly production was the antithesis of 'Par Hasard'
Something had to give and 'Emma et Vienna', the B-side of 'La Fille Du Soleil', sprung a surprise with a Mediterranean flavoured acoustic six string ballad. And as the pair prepared demos for the second album, songs like 'L'Arc En Ciel' and 'L'Amour Est Un Peu Fragile' indicated that a more conventional direction was being pursued, with the former exuding some Country & Western influences.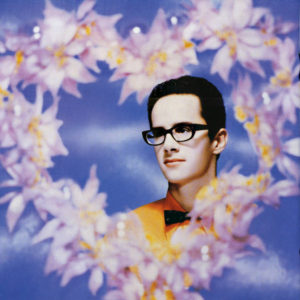 But further MIKADO music was not to be forthcoming. The estranged pair later had successful solo careers and both are still making music; in 2015, Pascale Borel returned with a synthetic pop album entitled 'Par Ailleurs' while Grégori Czerkinsky released the more traditionally inclined 'Confusion!' in 2016.
While not massive selling, the cocktail electro template of MIKADO no doubt inspired NOUVELLE VAGUE, the French bossa nova combo who found success in 2004 using sweet female vocals to cover classics such as 'Just Can't Get Enough' and 'Love Will Tear Us Apart'.
'Forever' is an interesting snapshot of French new wave pop and provides MIKADO's brand of updated Yé-yé some belated but well-deserved recognition.
---
'Forever'
is released by Les Disques du Crépuscule as a 28 track 2CD set housed in a 6 panel digipack with a 12 page booklet; a 20 track double vinyl edition is also available
https://www.facebook.com/MIKADO-126206410735439/
http://www.lesdisquesducrepuscule.com/mikado.html
https://www.discogs.com/artist/145595-Mikado-2
---
Text by Chi Ming Lai
Images by Pierre et Gilles
22nd September 2017