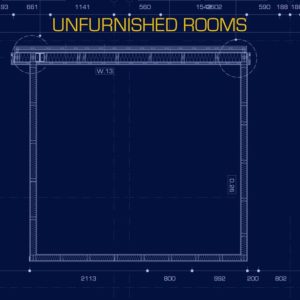 Following the collaborative project with Benge as FADER, this relationship is perpetuated with the JOHN FOXX sideman tackling production duties on the new BLANCMANGE album 'Unfurnished Rooms'.
The eponymous album opener is an intriguing mixture of guitar textures, interlocking monosynths and Linn Drum programming. Neil Arthur's vocals convey a real sense of loss and a brilliant chanting "search, search!" helps tie the whole piece together. Always one for incorporating 'kitchen sink' drama lyrics into his songs, Arthur's killer line here is "…no amount of online shopping will cover the loss".
'We Are The Chemicals' is an understated, but ultimately catchy track, with a lyric which sounds part news report and part early HUMAN LEAGUE with a "…chemical spillage on a trading estate in Altrincham" forming the centrepiece for the song. Arthur himself provides guitar on the track and a simplistic square wave synth and early Roland JP-style arpeggiator fills in the mid-range on the piece. The track's beauty lies in that it doesn't try too hard and in its concluding 50 seconds hits a wonderful, but still low-key climax with some additional soaring keyboard parts.
'Share it Out' starts out like a sped-up long distance cousin of MARTHA & THE MUFFINS New Wave classic 'Echo Beach' before Arthur's flanged psychedelic vocals are joined by an early Roland drum machine combo and heads off in an entirely different direction altogether. Very hypnotic and almost ambient in places, 'Share It Out' utilises the kind of Eastern melodic scale that made 'Living On The Ceiling' such a successful culture-splicing track.
The downtempo 'Wiping the Chair' utilises a combination of NEW ORDER-style guitars and OMD-influenced synth textures and is a highlight here; low-key in its delivery, Arthur delivers an emotional song about reuniting with a long-lost friend asking them to "Come back soon".
'Anna Dine' has a wickedly catchy chord progression and features the kind of interlocking monosynth work that made the early DEPECHE MODE and YAZOO albums sound so effective, it also has another classic brutalist Arthur line in "I've taken the earth wires from most of your plugs".
'In December' is another atmospheric slow tempo track and another highlight here; with an ambient soundscape aesthetic which drifts over the listener effortlessly.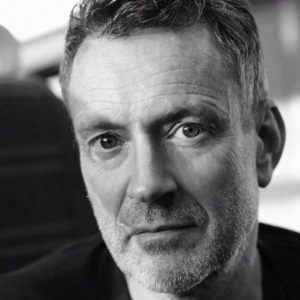 With its combo of squealing guitar riff-age and discordant modular electronics 'Gratitude' takes its cues from NINE INCH NAILS to the point where one could imagine Trent Reznor taking the lead vocal on this track. An angry-sounding Arthur really lets loose here and it provides a welcome rise in tempo on the album.
The song which is most highly anticipated here is the collaboration with JOHN GRANT; the closing 8 minute piece features Grant on backing vocals and piano. 'Don't Get Me Wrong' winds the tempo back down again and despite a hooky chorus line, doesn't quite match some of the earlier highlights on 'Unfurnished Rooms'.
With the current OMD album setting an extremely high bar for how an electronic record should sound sonically both mix and mastering-wise, the only drawback with 'Unfurnished Rooms' is the imagining of how it would sound with a bigger and more expansive production job. Some of the elements of the album feel like they would benefit from more layers (especially Arthur's vocals) and a finer attention to detail.
For many listeners though, 'Unfurnished Rooms' will be fine addition to the BLANCMANGE canon and Arthur's wonderfully personal songwriting skills show no sign of diminishing anytime soon.
---
'Unfurnished Rooms'
is released by Blanc Check on 22nd September 2017 in a CD, vinyl LP and digital, available from http://blancmange.tmstor.es/
BLANCMANGE 2017 live dates include:
Brighton Concorde 2 (5th October), London 229 (6th October), Southend Chinnery's (19th October), Southampton 1965 (20th October), Darwen Library (25th October), Newcastle Boiler Shop (26th October), Edinburgh La Belle (27th October), Glasgow Audio (28th October), Bristol The Fleece (2nd November), Nottingham Rescue Rooms (4th November)
BLANCMANGE also play 'The Tour of Synthetic Delights 2' with HEAVEN 17, dates include:
Sheffield Foundry (10th November), Liverpool Hangar34 (11th November), Hull Welly (17th November), Manchester Academy2 (18th November), Coventry Copper Rooms (24th November), Norwich Waterfront (25th November)
https://www.facebook.com/BlancmangeMusic
https://twitter.com/_blancmange_
---
Text by Paul Boddy
21st September 2017