If Gustav Holst had composed 'The Planets Op32' suite today, would he have used synthesizers within his framework?
With his interest in astrology and thus the future, the answer is probably a "yes".
Just a year after her acclaimed second album 'Awake But Always Dreaming'
, HANNAH PEEL follows-up with a striking seven movement instrumental opus entitled 'Mary Casio: Journey To Cassiopeia'
, featuring an array of analogue synthesizers and a 29-piece colliery brass band recorded live at the Barnsley Civic Theatre.
It tells the story of Mary Casio, a fictional elderly musical stargazer and her lifelong dream to leave her terraced home in the mining town of Barnsley to journey into space to see Cassiopeia, the constellation in the northern sky named after the vain queen in Greek mythology who boasted about her unrivalled beauty.
Peel played trombone as a youngster and it was during a day off in Yorkshire during her tour with EAST INDIA YOUTH, while watching a parade of marching brass bands that she fell back in love with the sound. It inspired a collaborative template that tied in with her own musical ethos of blending the traditional world with the electronic world.
Using research from conversations with astronomer Marek Kukula and books on theoretical physics, Peel says of her concept: "I wanted these huge slabs of planetary sounds to echo the excitement and wonder of our human need to explore and develop. Outer space is where only a select few can reach; yet it is somewhere we dream of going…"
'Octavia' from 'Awake But Always Dreaming' already signalled the format's possibilities with its cascading woodwinds and brass combining with a buzzing barrage of electronics, sounding not unlike PHILIP GLASS reinterpreting something off OMD's 'Dazzle Ships'!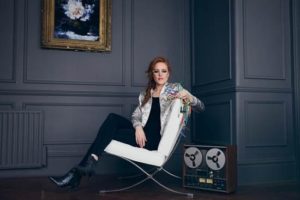 Beginning with the lift-off of 'Goodbye Earth', electronic arpeggios and traces of synthetic noise build up to a crescendo of brass and timpani.
It perhaps the one track where the synths overtly dominate but with the remaining six compositions, the Sci-Fi fantasy tale 'Mary Casio: Journey To Cassiopeia' gives equal credence to two quite different musical worlds
The sombre brass interludes of 'Sunrise Through The Dusty Nebula' provide a drifting ambience with eerie vocal nuances from Miss Peel herself, but on 'Deep Space Cluster', the brass band provide the arpeggios as fuzzy synths and bass drones lock-in for some combined energy transfer.
A cerebral start with distorted voice sources on 'Andromeda M31' masks a progressively swirly and percussive piece reminiscent of BRIAN ENO and VANGELIS with their own space related adventures. Meanwhile, the sparse 'Life Is On The Horizon' gently rings like a beacon signalling to Planet Earth and enhanced by the soothing harmony of the brass players, like an alternate theme to 'The Sky At Night'.
Rhythmically busy in comparison, 'Archid Orange Dwarf' cascades with synths while Peel's staccato ad-libs and the intensification of the traditional elements shape this inter-planetary soundscape.
The expansive emotionally charged drama of 'The Planet Of Passed Souls' closes the journey and following a music box interlude, throws in the symphonic overtones of Antonín Dvořák while also touchingly ending with a scratchy sample from a 1928 recording of Peel's own choirboy grandfather in Manchester Cathedral.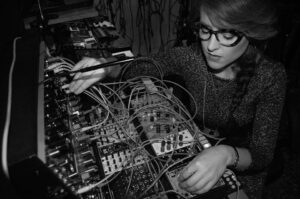 An enjoyable melancholic exploration in sound, 'Mary Casio: Journey to Cassiopeia' is an intriguing listen that experiments with and blends seemingly incongruous timbres.
It also marks HANNAH PEEL as an artist of many dimensions and with the potential to sustain a musical career in a variety of fields for many years to come.
---
'Mary Casio: Journey To Cassiopeia'
is released on 22nd September 2017 by My Own Pleasure in vinyl, CD and digital formats, pre-order from https://hannahpeel.tmstor.es/
2017 live shows for 'Mary Casio: Journey To Cassiopeia' include:
Liverpool Philharmonic Concert Hall (23rd September), Stockton The Arc (30th September), Barnsley Civic Theatre Tickets (21st October), Basingstoke The Anvil Concert Hall (28th October)
HANNAH PEEL opens for ALISON MOYET on her 'Other' UK tour, dates include:
Gateshead Sage (31st October), Glasgow Royal Concert Hall (1st November), Edinburgh Usher Hall (2nd November), Ipswich Regent Theatre (4th November), Reading Hexagon (5th November), Oxford New Theatre (7th November), Birmingham Symphony Hall (9th November), Southend Cliffs Pavilion (11th November), Cambridge Corn Exchange (12th November), London Palladium (14th November), London Palladium (15th November), Bournemouth Pavilion Theatre (16th November), Cardiff St David's Hall (18th November), York Barbican (19th November), Liverpool Royal Philharmonic Hall (20th November), Manchester Bridgewater Hall (22nd November), Bristol Colston Hall (23rd November), Warwick Arts Centre (24th November), Nottingham Royal Concert Hall (26th November), Aylesbury Waterside Theatre (27th November), Southampton 02 Guildhall (28th November)
https://www.facebook.com/HannahPeelMusic
---
Text by Chi Ming Lai
18th September 2017