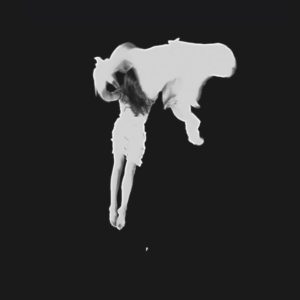 Moody electronic duo KALEIDA finally release their debut album 'Tear The Roots'.
Having come to wider attention opening for RÓISÍN MURPHY on her European tour in 2015, vocalist Christina Wood and synthesist Cicely Goulder released two EPs 'Think' and 'Detune' in 2015 and 2016 respectively.
The title song of the former release was included on the soundtrack of the 2014 noir action thriller 'John Wick'; the thoughtful brooding synthpop of 'Think' contrasted the violence it accompanied. And 'Think' is the only track from those two EPs to adorn 'Tear The Roots'
.
But it all begins with an intriguing experiment in multi-layered staccato voices and inventive percussive textures entitled 'Convolution', which sees the forlorn melancholic voice of Wood take centre stage inside Goulder's technological playground. The following 'Echo Saw You' also utilises an absorbing rhythmic template.
Of the ten brand new tracks on the long player, the wonderfully intense minimal house of 'All The Pretty Pieces' and its cacophony of CLANNAD styled vocals is one of the most immediate and a highlight of the set.
Meanwhile, the brooding electronic disco lento of 'Division' will be appreciated by anyone who loves SIN COS TAN's 'Trust'. Cut from a similar cloth, 'Meter' keeps the dance template minimal, procuring something that comparatively uptempo without being overbearing, as does 'Coco' with its strikingly subtle schaffel.
The album takes things down further with a piano-led ballad in 'Free' and no strangers to covers having already recorded 'A Forest' and 'Take Me To The River', KALEIDA's sparse rendition of NENA's '99 Luftballons' will polarise, but it earns kudos for being very different. Included in the recent Cold War spy drama 'Atomic Blonde', it fully projects the currently relevant nuclear apocalypse warning that was lost on many back in the day.
'House Of Pulp' adds an almost folk tinged dimension to the synthetic lattice while on the emotive closing title song, a beautiful string section makes its presence felt.
With shades of sisters-in-arms like EMIKA and KITE BASE, in 'Tear The Roots', KALEIDA have successfully cultivated a curious mystique with their contemplative sound, capturing the existential dilemmas of the human condition and the unsettling nature of the modern world.
---
'Tear The Roots'
is released by Lex Records in CD, vinyl LP and digital formats, available from https://shop.lexrecords.com/products/tear-the-roots
KALEIDA play Birthdays in London's Dalston district on Wednesday 18th October 2017, tickets available from https://www.songkick.com/concerts/30869089-kaleida-at-birthdays
https://www.facebook.com/KALEIDAMUSIC/
https://twitter.com/kaleidamusik
---
Text by Chi Ming Lai
16th September 2017