Fresh from the artistic and critical high of 'Splinter (Songs From A Broken Mind)', GARY NUMAN has finally unleashed his twentieth album 'Savage (Songs From A Broken World)' following a prolonged Pledge Music campaign.
While its predecessor was a very personal record, 'Savage' looks at wider environmental issues. Based on an unpublished novel that the former Gary Webb had been working on, the album was conceived around a post-apocalyptic world reduced to desert as a result of global warming.
Provoked to completion by Donald Trump's withdrawal of the United States of America from the Paris Climate Accord, Numan said: "The songs are about the things that people do in such a harsh and terrifying environment" because "the world's leaders had failed to stop the rising temperature of the planet until it became an unstoppable catastrophe".
The stark opener 'Ghost Nation' doesn't stray too far from the formula of 'Splinter', but while the ghostly Middle Eastern flavoured launch single 'My Name Is Ruin' (featuring the eerie vocals of his daughter Persia) might be borrowing large chunks of 'Love Hurt Bleed' and is as Numan put it himself "more of the same", several songs on 'Savage' highlight a breadth of diversity. 
The mighty apocalyptic rock of 'When The World Comes Apart' is a revelation, primarily because of its use of synths as the dominant instrument, with guitars less obviously prominent in the mix. Add in the bonus of a richly anthemic chorus, and this is one song that will satisfy Numanoids, old and new.
Then there's the brooding atmospheres of 'Bed Of Thorns' where there is space for traditional melismatic female voice samples alongside screeching vox humana synths and assorted guitar textures. Meanwhile 'The End of Things' captivatingly utilises deep choral moods and metallic chimes in between cavernous rhythmic cocoons where Numan despairs that "Everything I fight for leaves a bitter taste".
But it's the hauntingly beautiful ballad 'And It All Began With You' that stops all in its tracks, with an exposed and soulful vocal. With a slight hint of 'Wicked Game' (a favourite song of both Numan and his wife Gemma) in its chorus, it is a song equal to anything he has done in his career. With classic CP30 sounds that go all discordant, combined with subtle orchestrations and a gentle shuffling beat, producer Ade Fenton does a brilliant job bringing out the best in classic Numan while still maintaining forward momentum.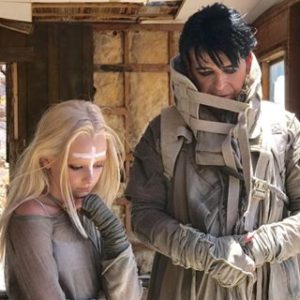 Religion is a recurring Numan theme and it pops up again on 'Mercy' and 'What God Intended'; while both exude the expected percussive midtempo darkness, electronics are the main driving force; indeed it is a pleasant surprise not to be hearing overbearing goth metal guitar continually penetrating into proceedings, as on some of the more recent Numan albums.
The stabbing synthesized spikes of 'Pray For The Pain You Serve' lift the energy spectrum with Numan's cry of "I belong here with the fallen", before 'Savage' closes with the anguished resignation of 'Broken'.
The sombre lengthy instrumental intro, with its thoughtfully crafted widescreen sound design, could easily soundtrack a bleak Hollywood Sci-Fi epic, while 'At The Heart Of It All' by NINE INCH NAILS springs to mind when the desolate beats kick in.
Some have referred to DEPECHE MODE's 'Spirit' as dystopian… no, it is 'Savage' that paints a scary dystopian future much more vividly. But most importantly, it does so with melody, something that was severely lacking in Gahan, Gore and Fletcher's lame folly.
Heavy but emotive, aggressive but sensitive, electronic but organic, 'Savage (Songs From A Broken World)' is thematically and musically the closest GARY NUMAN has come to 'Replicas'. As the powers that be square off along the 38th Parallel hell bent on world destruction, it captures the horrifying spectre of a world with nothing left to live for except survival.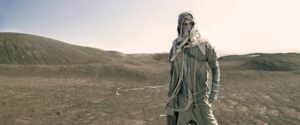 Nearly forty years on from the first TUBEWAY ARMY album, GARY NUMAN shows he is still capable a springing a surprise, with a significant number of songs from 'Savage
' even surpassing the highlights on the creative rebirth that was 'Splinter'.
---
'Savage (Songs From A Broken World)'
is released in a variety of formats by BMG
GARY NUMAN 2017 'Savage' tour includes:
Cardiff Tramshed (30th September), Bournemouth O2 Academy (2nd October), Leeds O2 Academy (3rd October), Bristol Colston Hall (5th October), Oxford O2 Academy (6th October), Nottingham Rock City (7th October), Newcastle O2 Academy (9th October), Glasgow O2 ABC (10th October), Birmingham O2 Institute (11th October), Manchester Academy (13th October), Brixton O2 Academy (14th October), Brighton Dome (16th October), Norwich Nick Rayns LCR (17th October), Southend Cliffs Pavilion (18th October), Leuven Het Depot (19th October), Paris Le Trabendo (20th October), Amsterdam Paradiso (21st October), Bratislava Majestic (24th October), Cologne Essigfabrik (25th October), Berlin Columbia Theater (26th October), Lodz Klub Wytwornia (27th October),
https://www.facebook.com/GaryNumanOfficial/
https://twitter.com/numanofficial
---
Text by Chi Ming Lai
15th September 2017