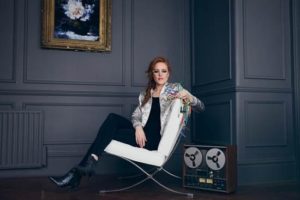 A year after her critically acclaimed sophomore long player 'Awake But Always Dreaming', HANNAH PEEL is set to release her next conceptual opus this September.
Entitled 'Mary Casio: Journey To Cassiopeia', the album featuring a 29-piece colliery brass band tells the story of a fictional elderly musical stargazer.
Her lifelong dream to leave her terraced home in the mining town of Barnsley to journey into space to see Cassiopeia, the constellation in the Northern hemisphere named after the vain queen in Greek mythology who boasted about her unrivalled beauty.
The video by visual artist Daniel Conway for 'Sunrise Through The Dusty Nebula' from the album captures a beautiful telescopic romance of another intergalactic dimension. The planetary soundscape itself recalls OMD's eerie experiments like '66 & Fading' with its hybrid of analogue synthesizers, full brass band and ambient vocal nuances from Miss Peel herself.
It all brings her back full circle to OMD; she covered 'Electricity' for her debut 'Rebox' EP which brought her to the attention of Andy McCluskey and led to her 'Organ Song' aka 'Today Is Not So Far Away' being used as the basis for 'Bondage Of Fate', a song from their 2010 comeback album 'History Of Modern'
'Mary Casio: Journey To Cassiopeia' is a seven-movement odyssey that captures HANNAH PEEL and her zest for musical adventure, experimentation and genre blend. She said in Summer 2016 that this "could have been a HANNAH PEEL album, but it's so different in terms of there's no vocals. It's very much an instrumental journey, so it helped me to compose it under a different name and gave me the confidence to just go for it."
---
'Mary Casio: Journey to Cassiopeia' is released on 22nd September 2017 by My Own Pleasure in vinyl, CD and digital formats, pre-order from https://hannahpeel.tmstor.es/
2017 live shows for 'Mary Casio: Journey To Cassiopeia' include:
Liverpool Philharmonic Concert Hall (23rd September), Stockton The Arc (30th September), Barnsley Civic Theatre Tickets (21st October), Basingstoke The Anvil Concert Hall (28th October)
HANNAH PEEL opens for ALISON MOYET on her 2017 UK tour, dates include:
Gateshead Sage (31st October), Glasgow Royal Concert Hall (1st November), Edinburgh Usher Hall (2nd November), Ipswich Regent Theatre (4th November), Reading Hexagon (5th November), Oxford New Theatre (7th November), Birmingham Symphony Hall (9th November), Southend Cliffs Pavilion (11th November), Cambridge Corn Exchange (12th November), London Palladium (14th November), London Palladium (15th November), Bournemouth Pavilion Theatre (16th November), Cardiff St David's Hall (18th November), York Barbican (19th November), Liverpool Royal Philharmonic Hall (20th November), Manchester Bridgewater Hall (22nd November), Bristol Colston Hall (23rd November), Warwick Arts Centre (24th November), Nottingham Royal Concert Hall (26th November), Aylesbury Waterside Theatre (27th November), Southampton 02 Guildhall (28th November)
https://www.facebook.com/HannahPeelMusic
---
Text by Chi Ming Lai
14th July 2017, updated 20th August 2017