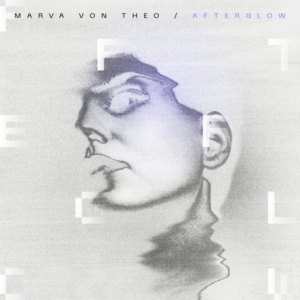 Formed in 2017, MARVA VON THEO are two classically trained musicians Marva Voulgari and Theo Foinidis based in Athens.
Their self-released debut long player 'Dream Within A Dream'
came out in 2018 and while there was promise in its dark introspective concept, it was not fully realised. Introducing some more uptempo rhythm structures, MARVA VON THEO have taken more time to produce the follow-up album 'Afterglow' to express those darker bittersweet feelings that often come after the end of something beautiful, a situation that is wholly relatable with current world events.
'Afterglow' is certainly more varied than 'Dream Within A Dream', with jazz and experimental dance genres making their presence felt alongside more classic synth sounds for an intelligent musical statement with passionate vocals and considered arrangements.
The four chapter 'Love' offers a brooding start but ultimately builds from its moody gothique into a dynamic crescendo over its seven minutes with sparkling arpeggios, gliding synthbass and boisterous live drums. The marvellously frantic 'Forever' is an immediate slice of avant pop that recalls 'River In Me', the TRENTEMØLLER collaboration with Jenny Vee of SAVAGES, in its determined vocals and punchy beats.
The moodiness returns for 'Ruins' which sees Voulgari take on a piercing higher register to counterpoint her usual contralto, while the misty ballad 'Embrace This Madness' reflects a feeling that many have had to adopt as a coping mechanism of late.
Awash with shimmering synths, the staccato post-punk of 'Dissolve' conjures a sinister chromatic atmosphere that allows space for skippy electro beats, but 'Older' is more minimal, with the odd synthetic guitar texture and sub-bass creeping in before Voulgari pours her heart out.
With the human voice eerily harmonised by a vocoder, 'Room Of Doubt' is possibly the most unorthodox song on 'Afterglow', with trip-hop and jazz elements entering the experimental playroom before a blast of breakbeat  from Foinidis!
'Somewhere Safe' is almost as unorthodox and smothered in agitation; utilising screaming vocals and a growling synthbass sequence, it provides a dramatic setting for another album highlight.
The weary 'Bittersweet Sunday' is another brooding ballad that places Voulgari within a spacious platform to work within. But starkly structured at its start, 'Forgotten' adopts several faces to achieve its low-high tonal effect, one of those being operatic soprano!
Ending with the percussive 'My Moon', the widescreen cinematics combine well with the emotive histrionics to outline its inherent unsettling torment.
A significant artistic progression from 'Dream Within A Dream', 'Afterglow' is an ambitious but an intense work to consume. The variation in styles and pace keeps it interesting, so will find favour with those who prefer a more esoteric approach to their electronic pop.
---
'Afterglow' is available now on white or clear vinyl LP, CD and download from https://marvavontheo.bandcamp.com/album/afterglow
https://www.facebook.com/marvavontheo
https://twitter.com/marvavontheo
https://www.instagram.com/marvavontheo/
---
Text by Chi Ming Lai
Photo by Mariza Kapsabel
1st March 2021