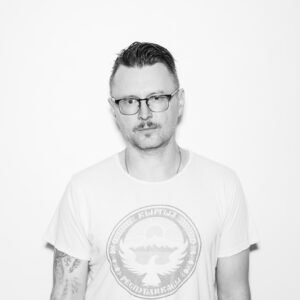 Few, if any musicians on the electronic music scene could claim to be as prolific as the duo of Rhys Fulber and Bill Leeb.
The Canadian-based pair have collaborated as FRONT LINE ASSEMBLY, DELERIUM, INTERMIX and NOISE UNIT and have also brought their musical talents to several other diverse projects over the last 35 years.
Rhys Fulber kindly took time out of his busy PR schedule to talk about the new FRONT LINE ASSEMBLY release 'Mechanical Soul' and a selection of some of his high profile side-projects.
How important was the influence of your father on you getting into music?
Hugely important. His record collection alone was a solid foundation for anyone, but then the fact our dining room was a jam space from when I was 5 or so meant there were always instruments set up to mess around with. The keyboard player in the bar band he played with had a Minimoog, so I remember playing with that when I was 7 or so. I also started playing drums maybe even earlier than that.
Who were your earliest musical influences?
KRAFTWERK is number one. My parents took me to a show when I was 5 and I still remember it. After that it's Pete Shelley's 'Homosapien' album and all the BUZZCOCKS original LPs. Their music really connected with me when I was young and still does today.
What kind of effect did growing up in Canada have on your music?
Vancouver was still very colonial when I grew up so we got more of the British music scene than the US, as well as Canada promoting a lot of their in house bands so we had our own take on things in some ways. Also Vancouver was a world class studio city already in the 80s so there was a culture of that in Vancouver. All the studios we worked in were first rate, and connected to a famous Canadian musician, like Bryan Adams or Paul Dean.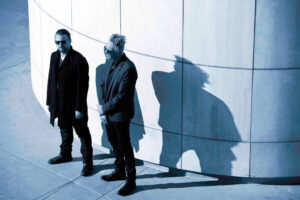 How much have the themes of 'Mechanical Soul' been influenced by the situation of the pandemic?
I think maybe lyrically a bit. I was still living in LA when we started the album so we were already used to working remotely, so it wasn't a big change for us in that way.
What have been your other sources of song material for the album?
I had clips of music from various things and times that we pulled together as the basis. One was meant to be for my solo techno material as well, so it was a bigger variety of starting points that usual. We used to get in a room together and write all the music so this one is different in that way. I had some track ideas and Bill made suggestions to them and then added vocals and lyrics, so in some ways we both focused on our roles more than in the past in a way.
Were there any particular synths or pieces of technology that had an impact on the making of 'Mechanical Soul'?
Each one had a different key piece. I added that to the liner notes; which was the featured instrument on each. For instance, the main riff of 'Alone' was from a borrowed Moog Model 15 reissue that I just recorded jams on for a day and pieced those core elements together from that. The single 'Unknown' has a lot of a Roland Alpha Juno 2 synth I think I have only used on maybe two other songs over 20 years or so…
You have two featured songs out of the 157(!) on the recent 'Cyberpunk 2077' computer game. What is the story behind 'Drained' and 'Subvert', were they written specifically for the product?
Yes, they were. I was put in touch with one of the music supervisors as just a general contact, because he had worked for a label FLA had released for in the past and he just asked if I would be interested in submitting some ideas to this new game project. I had submitted a total of 6 or 7 tracks and they chose those two. The song 'Stifle' on 'Mechanical Soul' was one of the tracks that didn't make the cut. Bill liked it so we developed it into a Front Line song. Two tracks on my last solo album 'Ostalgia' were also from those sessions, and the 'Cyberpunk 2077' material spawned the rest of that album as well, as it was done at the same time.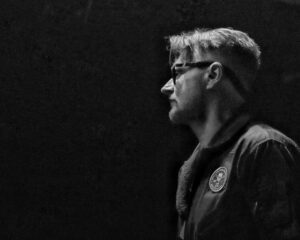 In pre-pandemic times, FRONT LINE ASSEMBLY co-headlined with DIE KRUPPS on the 'Machinists United Tour', what are your recollections of those shows?
It was a pretty good tour. Just adding another name band does a lot for the draw it seems, so we had some shows that we hadn't had in a while in places like Munich for instance.
What means most to you? Recording new material or playing live?
Well, you can't have live without the studio for this music, so I think the studio means more to me although I really like both.
Sampling has always been at the core of your musical projects, what have been the highs and lows of creating songs using this creation method?
Sampling is just like another form of synthesis to me so it's hard to extract it as a separate thing now. We didn't think too much about what we sampled other than if it sounded good. I still think that holds true now, though I have just gotten much more covert with how I do it now. Random and obscure sources, for instance.
'Voices', which featured on the INTERMIX album, has always been a favourite. What are your memories of working on this album?
I don't remember that album too well. I remember the mix room and the gear we used, but it's not exactly clear. It was a busy time and we made that album fairly quickly as a way to experiment with new ideas without committing them to FLA. So it was like a testing site album.
From the same album, 'S+M=y' features a sample from Clive Barker's seminal horror film 'Hellraiser'. Was there a specific process with getting the "we'll tear your soul apart" dialogue cleared, or was this an early case of let's sample it and hope no-one will notice?
We didn't think that way then at all. We just sampled whatever. It wasn't until 'Millennium' (1994) that we had to atone for our sins!
In terms of commercial success, the DELERIUM track 'Silence' sticks out. The original version still stands up, but how did you feel when the trance versions brought the track to a more mainstream audience?
It was pretty surreal, like you are somehow disconnected to it. But who can complain about a magic moment like that? I think hits have to be accidents, because nothing about that was planned.
You have produced for other artists, notably working on KANGA's superb eponymously titled album and 'Automaton', the upcoming single by AESTHETIC PERFECTION. What do you think makes a good producer?
Someone who can make an artist comfortable and not afraid to try new things and push themselves. It's usually done with lots of support and being careful with words and constructive criticism.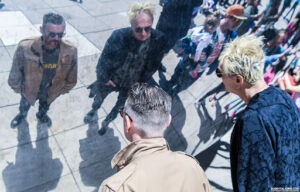 You have worked with co-collaborator Bill Leeb for over 30+ years now. What do you feel helps to keep that relationship fresh creatively?
It is mainly around a similar taste and we still listen to new things. I think our working relationship is better than ever because there has been so much trust built up.
How influenced are you by current forms of music?
Moderately. I think you can't have stale beats in electronic music, so it's good to hear what the current sounds are to keep your sound fresh without jumping too much on one thing. As you get older you realise being yourself is the most important, but buying new shoes and a jacket really helps.
Do you feel that the Industrial format is a bit of a straitjacket? Is this a reason why you have pursued several side projects?
It doesn't have to be, but I think the audience wants the bands they like to deliver the sound they were drawn to. When you go too far off that they feel betrayed somehow. It's easier just to have another banner to keep everyone happy.
Your CV of outside artists you have worked from a production / remix perspective with is pretty incredible including MÖTLEY CRÜE and MEGADETH as well as Alice Cooper, Sarah Brightman, Sinéad O'Connor; do you find working with other artists more or less stressful than working on your own material?
It really depends. Both can be very stressful. Working on your own, you can lose perspective which can really slow things down, whereas with a band or something there are more ears in the room.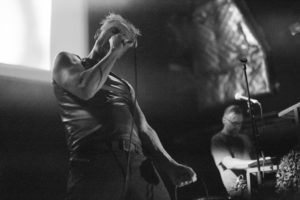 You have been pretty vocal about the way that streaming sites such as Spotify give musicians a raw deal when it comes to royalties. What musical formats do you tend to generate most of your income from?
It's hard to answer that because I get income from so many places now after so many years in the business, and sometimes it's really random; suddenly one song will get used somewhere and you get a blip, so I can't complain too much.
I just think YouTube and Spotify is devaluing art in many ways and it's hard to steer away from 'free' for a lot of people once the toothpaste is squeezed from the tube. I much prefer the model Bandcamp have come up with, where you get some streaming and the appreciation of tangible product as well.
You are stuck on a desert island, what is the one piece of electronic gear you would have with you and why?
My Waldorf Q+. It literally can do it all, and very well!
---
ELECTRICITYCLUB.CO.UK gives its warmest thanks to Rhys Fulber
Special thanks to Gary Levermore at Red Sand PR
'Mechanical Soul' is released by Metropolis Records, available in double vinyl LP, CD and digital formats from https://frontlineassembly.bandcamp.com/album/mechanical-soul
A selection of Rhys Fulber solo material is available from https://rhysfulber.bandcamp.com/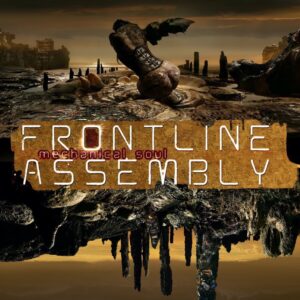 http://www.mindphaser.com/
https://www.facebook.com/frontlineassembly/
https://www.facebook.com/rhysfulbermusic
https://twitter.com/rhysfulber
https://www.instagram.com/front.line.assembly.official/
https://www.instagram.com/rhys_fulber/
https://www.metropolis-records.com/artist/front-line-assembly
---
Text and Interview by Paul Boddy
Photos by Chris Escamilla, Bobby Talamine and Simon Helm
26th February 2021