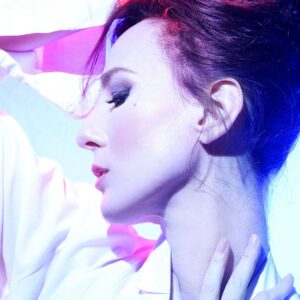 Brooklyn's CLASS ACTRESS was originally conceived as a synth driven alternative pop trio comprising of Elizabeth Harper, Mark Richardson and Scott Rosenthal, producing the debut 'Journal Of Ardency' EP and 2011's 'Rapproacher' album.
After the band dissolved, the now solo Harper adopted CLASS ACTRESS as a nom de théâtre, issuing a mini-album 'Movies' in 2015; this six track collection had Giorgio Moroder as an executive producer and featured the 'Bizarre Love Triangle' aping 'High On Love', the Jam & Lewis tribute 'The Limit' and the synthwave flavoured 'More Than You'.
But since then, there has been silence. A brand new single 'Dark Dopamine Ceremony' broke the disquiet in late 2020 and created anticipation among CLASS ACTRESS' fanbase. Then Elizabeth Harper surprised all by reuniting with original member Mark Richardson and releasing a new EP 'Sense Memory' which featured three cover versions that highlighted the diverse interests that occupy her musical headspace.
Using a gorgeously nonchalant delivery, THE SMITHS 'Ask' kept some of its six string but was turned into dancey synth indie reminiscent of NATION OF LANGUAGE with the "buck-toothed girl from Luxembourg" now amusingly turned into a buxom one… ooh Matron! Take them away!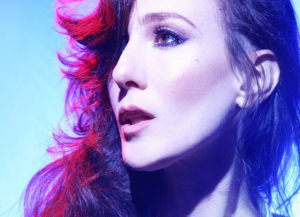 Meanwhile, self-referencing a previous CLASS ACTRESS single from 2011 in a cover of THE WEEKND, Harper maintained the expletives on 'The Hills (Bring On The Weekend)' and came over like a soprano MARINA & THE DIAMONDS entering the sinister climes of 'Twin Peaks'!
Then MAZZY STAR's husky contralto ballad 'Fade Into You' found its countrified feel wonderfully twisted by droning synths, rigid mechanical rhythms and an icy string machine.
But since its original release in March, 'Sense Memory' has been expanded with the new self-penned songs 'Airwaves' and 'Saint Patrick' to add even more value. The percussive 'Saint Patrick' features some infectious synth hooks while Harper's richly passionate vocal over some strident keyboard work combine like Nerina Pallot fronting BOY HARSHER for a brilliant slice of modern electronic pop. More atmospheric, 'Airwaves' doesn't disappoint either and is set around a bed of cascading synths and a hypnotic rhythmic backbone in a more rigid take on the airs and graces of CHROMATICS.
The expanded 'Sense Memory' heralds the welcome return of CLASS ACTRESS to continue developing on the talent that was first showcased on 'Journal Of Ardency' and once championed by Giorgio Moroder. With so many independent women now finding solace in synthesized self-expression such as MECHA MAIKO, DANZ CM and GLITBITER, Elizabeth Harper has found the perfect time to be making music again.
---
'Sense Memory' is released by Terrible Records, available as a download direct from https://terriblerecords.bandcamp.com/album/sense-memory
https://twitter.com/CLASSACTRESS
https://www.instagram.com/classactress/
https://open.spotify.com/album/0ftgcEBGdn2LWCvP2RHxS4
---
Text by Chi Ming Lai
Photos by Benjy Russell
4th July 2021