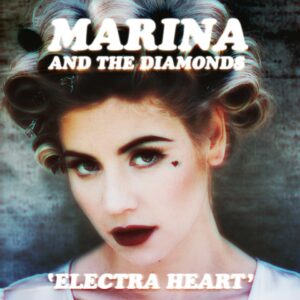 Dear diary, we fell apart…
'The Family Jewels' by the delectable MARINA & THE DIAMONDS was a great, quirkily tuneful debut with barking mad lyrics and staccato melodies fuelled by plenty of SPARKS inspired Fe-Mael Intuition.
It also happened to be the first album ever reviewed by ELECTRICITYCLUB.CO.UK on its launch in March 2010. But the Greco-Welsh songstress has since shed her wholesome brunette locks for what appears to be an ironic exploration into the world of the archetypal All-American blonde starlet with 'Electra Heart'.
"It's an Ode to dysfunctional love", Marina Diamandis said in her press release, "I based the project around character types commonly found in love stories, film and theatre, usually ones associated with power and control in love, as opposed to weakness or defeat. I guess it was a way of dealing with the embarrassment that, for the first time in my life, I got 'played'. Rejection is a universally embarrassing topic and 'Electra Heart' is my response to that. It is a frank album".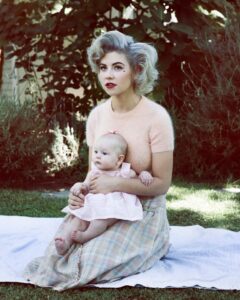 Musically, the interim single and deluxe bonus track 'Radioactive' featured rave stabs and dance beats; it was a long way from the excellent unreleased sub-PET SHOP BOYS meets KATE BUSH ditty 'Jealousy' which had been revived for her 'Burger Queen' tour and was slated for inclusion on her second album.
A number of high profile producers and writers such as Dr Luke who has worked with Katy Perry and SWEDISH HOUSE MAFIA have been drafted in. 'The Family Jewels' main producer Liam Howe has been relegated to just two tracks on the main feature. Meanwhile Rick Nowells, whose credits include BELINDA CARLISLE, takes his place on four songs and the ubiquitous Greg Kurstin makes his presence known on three.
'Bubblegum Bitch' is a good start though, spiky new wave pop like Lene Lovich covering THE ADVERTS 'Gary Gilmore's Eyes', Marina says it's her favourite track on the collection which is telling! But it's immediately followed by a full force jump into KATY PERRY territory with 'Primadonna' and 'Homewrecker'. Less subtle and less inspiring, these hyper pop tunes are perhaps not what some were expecting.
'Starring Role' is much better, perhaps more in 'The Family Jewels' vein; less bombastic and free of Perry-isms. 'The State Of Dreaming' is another excellent track, gently electro assisted but layered with strings and rousing in a way that made MARINA & THE DIAMONDS such an inspired listen back in 2010.
The Euro-thud of 'Power & Control', courtesy of Steve Angello from SWEDISH HOUSE MAFIA,  is slightly more pedestrian but the similarly influenced 'Living Dead' is proof that when Marina does synthpop, she can do it very well. The Greg Kurstin steered song is spoiled though by the over driving four-on-the-floor beats in the choruses. Producers please take note; syncopated rhythms and 6/8 Schaffel can make people dance too.
The brilliantly titled 'Teen Idle' is 'Numb' meets 'Guilty', full of contemporary backing but classic Marina. Bubbling electronics compliment the epic 'Valley Of The Dolls', its additional orchestration worthy of John Barry as Marina's contralto voice, free of effects, totally resonates.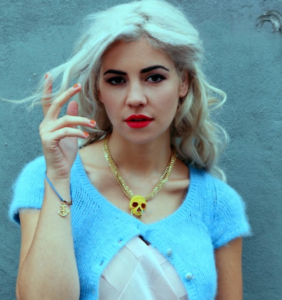 The ambient synth intro of 'Fear Of Loathing' launches into mental breakdown for a terrifically emotive closer.
But an album's bonus tracks are always a good indication of what could have been. Thus the Greg Kurstin co-write 'Sex Yeah' is brilliant, a perfect electronically assisted pop tune with subtle guitar lines and complimentary rhythms.  And 'Buy The Stars' could easily have come off 'The Family Jewels', proof that if Liam Howell had been behind the desk, MARINA & THE DIAMONDS' second album would have been very different.
Overall, 'Electra Heart' is a better album that the preview snippets have perhaps suggested.
And despite the more obvious in-yer-face tracks being used to launch the album, there is still much of Marina Diamandis here, if a little too artificially assisted and wearing clothes that are far more suited to more provocatively obvious, if less interesting female artists.
There are some great moments on 'Electra Heart', but she can do better than this. Marina isn't Katy Perry and shouldn't feel the need to be!
---
'Electra Heart' is released by 679/Atlantic Records
https://www.facebook.com/marinaandthediamonds/
---
Text by Chi Ming Lai
1st May 2012