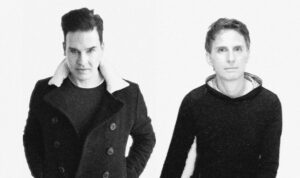 With their passion for Mittel Europa, Steven Jones and Logan Sky now have several EPs and four long players of their mannered pop noir to their name, the most recent of which was 'European Lovers'.
Front man Steven Jones is often inspired by his passion for international travel and the inherent history it uncovers, while Logan Sky was involved in the rebooted VISAGE which delivered the 'Hearts & Knives' album in 2013.
The pair were introduced to each other by Steve Strange and the aura of the late Blitz Club figurehead's neu romance looms strongly in their music. Conjuring up images of mysterious shadows and enigmatic romances, 'European Lovers' harks back to a Europe after the rain with an emphasis on monochromatic mood.
Steven Jones spoke to ELECTRICITYCLUB.CO.UK, with the occasional technical interjection from Logan Sky about their love for Europe…
How did you become fascinated by the nostalgic Eurocentric romanticism that colours your music?
Steven: As a child growing up in a kind of northern suburbia, I felt that I had a kind of fantasy for Scandinavia and European cities like Stockholm and places like Berlin, in my mind they represented a sort of bohemian artistic freedom and I assumed or kind of believed that everybody who lived in these amazing European cities was far more stylish, sexy, free minded, freewheeling than anybody that lived in the bleak northern suburbia that I grew up in.
So I crystallised a lot of my fantasies around the these locations and I imagined mysterious travel via ships and night trains and occasionally flights. It was a kind of world of romantic potential, freedom, style, glamour… it felt like a place to which I could escape. So I had a kind of dream of Europe and then when I was 16 I went on a German exchange scheme to Düsseldorf and it was a very beautiful experience.
It was the spring, very sunny and I felt in my naivety I had met all these stylish and sexy people that were living in this European life and somehow that experience confirmed that my fantasy was in fact reality. So, I really felt then that the dream of freedom in this kind of dazzling fashionable stylish and sexy Europe was a reachable dream and that you could escape from airstrip one, as I thought of the UK. So, yes, I'm drawn to that kind of chic melancholic vibe.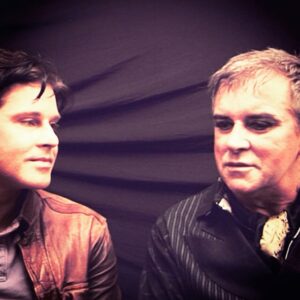 You were introduced to each other by Steve Strange?
Steven: Yes that's true. I used to speak to Steve a lot on the phone and many times he would mention this person called Logan Sky and he would insist that I should connect with Logan Sky and have a conversation with Logan Sky, that was a thing for Steve. He was coming from the perspective of doing something which he had always done which was to connect people. The wheel of destiny turns and I did connect with Logan with the idea of doing a cover of 'Anyone Who Had a Heart' with Steve Strange and also another track, 'Burning Desire'… but neither came to fruition, for various reasons.. but hey, it's karma.
Finally I think where we really got going was that I had recorded a track called 'Strange Magic' with Donna Destri, a sort of moody 80s electronic thing and then I think that caught Logan's eye and he said he wanted to remix it and away we go. So 'Strange Magic' was really the first Steven Jones & Logan Sky release. But yes you are right… Steve Strange… it was his idea all along and I think he'd be very happy about it now, because in his honour, we've done a load of stuff.
What were the first songs you wrote together that helped you realise there was definitely a creative chemistry?
Steven: After 'Strange Magic', Logan sent me some demos and I think one of them was 'Desire Lines' and I did a vocal for it with my lyric and another 'Falcon of the Dunes'. So then I felt I could easily find a place for myself in in the soundscape of Logan Sky. These were pointing me in the right direction and why wouldn't we because of course I've been recording electronic music for years prior we share a kind of aesthetic both sonically and visually and that would be just a question of you know finally recording something together. So I think you know that was always going to happen and certainly Steve was always going to make that happen, so you know it happened.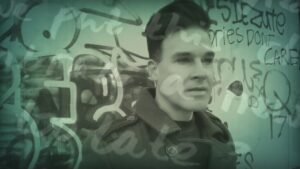 How would you describe your dynamic, do you have set roles?
Steven: The dynamic is intriguing and creative. We have a process and usually we will begin on some ideas or demos and there might be a sense of a theme. On 'European Lovers' we had a conversation about doing some sort of European sounding pop album.
'The Visitors' by ABBA also came up in our conversation; I love that album and have always had a kind of yen for recording an album like it because I think it kind of encapsulates how I feel about life. Dark, cold, bleak… with a hook!
There are roles and there is also a space where we move outside the roles and certainly we've never said this is your role and this is my role but, y'know, it's there in the subtext…
You've been quite prolific with three albums in four years as well as various EPs and collaborations including with Steve Strange, how do you look back on your work prior to 'European Lovers'?
Steven: I think I've always had the sense that you have to move quite fast. I'm not the kind of person that wants to overcook anything and I've always operated from a perspective of being quite urgent in terms of putting stuff into the world because from my perspective the results of your creative process needs to be in the world soon as it can be and that's the creative expression. I'm really interested in the creative process from the idea to the final recording and then when it lives in the world I don't pay too much attention to it again… because by then I'm moving forward to the next thing and there's always the next thing… something else to express.
I'm quite proud of all of our recordings and have the sense that we have created a catalogue of material and I do think that something is expressed through that… a kind of vision of the world and of life that stands in its own space, not a pastiche synthwave space where people recycle old ideas.
Which particular bodies of work stand up for each of you now?
The 'Corrupt State' collaboration with Steve Strange was a great sense of completion for me because I felt an affinity with Steve, his predicaments, his aesthetic, his view of the world and also because my family is Welsh and I'm also called Stephen. People used to call me Steve Strange when I was at school, so it was karmic in the echo chamber of my life… kismet.
'European Lovers' captures a monochromatic mood, had it been influenced by any particular films or cities or stories?
Steven: I was watching 'Alphaville' and that's a kind of French dystopia and I liked that its futuristic but it's really retro. But I'm more often influenced by books than films. 'European Lovers' arises out of where we're at now, which is a sort of separation, dislocation… everything feeling off-kilter, unstable, uncertain. But I feel like that anyway so it's entirely possible that even if we were living in the most stable of times, my mind would come up with something like 'European Lovers'.
So cities… hmm… it's a kind of chilly dystopian European city of our dreams, an amalgamation perhaps of Berlin, Paris, Stockholm and Düsseldorf! But you can decode it for yourself…
Musically, who were you inspired by on this album and had there been any new influences compared to your previous releases?
Steven: There's always the sense of wanting to be fresh or to arrive at a new place but our influences are always going to be in the area of VISAGE or JAPAN or I'd like to be Bryan Ferry. My aspiration would be to mesh together the old influences and then find a spark of something which is vital now and I think that comes from what you're seeking to express and I think it comes from peeling back the layers to find the thing that isn't the pose.
Do I think that lyrically I have exposed aspects of myself in the lyrics of this album? Yes I do… unlike earlier albums that were less of me and more of the pose. We are using all of our influences to create a fresh alchemy.
The 'European Lovers' title song bookends the album in two distinct versions, had this been intended as part of the concept?
Steven: 'European Lovers' opens the album because it is the opening statement and it is an expression of fracturing and separation. It's asking "what are we doing?" and "where is the meaning?". The postscript might be the endpoint of that particular night train journey and it might be the starting point for a new exploration… It's kind of bleak and I think it leaves the listener with a question I think it's intended to feel uneasing…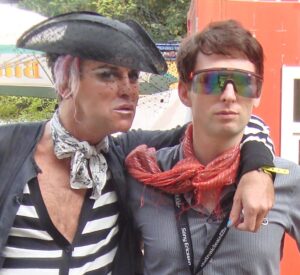 'Sons Of Hallucination' with its female French voice recalls VISAGE, how did the track come together?
Steven: Logan sent me very atmospheric backing track and I was struck by its cinematic qualities and it felt to me like the theme tune to a grainy black and white European art house movie full of darkness and sex.
'Fade to Grey' is a genuine iconic classic and its beauty does lie in that combination of synths and French spoken bits and I always thought it would be great at some point to do something like that.
So it was just happenstance really that I happened to be about to teach yoga and a woman who was coming into my class on regular basis came into the reception where I was standing before teaching and she was speaking in a French accent and I just said right then off the top of my head would you like to record your voice and she said 'yes'! Lyrically it all came together pretty quickly and with Charlotte Condemine's vocals on the demo it all just felt right.
'When The Night Falls' is infectious electro that is comparatively abstract as well compared to the other material?
Steven: I think Logan's demo might have been called 'When The Night Falls In' and I recorded the spoken lyric to that right off the top of my head just influenced by the mood of the track and I kind of liked it. It's just a total subconscious moment. It feels a bit psychotic… it's sinister… it has a kind of seductive element to it.. It seems to imply a seduction but it has a kind of very dark vibe to it.
It can be as abstract as the listener wants it to be. I love that it's totally improvised there's something naked about it. It hasn't been overworked with loads of takes. Perhaps it implies some aspects of my shadow emerging… discuss…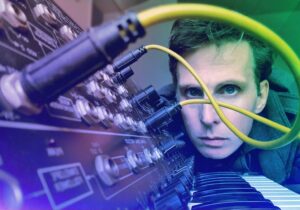 In terms of production and instrumentation, is there much hardware used or is it very much in the box? Do you have any favourite vintage synths that you used on the record?
Logan: My long-term go to vintage synths are the Korg Polysix, Juno 106, Siel Cruise and the Yamaha CS20 which I under estimated for very many years until I discovered its real warmth. Sometimes I used the Polymoog and ARP Odyssey but they've been sold.
I also sometimes use the Korg Mono/Poly, the Crumar Trilogy and Yamaha SS30 vintage strings which I believe ULTRAVOX used on most of their classics. When I moved to Hamburg last summer, I only really had space in the car for a Korg MS-20 and R3, plus a newer Behringer Model D and a DeepMind 6 which I've used to embellish and fill in most of the gaps on the 'European Lovers' album. Of course there's a couple of soft synths… the FM7 because it's easier to use than the DX7 and the CS80 for its fantastic sounds.
So who is 'The Girl On The 8:45'?
Steven: It's a lyric written by Mr Kevin O'Dowd (Boy George's brother) so he would know specifically who the girl is. I see this as a sort of description of what happens when you regularly see somebody who is a stranger and you never meet them and you imbue them with a load of qualities which they may or may not have.
So there's a sort of projection taking place and I think it's an interesting process so you can see somebody and because you don't speak to them, you have no real insight into their character who they are and then you project onto them a fantasy personality. And then sometimes that narrative becomes more real than the person themself. The more you see the person but you never get to know them and they begin to inhabit that fantasy space and I think it's useful to interrogate who the fantasy is… what qualities?
So 'The Girl On The 8:45' is the answer to all our questions. She's the solution to all our problems. She's the romantic, erotic focus, the Deus Ex-machina, the being that will rescue us from the mundane repetitions of our lives. She's something like that and she may well be that but of course she might not be.
Guest musicians Gary Barnacle and Jan Linton feature on the album, when working with such accomplished musicians, do you just let them get on it and improvise or do you give a distinct brief?
Steven: I think that the whole Gary Barnacle thing was really amazing because he's played on so many 80s and 90s records and so it's fascinating that every time you hear a kind of amazing saxophone on something it might well be him.
I had this experience of synchronicity when Gary contacted me to say he had played on Sandie Shaw's version of 'Are You Ready To Be Heartbroken?' (the Lloyd Cole thing) that I had been obsessed with for years and which I had recently posted on social media. I never knew! It's an honour to have Gary on our tracks and he certainly brings a special magic to those songs. for sure… it's transcendent. Jan Linton brings a kind of texture and darkness that has really evolved our sound.
No, we don't give a distinct brief. My view is to let the players play and see what they do. I'm never particularly controlling about how things should be. I'm kind of disconnected from what happens to the music once it's released and so for me, it's all about the process and encouraging playfulness and dynamism.
You have covered 'Café Europe' by FATAL CHARM, a quite obscure act who opened for ULTRAVOX and OMD in 1980, how did you discover them and have they heard your reinterpretation?
Steven: Logan sent me that. I had never heard of FATAL CHARM although the lyrics to 'Cafe Europe' is absolutely right up my street and perfectly on the money now. It was a challenge because the original song and the girl singing has a very high voice and so I did actually start by singing it and I could sing it. But in my exploration of my own voice and my struggle to not sound like a choir boy or singing curate, I thought it would be better to do it as a spoken thing and I think that was the right decision. Lyrically and atmospherically, it encapsulates what we feel now in our European fantasy which darkens by the day.
Which are your own favourite tracks and remixes on the 'European Lovers' package?
Steven: Well, I love the title track and we could argue that 'Lovers & Losers' is the best song that we've written and recorded. I think it's almost perfect actually. 'Like A Ghost' has a very personal resonance for me and that is maybe one of my most exposed lyrics. It describes direct experience and feels like it is an authentic expression lyrically and so I'm quite proud of that.
I'm really satisfied with the whole album. I think it crystallises all of the things that we have been endeavouring to achieve in our music and aesthetic in terms of its mood, and I also get the feeling that other people think that too. I experience it as one complete artistic statement. God forbid I should sound pretentious!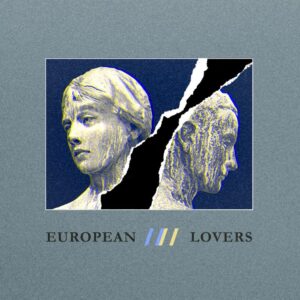 There's a distinct visual aesthetic to 'European Lovers', how important is the presentation in terms of artwork and videos to you?
Steven: When I'm listening to music and buying records, I've always loved the art and I've always loved the visual interpretation of the sound. I'm really old school with the idea of a liking and wanting an album and the art reflecting the theme. So we do discuss it seriously.
Logan spends lots of time editing videos, which I see as more of an ephemeral thing although they live online forever. Whereas the album art is essential.
Also, it can be puzzling to be confronted with your own image a lot, so now I tend to disconnect and avoid that to an extent. So the 'European Lovers' artwork has a symbolic message and that's up to you to decode.
It's been 40 years since The Blitz Club closed, what did think of the Sky Arts 'Blitzed' documentary and the spate of programmes particularly on Channel5 that have been celebrating the era? Do you ever wish as Bryan Ferry suggested that you were in 'Another Time, Another Place'?
Steven: Let's see… I'd like to be Bryan Ferry… I'm channelling Bryan Ferry… *laughs*
Do I wish I was at the Blitz? No… I think nostalgia is dangerous and there something artificial in it. I think that we are always where we are and I don't ever wish that I was in the past. If I feel good about what we've done, Logan and I creatively, and if I see that as a body of work. Then a body of work is of the now and could only have happened because of all of the forces that have constellated around it.
I don't want to be kind of a person that is performing something that happened 40 years ago and while I do think it's culturally resonant and really fascinating and it has left us with tremendous music, great songs and fantastic cultural memories, I'm here now baby and I won't be preserved in aspic!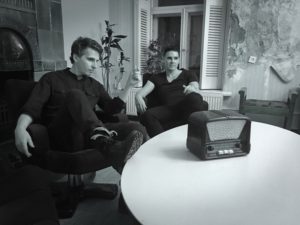 With everything going on, what are your hopes and fears for the future?
Steven: That's quite a question. Hope that we can get out of this and I hope that the getting out of it to a good place and to something which is recognisably the 'old normal' you know. I'm really hoping that my fears won't happen, of being stuck in sort of some kind of twilight zone for years to come, endlessly circulating these issues of virus restriction control.
This landscape to me is profoundly unhealthy pathologically, so my fear would be that we get culturally stuck. We all need to collectively work out a way of not getting stuck and stop buying into flagrant propaganda and to perhaps see that there are forces in operation which would probably not acting in our interests.
Some of my fatalism can be felt in our album. I think we should be stoical, autonomous beings, sovereign of our own minds. We could conceivably argue that going through a thing like this is a karmic gift because it's had a huge impact on everybody and we have been fortunate to have ringside seats in something so crazy! We've got the ringside seats, let's make the most of them!
---
ELECTRICITYCLUB.CO.UK gives its warmest thanks to Steven Jones and Logan Sky
'European Lovers' is released by Etrangers Musique, available as a CD and download direct from https://etrangersmusique.bandcamp.com/album/european-lovers
https://www.etrangersmusique.com
https://www.facebook.com/etrangersmusique/
https://www.instagram.com/etrangersmusique/
https://www.instagram.com/logan.sky/
---
Text and Interview by Chi Ming Lai
2nd July 2021