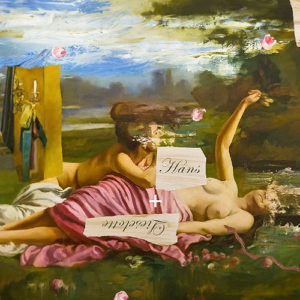 Steven Jones met Logan Sky through the legendary Steve Strange, both being mutual friends of the late singer.
Sky established himself as a familiar name in the electronic music circles, having tinkered with synths for VISAGE, working with Nick Rhodes while playing and DJ-ing alongside CLIENT, LADYTRON and HOT CHIP, to name a few. Jones, a multitalented individual, dividing his attention between love of vocal wizardry and teaching of yoga, has worked with Sky on many previous releases, including numerous EPs and the long player 'Corrupt State', which featured Strange before his untimely demise.
The pair take their inspiration from the usual suspects like DAVID BOWIE, ULTRAVOX, JAPAN and DEPECHE MODE. They create "music to evoke the restlessness and romance of international travel, cinematic loneliness of modern urban life and the deceptive seductiveness of the photographed image…"
The beginning of 2018 brings the follow-up to 'Corrupt State'; 'Hans und Lieselotte'. The album was recorded in one week and it represents "a new collection of shimmering electronics and the result of a dynamic musical experiment, an honouring of the random creative impulse."
The title, taken from a German learning course, which features the daily life of a typical Deutsch family, The Schaudis, whose son Hans had a lady friend Lieselotte. Although rather superficial and totally absurd, the lessons taught perfect High German, even reaching cult status, with the grammatically correct, yet ridiculous sentences derived from it being quoted left, right and centre.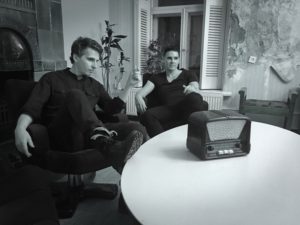 Indeed the opening 'Lieselotte is not an Object' could be one of them… Kraftwerkian style!
'Girls Like It From Above' brings to life the notion of vintage disco, rubbing shoulders with "chaotic creative channeling" as per AND ONE's 'Virgin Superstar' in its style. The perfect arpeggios meet arty notions, performed with poise and passion. Do girls really "like it from above"? Do they "only crave this kind of love"? Perhaps, if it's sung by Jones.
'Syria' features Eastern musical elements not too dissimilar from BLANCMANGE's 'Living On The Ceiling'; this time "desert fires (are) burning". But the originality shines through the superb 'Oysters Without You', which could have been a starting point for THE HUMAN LEAGUE sans the girls on 'Reproduction' or 'Travelogue'. A parodical tale of consuming oysters alone, rather than with a lover, the moral is "never eat your oysters alone".
The faraway travel continues with the music stripped 'Talk India'. As it says on the tin, here we are "talking India". A rather hilarious narration of Jones' visit to India, intertwined with Hindu music, telling the tale of drink, food, visiting of Taj Mahal, Jaypur, Rishikesh (renowned for meditation and yoga in its temples and ashrams), wrapped into a memento of a memorable journey.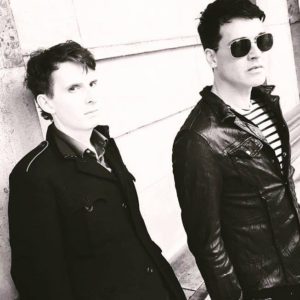 Clearly the narrated pieces are of a liking for the duo, as 'A Packet Of Something' follows in that very notion. Here we see Jones "arising from the void of light", boosted by sci-fi musical fixtures.
The slower, rather JAPAN-like 'Waiting for The Evening' is a majestic combination of excellent synth and capable vocals.
This is what synth arpeggios are supposed to sound like, boys and girls! 'My Obscurity' punctuates the record with its tribal meet nature feel, while 'Logan Loves It' is what Sky loves, the instrumental way with very vintage Depeche rhythms.
'Peppersack' marks the album's end, if we take out the three remixes that follow, and it's a tale of enigma with the atmosphere of uncertainty and pain, or perhaps not…
Additionally we are presented with two remixes of 'Lieselotte Is Not An Object', including a masterful version by Man Parrish and 'Hans und Lise', also by the Godfather Of Electro.
Another success? Definitely. Logan Sky's love of experimental synth shines through 'Hans und Lieselotte'. The classical trained pianist, turned keyboard player has always seen himself "as an inventor" and his graft is served here with a dose of melancholy, joy, laughter and nostalgia, creating a listen worthy record with a twist.
---
'Hans und Lieselotte' is released by Etrangers Musique, available as a CD or download from https://etrangersmusique.bandcamp.com/album/hans-und-lieselotte
https://www.etrangersmusique.com
https://www.facebook.com/etrangersmusique/
https://www.facebook.com/loganskyofficial/
---
Text by Monika Izabela Trigwell
25th January 2018