History has been kind to Canada with regards its position in the pioneering electronic pop.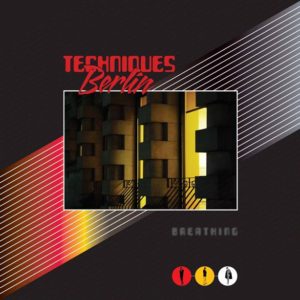 The trailblazing by the likes of RATIONAL YOUTH, PSYCHE, SKINNY PUPPY, FRONT LINE ASSEMBLY and MEN WITHOUT HATS successfully built the foundations for the nation's modern crop including PURITY RING, GRIMES, TR/ST, AUSTRA, ELECTRIC YOUTH and PARALLELS. Formed in 1984 by Andreas Gregor and David Rout, Toronto's TECHNIQUES BERLIN have returned with a new body of work 'Breathing', twinned with a bonus album of previously unreleased material and alternate versions of tracks from the vaults of their Bombshelter label, which issued the two volume 'Back Issue' series in 1992.
Considered too alternative to pop, and too pop to be alternative by the record labels of the day, the more open environment of the World Wide Web has renewed interest in TECHNIQUES BERLIN. With Dina Naskos added to the line-up, Gregor and Rout have delivered an album recalling the days of when experimental electronic pop could go mainstream, albeit with the refined benefits of modern technology in tandem with vintage gear like the Yamaha CS40M, Multivox MX-202 string / brass ensemble and Korg KPR-77 rhythm unit.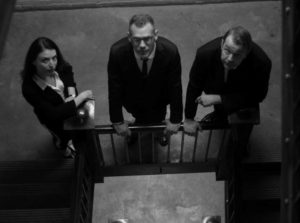 Opening song 'Deep End' is reminiscent of fellow Canadians TRANS-X with its swirling arpeggios, clanky drum machine and dispassionate vocals. Often a weak point in the Minimal Synth sub-genre, Gregor and Naskos' voices however provide the desired effect without being too wayward. With the stark rhythmic template and dystopian synths on 'Cold War', it does exactly what it says on the tin and will please fans of RATIONAL YOUTH as it also features Tracy Howe; incidentally, Dave Rout was a member of the combo between 1998-99.
The octave shift driven 'Serendipity' is less satisfying with the vocals drifting off too much, while 'Damage' blips away in a percussive collage of sound. At a much less frantic pace, 'Burning Down' is musically impressive but is again let down by the vocals; use of Sprechstimme techniques might have turned this one into a winner…
Interestingly, Sprechstimme is adopted on the industrial lite of 'Hollow Graphic Haze', with Naskos' harmony providing an enticing counterpoint, but 'Driving Force' is again spoilt by the vocals, left exposed by the minimal musical structure.
Relief comes with the excellent 'Chances' which works well as a slice of bouncy synthpop with its dual monotone voices, while the 'Breathing' title song could be considered a speedier second cousin.
Closing the main act with 'Salvation', it provides a lengthy conclusion to an album that is enjoyable musically, if occasionally less satisfactory vocally.
Taken in smaller doses, the most accomplished recordings on the first part of 'Breathing' would have made an excellent EP. But for those who enjoy a slightly more melodic take on Minimal Synth, this collection with its archive recordings bonus will be an essential purchase.
---
'Breathing' is released as a double vinyl LP or download on 2nd February 2018 by Nadanna Records, available from https://nadanna.bandcamp.com/album/breathing
http://techniquesberlin.wixsite.com/home
https://www.facebook.com/techniques.berlin/
---
Text by Chi Ming Lai
23rd January 2018