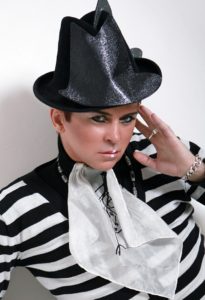 Steve Strange, lead vocalist of VISAGE and the face of the New Romantic movement has sadly passed away, aged 55.
A statement on the VISAGE Facebook page said: "We are extremely saddened to announce that Steve Strange died at 11.15 local time on Thursday 12th February, in Sharm El Sheik International Hospital, Egypt. Steve died in his sleep, of Heart Failure. Steve's family, band members and friends are all distraught at this sudden news of his untimely death. Steve's family request privacy at this extremely difficult time".
Born Steven John Harrington in Newbridge, Caerphilly, he headed for London to seek fame and fortune after he saw THE SEX PISTOLS play in his hometown.
Courting controversy almost instantly, he formed a punk band called THE MOORS MURDERERS who recorded a song called 'Free Hindley'. He then joined THE PHOTONS with whom he wrote what would become 'Mind Of A Toy', before working as an assistant for THE RICH KIDS whose members included Midge Ure and Rusty Egan.
When THE RICH KIDS disbanded in 1978, Ure and Egan started developing an interest in electronic music while simultaneously, Strange and Egan started a Bowie night at Billy's in Soho where art students, hairdressers and fashion designers could gather to a soundtrack that also included ROXY MUSIC and KRAFTWERK. First called 'Bowie Night' and then 'A Club For Heroes', the evening eventually moved to The Blitz in Covent Garden. While Egan DJ-ed, Strange acted as host with a strict door policy of admitting only "the weird and wonderful". The clientele were initially labelled by the press as The Cult With No Name and The Blitz Kids, but were eventually dubbed The New Romantics.
As work progressed on Ure and Egan's electronic project now named VISAGE, Strange was recruited as vocalist while Billy Currie from ULTRAVOX and MAGAZINE refugees Dave Formula, John McGeoch and Barry Adamson also joined.
Recording an album at Martin Rushent's Genetic Studios in Reading, VISAGE released their first single 'Tar' in 1979 on Radar Records. Business problems at the label stalled any potential 'Tar' had, but the single attracted interest from Polydor Records.
Due to all the other VISAGE members being contracted to other labels, a complex arrangement was brokered through THIN LIZZY's management company Morrision-O'Donnell with Strange being the sole signatory on the eventual deal.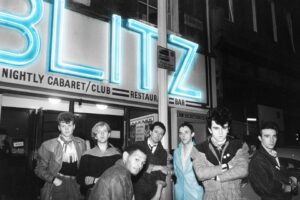 Meanwhile in 1980, noticing some kindred spirits, David Bowie paid a visit to The Blitz to recruit extras for his 'Ashes To Ashes' video; among the chosen ones was Strange.
The New Romantics had now gone mainstream. It was not long before VISAGE finally released their self-titled debut album and the iconic single 'Fade to Grey' was a hit all over Europe, becoming a German No1 in March 1981.
Further hits such as 'Mind Of A Toy', 'Visage' and 'The Damned Don't Cry' followed and the success of both VISAGE and The Blitz allowed Strange and Egan to move into the 1500 capacity Camden Palace in 1982 for their next club venture. But it was here than the perils of fame and fortune started to manifest themselves. When Ure, Currie and Morrison-O'Donnell bid adieu to VISAGE, it severely left the band in a fragmented state musically and managerially. Meanwhile the pressures of keeping such a large club venture profitable, while surrounded by the tempting excesses of the era, took their toll with Strange succumbing to drug related and mental health issues in the following years. There was also a fall-out with Rusty Egan.
Strange revived VISAGE in 2004 as a live act for the 'Hear & Now' nostalgia tours and did his public profile no harm when he won reality TV show 'Celebrity Scissorhands' in 2007.
There were attempted reconciliations with Rusty Egan on Living TV's 'Pop Goes The Band' in 2009 and The Blitz Club Reunion event in 2011, but to no avail. Indeed, Egan had alleged that Strange misplaced VISAGE royalty payments owed to himself, Dave Formula and the estate of the late John McGeoch.
Meanwhile, a 2013 comeback album 'Heart & Knives' and subsequent tour featuring Strange as the only original VISAGE member drew mixed responses. Controversial right to the end, at the time of Strange's passing, Universal Music had launched legal action for appropriating parts of the original VISAGE recordings for the recent reworked best of album 'Orchestral'.
Chris Payne, who had co-written 'Fade To Grey' with Billy Currie and Midge Ure said: "I have been forthright in my criticism of the new VISAGE, but it is very sad to hear about the death of Steve Strange. I had never met him personally, although we shared something in common with the song 'Fade to Grey'".
What does remain of Steve Strange's legacy is his very significant contribution to popular culture. In addition to VISAGE, 'A Club For Heroes' spawned bands like SPANDAU BALLET and CULTURE CLUB, while others regulars such as Dylan Jones, Peter Ashworth and John Galliano made their names in writing, photography and fashion respectively. Madonna played her first UK concert at Camden Palace in 1983 while 'Fade To Grey' was voted 'Song of the Decade' on the prestigious German music show 'Hit Giganten' during an 80s special in 2010.
---
Text by Chi Ming Lai
12th February 2015