Although JAPAN had something of a shaky start with their first two albums 'Adolescent Sex' and 'Obscure Alternatives' in 1978, the seeds of an more electronically assisted direction were sown on the Giorgio Moroder produced single 'Life In Tokyo' in early 1979.
Now acknowledged as the bridge between growly funk-rock JAPAN and the more familiar, mannered and artier version of the group recognised by most today, 'Life In Tokyo' was a key interim milestone in their career as the first recording that the band were happy with.
The classic quintet line-up of JAPAN with David Sylvian, Mick Karn, Steve Jansen, Richard Barbieri and Rob Dean had found enormous success in the country of Japan as well as having more moderate but significant sales in Holland and Canada. So their German-owned label Ariola Hansa persevered, while manager Simon Napier-Bell was still convinced he had group of future stars on his hands.
For their third album 'Quiet Life'
, front man David Sylvian adopted a more crooning baritone style of singing. Meanwhile Mick Karn's distinctively fluid fretless bass was pushed right up to the front, intricately complemented in the rhythm section by drummer Steve Jansen. Taking in a more atmospheric European approach compared to their earlier work, guitarist Rob Dean and keyboardist Richard Barbieri provided the exquisite textural backdrop.
Produced by John Punter who had worked on ROXY MUSIC's 'Country Life', JAPAN had found a willing conspirator in the studio who not only believed in them, but who they got on well with on a personal level. The Englishman loved the band so much, he even went to tour with them to mix their live sound. But as the quintet embraced synthesizers, sequencers, E-Bows, muzak and orchestrations, some critics accused JAPAN of being a lavish Roxy rip-off.
'Quiet Life' was issued in December 1979 in Holland, Japan and Germany before being given a UK release in January 1980.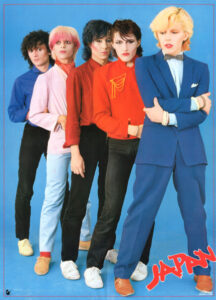 Although the album peaked at No72 in the UK, it was a major step forward as a quality timeless work that all five members of the band were collectively satisfied with. Despite their melancholic outlook on life and their detached demeanour, the public eventually caught up with JAPAN when their style was embraced by the New Romantic movement, with the title song even belatedly becoming a UK hit when released as a single in September 1981. 'Quiet Life' consolidated JAPAN's success in Japan itself, reaching the Top30.
Their audience also expanded in Europe, pointing them in the right direction and towards Virgin Records who released the albums 'Gentlemen Take Polaroids' and 'Tin Drum' before the band finally disbanded in late 1982 after their biggest ever concert tour which took in the UK, Europe and the Far East.
With a new remaster of 'Quiet Life' by Miles Showell at Abbey Road and boxed set due, Rob Dean kindly gave an eye witness account into the making of an album that still stands up 41 years after its UK release.
Between the 'Obscure Alternatives' and 'Quiet Life' albums, JAPAN were in a state of transition from the growly glam funk of 'Adolescent Sex' to the mannered artful combo people remember them for today. How conscious had this been as David Sylvian's voice completely changed, while Mick Karn came to the jazzy fore with his fretless bass playing and your own guitar style moved from rock to something more textural?
Well I think a band owes it to itself (and its audience) to evolve and grow.
The first album was basically a band in its infancy attempting to make a cohesive record with a large list of original songs that had been accrued up to that point. The second was a band more accustomed to playing as a live unit and finding its identity with its newest material.
There is always I think an indication of the direction a band will take somewhere from one album to the next. For 'Adolescent Sex', it was 'Communist China', for 'Obscure Alternatives' it was 'The Tenant'. It all comes down to influences and what the band was generally listening to moving forward.
By the time of creating the material for 'Quiet Life', it was KRAFTWERK, Eno, Moroder, Peter Gabriel and Bowie of course to name a few. So to answer your question, I think we all felt that 'Quiet Life' had to be drastically different to what preceded it and the band as musicians were finding their own respective voices. Clearly Mick's approach to bass and David's change in vocal style were strong motivators in this. For myself (and Steve and Rich I'm sure), it felt like a logical progression also.
'European Son' (which didn't actually get an official release until 1980 on the Japanese edition of 'I Second That Emotion') and 'Life In Tokyo' were two songs recorded in that interim period but both are quite different to the majority of the material on the 'Quiet Life' album, how was it finding your feet as a band with a new direction?
Obviously 'Life In Tokyo' was seen as a "one off" with Giorgio Moroder at the helm. Had it been a big hit as was hoped by all involved at the time, then perhaps it would have been a logical step to have him produce the third album.
If he had, then I'm pretty sure it would be quite different. For one thing, he pushed for co-rights on tracks that he produced.
'European Son' was in some ways a song that would suggest that Giorgio wasn't needed to create an electro-disco song. The reason it didn't get released until much later was purely because it was never totally finished. Live, we played it in a few different incarnations but I did not record any part I was happy with on it, and that is mainly why. I was concerned foremost about not creating 'Life In Tokyo version II'. So that one was a bit of a struggle.
As far as "finding your feet with a new direction", the notion doesn't really enter into it. You don't really think about it, other than creating parts for songs that you feel fit and that you are all happy with just as you always do.
Can you remember your thoughts when the band were presented with the songs for 'Quiet Life'?
Most were presented in the rehearsal studio as they always had been, with David playing a chord structure on guitar and us all starting to build from that. I do remember clearly that he and Rich had been working from home on the germ of an idea which was the song 'Alien' (which was at one time going to be the album title, until we learned that Ridley Scott's film of the same name was due for release!) and in this embryonic stage, it was very different – a slow, brooding, somewhat uncompromising piece. I guess we all felt it wasn't working and so it was shelved and resurrected in a far more palatable form later on.
In terms of arrangement, what was discussed between the band members? What was the dynamic at the time?
I remember we were in a cab on our way to a first meeting with John Punter and David Sylvian mentioned for the first time using orchestration on a couple of tracks. This was a surprise, but not in any way a negative one. It felt right, considering the songs that we were creating and their more epic scope. As far as general arrangements, we all knew when we were onto something that worked I'd say. We were all very positive about what we were doing and where the new material was going.
How crucial was producer John Punter in the realisation of the 'Quiet Life' album?
When we met John Punter, we all hit it off straight away. His warmth and enthusiasm was infectious and from our first meeting, we had nothing but positive thoughts about the forthcoming album sessions. He made the entire experience a relaxed and enjoyable one for everyone involved, and I think that comes across in what was produced.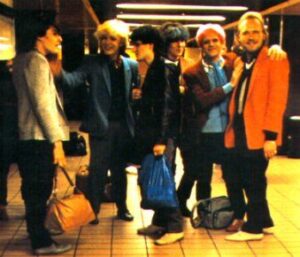 John Punter co-produced ROXY MUSIC's 'Country Life' but apparently Bryan Ferry wasn't too impressed about him working with JAPAN?
He told us that he bumped into Bryan Ferry at AIR later on and was berated for working with us. Whether in jest or not, I can't say. I guess Bryan Ferry must have thought we were invading his territory or something.
What was it like to work at AIR Studios in terms of atmosphere, environment and equipment? Was Richard Barbieri quite lost in the range of keyboards and synthesizers that were available there for example?
AIR had a wonderful atmosphere. The four studio complex meant there were always interesting artists to brush shoulders with and converse with upstairs in the cafe and pool table area. It was impeccably run and a very positive environment to work in. The studios themselves were all state-of-the art. Despite what you might think, there were not banks of musical equipment to be used other than grand pianos, though. Any instruments other than our own would be rented from outside.
It was cool to go to the nearby pub for a break and be sharing a pint with the likes of Chris Thomas, and John Cale… yes, even David Sylvian went to the pub! I think it helped that John Punter was so well-known and liked around AIR. THE PRETENDERS were there recording their debut album. Chrissie Hynde was very nice to us but the rest were kind of jerks. One day we arrived at the studio and the guitarist, James Honeyman-Scott had left us a bag full of cheap make up. He thought it was funny. We caught him giggling with his band mates about it, like kids playing a prank in the playground…
Would you be recording the songs one by one, or would there be several things going on at once depending on mood and ideas?
Generally the aim would be to get a definitive take of the drums first, then bass, and so on. Some days would be designated for a particular song and some for a particular instrument, it varied. If there was a problem with one, we would move onto another.
The title track was pivotal and is now held up as an iconic electronic pop single. Can you remember how the song developed and how everyone worked their parts in, because it does sound very much like a joint effort where everyone is firing on all cylinders?
'Quiet Life' was pretty much totally realised in our dingy rehearsal room in Willesden. I think the bass part was very integral to how the song developed. As was expected, Mick and Steve worked very tightly together. Sometimes we left them to work on their parts for a while and then added to that. I think the sequencer was part of the strong foundation too. The E-Bow solo was improvised in the studio, but the rest of the guitar parts were already established.
'Fall In Love With Me' featured a blistering E-Bowed lead line from yourself, how did you find adapting to this technique, had it opened up a whole new world for you?
Well actually, there is no E-Bow on that track. The verse guitar part is distorted fuzz guitar. But I was however very happy to discover the E-Bow. For a while, I was endeavouring to create thick sustained lead lines with mixed results. Invariably when recorded, they would sound trebly and thin when placed into a track. The E-Bow eliminated this. It was as if it was made for me.
Both 'Fall In Love With Me' and 'Halloween' had these fading endings to when the band stops playing, had there been any debates as to whether to have them like "live band endings" at full volume or were the fades intentional as a concept?
Some songs are created to end and others not. When recorded, those didn't have distinct endings but kind of kept steaming ahead. In the mixing stage, the idea of long fades seemed appropriate for both. It just so happened that they just about made it to the end of the takes!
And within the context of the album, they worked in respect to the start of the next track. In the case of 'Fall In Love With Me', it's just one of those driving, insistent rhythms that as a musician you are enjoying so much you don't want it to end, so a fade eliminates that conundrum. Plus, John Punter loved a long fade!
Although lyrically, many of the songs on 'Quiet Life' have this doomed romantic demeanour about them, 'Halloween' was about the Cold War aftermath of Berlin and the rockiest track on the album? It screams rather like the film of the same name…
Well I think the title conjures up darkness and menace and therefore there needs to be some urgency to the guitars too. A scream seemed appropriate. Even the auto-wah guitar figure in the middle section tied with the synth emphasizes that.
'Alien' allowed to you play at being Robert Fripp, had he become a big influence on you by this time? Who were the other guitarists you may have looked to for inspiration on the 'Quiet Life' album?
When you have a new toy, you naturally want to play with it! In this case there were two, the E-Bow and my new Gibson RD Artist guitar with its Moog designed active electronics which proved to be a match made in heaven for me. Both very instrumental in the new sounds I was creating. My strongest influences then were naturally Fripp, but also John McGeoch (I was a huge MAGAZINE fan), Ricky Gardiner, Carlos Alomar and Earl Slick.
You didn't play on the en Français piano mood piece 'Despair', so what happens when you are told that your contribution is not required for a track?
I saw 'Despair' as something of a companion piece to 'The Tenant' from 'Obscure Alternatives'.
I wasn't instructed to not play on it, it was my own decision. I am always of the mind that if it is not essentially necessary, then why contribute? I didn't want to play some cursory E-Bow if the piece didn't require it and that's how I felt in this case.
Often when I wasn't needed, I would be reading quietly in a corner somewhere or perhaps playing Space Invaders upstairs. Sometimes if it was anticipated that this would be a lengthy period, then I would catch a film matinee.
In the case of 'Despair', there was a bit of labour over Mick's efforts in trying to play bowed double bass on it. Although he was unquestionably a talented multi-instrumentalist, in this case it defeated him and an outside session player was brought in. Memorably Kate Bush was in Studio 1 and invited to listen to a mix of it by Jon Jacobs, the tape op who had worked with her on 'Never For Ever'. She sat cross-legged on the floor while we all sat around quietly and when it was over, in typical KB fashion she said "Oh wow, it's so big, isn't it?"
The 'Quiet Life' album includes a reinterpretation of THE VELVET UNDERGROUND's 'All Tomorrow's Parties' but that wasn't originally recorded during these sessions, but appears to originate from the same time as 'European Son' at DJM Studios? How did the decision to do a cover get made? Did you like the song yourself?
I was of course familiar with the song from THE VELVET UNDERGROUND. I had seen Nico live a couple of times and loved her voice, too.
As a band, it was not unusual for us to take someone else's song and adapt it and this was no exception. I personally was very happy with how it turned out. I think we changed it up sufficiently to put our mark on it. It was way better than Ferry's rather average version, which came much later, I might add!
The 'Quiet Life' album was notable for the use of an orchestra on 'In Vogue' and 'The Other Side Of Life'. The end results were quite beautiful but how was the challenge for the band of integrating your parts into this classical template?
In both cases, the band tracks were complete (except the finished vocal which would be added last). So it was not a case of us adapting to the orchestral arrangements but the exact reverse. Ann O'Dell was given a rough mix of both to write her score around.
So in the case of 'The Other Side Of Life', for instance, I think the already recorded instruments would have influenced the feel and approach that Ann O'Dell took with the score. The orchestra played off the syncopation of the bass and drums in the long instrumental outro quite noticeably too.
It is on record that 'Quiet Life' was the first album that all five band members were totally satisfied with… in an album of great moments, do you have a particular favourite moment?
I think it was actually standing in the studio while the orchestra were playing on 'The Other Side Of Life'. Listening to an orchestra playing live to the music you helped create is a real buzz, I can tell you. It took those tracks to an entirely other level. I almost got a stiffy! As a track it was a new high mark of maturity for us.
The instrumental 'A Foreign Place' was recorded during the album sessions and shelved, although it came out as a B-side in 1981. Was there any other material that you worked on like 'Can't Get Enough'?
Like what? We never had a song with that title! But to answer your question, the band were always very low on unreleased material. Basically what was recorded was officially released… eventually.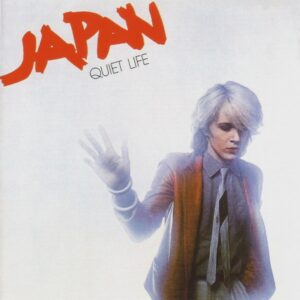 The 'Quiet Life' album cover photo session with Fin Costello saw the band captured behind glass, yet the finished artwork only had David Sylvian on the front! A sign?
The original concept for the album cover when it was still titled 'Alien' was of five fold-out panels with each panel a photo of each of us with our own concept. I don't think there was ever any doubt that David's would be the front panel.
I'm sure that's what Simon Napier-Bell and Hansa had in mind. Plus from 'Obscure Alternatives' onwards, Fin Costello was always putting him front and centre. By that point, it was already a given so no surprise to anyone.
So you had this great album in the can but the UK label doesn't want to release any singles off it, not even the magnificent 'Quiet Life' title song, and a cover version of 'I Second That Emotion' was released instead. Was this a Simon Napier-Bell intervention? What did the band think?
I wouldn't say it was SNB's doing. As a creative entity where the band was concerned, he was a bit of a non-starter and by that time, his input was somewhat minimal. All he could do was suggest and that mostly fell on deaf ears. I'm sure it was Hansa being desperate after the lack of success with 'Life In Tokyo' which must have seemed like a no-brainer. By that point they were panicking and really had next to no idea how to market us.
So a song that people ought to be familiar was all they had to relate to (despite rumours to the contrary, the song was our choice, however). After all, they were all BONEY M and Amii Stewart. They didn't have a clue. And I think us being associated with that label didn't help our credibility either.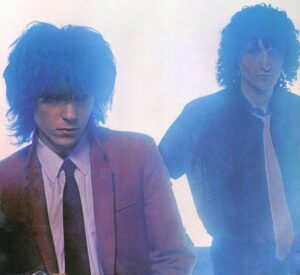 'Quiet Life' was undoubtedly JAPAN's breakthrough record, how did you feel when the album was embraced by the New Romantic movement and then the title song was a belated hit single in 1981?
Unfortunately having left and living in California by that time, I was as you can imagine somewhat removed from that. Still, you always have to believe in yourself and it wasn't a surprise.
It was, of course, well-deserved and definitely not before time. I was proud to have been a part of it. It would have been nice to have performed just once on 'Top Of The Pops' but I still have enough good memories of that time to keep with me.
What are your thoughts on the 'Quiet Life' album now with this deluxe reissue, does it still trigger any emotions 40 years on?
For many many years, anything that referred to those times felt like I was talking about a different person. Of course recently, I've been recording again and so I've grown to be more comfortable with that period of my life and in a small way, I have been assisting BMG with this reissue. I just want it to be the best it can under the circumstances and something the fans will appreciate. To me at this time, it's all about the fans and their continued support. It's something I am very proud of. Six people working towards the same goal. A time of great adventure, creativity and happiness. I'll stop now. There's something in my eye…
Of course, this era of JAPAN have their legacy, most notably in the form of DURAN DURAN, do have you any thoughts? ?
I like to think that without us, there might not be a TALK TALK… but why does everyone keep referring to a character played by the actor Milo O'Shea in 'Barbarella'? I don't get it…
---
ELECTRICITYCLUB.CO.UK gives its warmest thanks to Rob Dean
'Quiet Life'
is reissued by BMG on 5th March 2021 as a 3CD+LP Abbey Road half-speed remastered deluxe edition boxed set featuring the original album and non-album tracks 'Life In Tokyo', 'European Son', 'I Second That Emotion' and 'A Foreign Place', as well as the full 1980 'Live at Budokan' concert
Pre-order direct from Burning Shed at https://burningshed.com/artists/japan-artist
The official JAPAN store at https://japan.tmstor.es/ offers an exclusive bonus 'Life In Tokyo' CD EP with pre-orders of the bundle only
---
Text and Interview by Chi Ming Lai
Photos by Fin Costello except where credited
19th January 2021