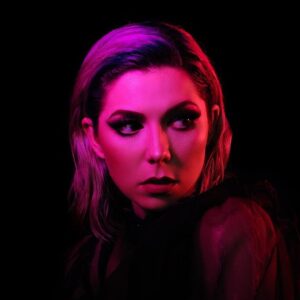 In 2017, Taylor Swift reasoned in song that 'This Is Why We Can't Have Nice Things'…
Sections of the Western World can be a rather spoilt, entitled and privileged bunch, priding themselves on the availability of opportunity but failing to see the bigger picture with the long term economic and social benefits of inclusion, such as universal healthcare in the US or European Union membership in the UK.
With 2021 beginning with a narcissistic insurrection that has only made America grate again, artist and extra-terrestrial PRIMO THE ALIEN highlights some of those 'Bad Things'
.
The project of the vivacious Texan singer and musician Laura Lee Bishop, with a fabulously sprightly popwave tune that is up there with Dana Jean Phoenix or Laura Dre, in the accompanying video, PRIMO THE ALIEN goes on a lockdown exercise walk in a deserted suburban cul-de-sac.
She then encounters a pick-up truck with a Trump Pence 2020 election campaign flag… the rebellious pink haired songstress takes umbrage and breaks into the vehicle. She grabs a red "Make America Great Again" cap and gives it a good cathartic stamping. Meanwhile, she takes the flag to her yard and sets it alight. Yeah, "IT FEELS GOOD"!
This may be just the actions of one person but when synth musicians such as John Maus have declared their support for Donald Trump in his insistence that the 2020 election was stolen, then this video is a symbolic statement. As Claudia Brücken from German band PROPAGANDA said in 2007: "Sooner or later, one has to take sides to remain human".
Mischief motivated by optimism has always been a part of PRIMO THE ALIEN, whose creative persona was conceived around an intergalactic assassin sent back in time to 1987 who develops a love for not just the era but also her intended target. Produced by PRIMO THE ALIEN and Taylor J Webb, 'Bad Things' is a taster of two forthcoming EPs 'Heart On The Run' and 'Rock Professor' which will be released as a Siamese twinned mini-album.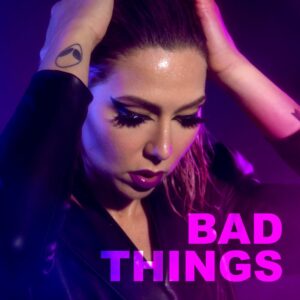 Blessed with a dynamic versatile voice, PRIMO THE ALIEN has promised more pop and rock elements alongside variations on the electro aesthetic for this forthcoming double EP release.
Although she released her first album 'To The Max!' in 2017, PRIMO THE ALIEN achieved a wider breakthrough thanks to her more recent collaborations with noted synthwave exponents such as TIMECOP1983 on 'My DeLorean', BETAMAXX on 'Watch Me', SUNGLASSES KID on 'Fixing Me With Love' and ICARUS on 'Vapor Memories'.
---
'Bad Things'
is available now as a download single from https://primothealien.bandcamp.com/track/bad-things
https://www.facebook.com/PrimoTheAlien
https://twitter.com/primothealien
https://www.instagram.com/primoalien/
https://open.spotify.com/artist/34O5j4kXzwzwpusQApiRLA
---
Text by Chi Ming Lai
17th January 2021