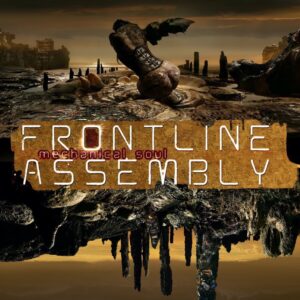 FRONT LINE ASSEMBLY are a band that continues to fly the flag for Industrial / EBM music as they release their 18th studio album 'Mechanical Soul'.
The album features guest appearances from Jean-Luc De Meyer of electronic music veterans FRONT 242 and guitarist Dino Cazares from FEAR FACTORY.
The turn of events of last year appear to have provided some excellent source material for the band, with titles such as 'Purge' and 'New World' appearing amongst the tracklist alluding to a very different future for the world that we live in.
The main discussion point re: album opener 'Purge' is in its similarity to the 2013 GESAFFELSTEIN track 'Pursuit'; both feature an almost identical riff, but with the former one transposed up a couple of semitones. The musical DNA of DAF plainly runs through a track too which doesn't especially evolve during its five minute duration, although the effects used on Bill Leeb's vocals (including pitch shifting and Auto-Tune) help to keep the listener engaged.
'Glass & Leather' is far more successful and features a dramatic intro which eventually reveals a hooky distorted 303-ish sequencer riff and although this is repeated throughout the track, it provides a hypnotic soundbed allowing Leeb's vocals to weave in and out of the piece. A 909 kick drum and open hi-hat drive 'Glass & Leather' to a mid-point breakdown with cut-up vocals before kicking back into the main riff again.
'Unknown' (which was released last year) is an album highlight and far more song-oriented with a hooky vocoder-driven chorus which musically recalls the band's earlier sound on their 'Tactical Neural Implant' and 'Caustic Grip' albums. Also worthy of mention is the rather nifty post-apocalyptic promo video which goes with the track; featuring clips from the short Sci-Fi films 'Sentinel' & 'Detroit, 2029', they provide a perfect visual accompaniment to the song.
'New World' provides an early welcome change of pace, with a LFO-modulated synth riff and another vocodered Leeb vocal. Probably as close as one is going to get to a ballad from the act, the song is another highlight and showcases another side to the band with some superb monophonic synth programming throughout.
'Stifle' featuring guitar from Dino Cazeres has more of an early NINE INCH NAILS aesthetic and could easily have appeared on 'Pretty Hate Machine', whilst 'Barbarians' features the immediately recognisable vocals of FRONT 242's Jean-Luc de Meyer over a slightly glitchy re-programmed 'When the Levee Breaks' style drum break. The latter features an undeniably epic chorus, with synth pads and a PWM bass synth part underpinning de Meyer's "hail the barbarians" hook; again, this is another track to return to for repeated listening…
'Komm, Stirbt Mit Mir' (wonderfully translated as 'Come Die With Me') is not unlike an EBM RAMMSTEIN remix and features some intricate little synth interjections and a doomy underpinning string part which evokes the intro to FAITHLESS's 'Insomnia'.
The album concludes with an actual remix of 'Hatevol' provided by BLACK ASTEROID who feature producer Brian Black.
Black is best known for being one half of MOTOR who worked with Martin Gore, Gary Numan and Douglas McCarthy on the 2012 album 'Man Made Machine'. 'Hatevol' comes across as a bit of a 'bonus track', not surprising as it originally featured on the last FRONT LINE ASSEMBLY album 'Wake Up the Coma'.
Although Industrial / EBM style music is not every synth-lovers musical cup of tea, there is plenty to enjoy here for those not versed in the genre. It's very easy to pigeonhole work like this as being overtly 'shouty' and lacking in melody, but 'Mechanical Soul' is a fine example of a band that has stuck to their principals and is continuing to deliver quality product… highly recommended.
'Mechanical Soul' features the following instruments: Elektron Analog Rytm Mk2, Studio Electronics Omega 8, Roland Alpha Juno 2, Mutable Instruments Shruthi, Waldorf Pulse+, Noise Engineering Basimilus Iteritas, Ormsby DC7, Moog Model 15 reissue, Mutable Instruments Clouds, Waldorf Q+, Doepfer A100
---
'Mechanical Soul'
is released by Metropolis Records, in double vinyl LP, CD and digital formats, available direct from https://frontlineassembly.bandcamp.com/album/mechanical-soul
https://www.facebook.com/frontlineassembly/
https://www.instagram.com/front.line.assembly.official/
https://www.metropolis-records.com/artist/front-line-assembly
---
Text by Paul Boddy
Photo by Bobby Talamine
15th January 2021