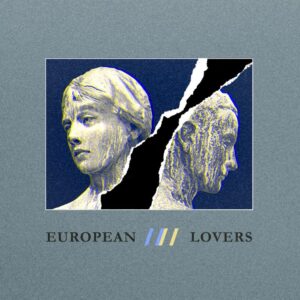 Steven Jones and Logan Sky were introduced to each other by their mutual friend Steve Strange.
The late VISAGE front man and Blitz Club figurehead had been working with Logan Sky in the rebooted version of that band which returned with the 'Hearts & Knives' album in 2013. As if born into the wrong era, Steven Jones' neu romance lyrics with their slight dystopian edge have often been inspired by a fascination for international travel and the inherent history it uncovers. Having released their debut full length long player 'Hans und Lieselotte' in 2018, further albums 'The Electric Eye' and 'Rotating Angels' followed in quick succession.
And now the duo present their fourth in three years. As the title track, 'European Lovers' bookends the album, the opening variant pulsating the mood while sweetened by soothing sax from the ever dependable Gary Barnacle who himself played with VISAGE and SOFT CELL. Steven Jones ably delivers the fractured mannered baritone that could be seen to be deriving from anyone one of Scott Walker, David Bowie, Bryan Ferry or Midge Ure. Meanwhile the closing postscript provided a hypnotic arpeggio and Polymoog vox humana to accompanying a spoken word take on 'European Lovers'.
Lost in the rainy streets of Mittel Europa, Jones ponders his 'Survival' over tinkling ivories like Ferry on 'A Song For Europe' where "the dream of dying is the dream of living". But the album paces up with 'When The Night Falls In', an infectious syncopated electro set-piece accented by the occasional burst of synthetic toms.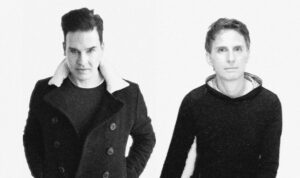 Echoing 'Fade To Grey', Charlotte Condemine provides an alluring Gallic monologue to the wonderful 'Sons of Hallucination'. Meanwhile Jones borrows some phrasing from 'Wishing Well', the 1987 hit by Terence Trent D'Arby which was produced by Martyn Ware of HEAVEN 17. It's a curious mix that is ultimately satisfying for the headphones of any passing New Europeans. And when the soprano sax comes in, it all becomes reminiscent of BLACK if Colin Verncombe had into VISAGE.
'Awaken From The Dream' utilises an electric piano for a short intermission while the exquisite synth tones of 'The Girl On The 8.45' captures an inevitably doomed romance in a tale of unrequited love for a beautiful stranger on the daily commute.
With an ear for obscure jewels, a tense offbeat squelch shapes 'Cafe Europe', an excellent cover of a song by FATAL CHARM who supported ULTRAVOX and OMD back in 1980; the cult Nottingham duo too had a fascination inter-continental travel and their Midge Ure-produced single 'Paris' captured the days before The Channel Tunnel.
Both projecting a stark austere, the bubbling melancholy of 'Lovers & Losers' and spy drama chill of 'All Her Things Are Gone' mine an era of long overcoats when The Third Man could walk in at any moment. And although 'Like A Ghost' uses a largely similar drumless template to 'All Her Things Are Gone', its subtle congas provide an atmospheric backbone alongside the virtual muted guitar loop. As the penultimate statement to the main act, the mournful piano ballad 'Past & Future Lives' recalls CULT WITH NO NAME.
For those who opt for the CD, there are three bonus tracks and assorted remixes of 'Lovers & Losers' including a brooding one from American gothwavers VANDAL MOON. 'The Shape Of Darkness' does what it says on the tin as another electric piano spoken word piece accompanied by an eerie falsetto backing vocal, while 'Politics & Gesture' is a rather sombre observation on the state of the nation.
Meanwhile 'Another Hallucination' exhibits a threatening throb at the start of a darker alternate take of 'Sons Of Hallucination' that allows more room for Gary Barnacle's soprano sax, with Jones offering another spoken interpretation alongside the feminine prose en Français.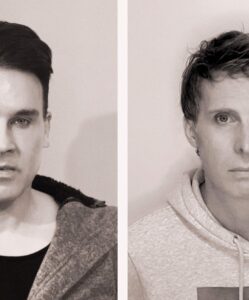 'European Lovers' is exactly as it suggests and harks back to a Europe after the rain, conjuring up images of mysterious shadows and enigmatic romances.
An authentic accomplished collection, it contains some terrific moments, although its emphasis on monochromatic mood is perhaps a challenge over so many tracks.
However, what Steven Jones and Logan Sky have is a genuine understated passion for the heritage of their influences, very much the antithesis to the genre hopping style over substance posing of HURTS and la faux sincérité of other duos that could be mentioned.
---
'European Lovers' is released by Etrangersmusique on 2nd April 2021 as a CD or download from https://etrangersmusique.bandcamp.com/album/european-lovers
https://www.etrangersmusique.com
https://www.facebook.com/etrangersmusique/
https://www.instagram.com/etrangersmusique/
https://www.instagram.com/logan.sky/
---
Text by Chi Ming Lai
31st March 2021