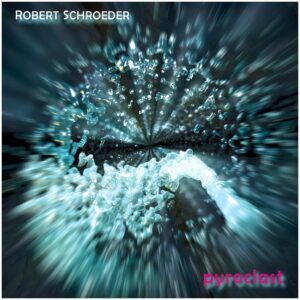 Robert Schroeder could be considered one of the forgotten heroes of the 'classic' era of what is now referred to as the Berlin School of electronica.
Whereas contemporaries such as TANGERINE DREAM and ASHRA are constantly cited and revered, former electrical engineer Schroeder has become somewhat of a footnote within the genre.
This despite releasing a series of critically acclaimed albums between 1979 to 1982 including 'Harmonic Ascendant', 'Floating Music', 'Mosaique' and 'Galaxie Cygnus A'.
In 1978, Schroeder named his second son after Klaus Schulze and this event, which featured some self-composed music used at the christening placed him on the cosmic synth maestro's radar, eventually resulting in him being signed to Schulze's Innovative Communication label later that year.
What differentiated Schroeder from some of the artists of his era was his willingness to build custom-built electronic instruments including his own step sequencer and a less experimental more pastoral melodic approach with guitar textures as well as synthetic ones.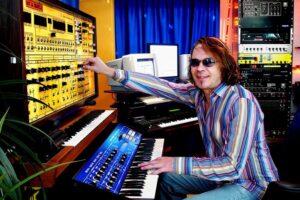 2021 sees the emergence of a new album 'Pyroclast' by Schroeder who has constantly released new works as well as revisiting some of his older pieces since his imperial phase. Album opener 'Pressure' is a hypnotic piece with analogue drum machine and guitar loops modulating up and down in key through its ten minute length; reversed guitar textures and a 4/4 kick are interspersed with Mellotron choirs and sporadic bursts of live percussion throughout.
'Plasma' starts off as a far more ambient proposition, almost like THE ORB with snippets of distant voices and phased strings; at the five minute mark analogue-generated kick, snares and open hats fade in with added Mellotron choir textures.
'Tephra' is a delicate piano piece with a time-stretched child's voice and subtle underpinning strings. Shorter in conception than most of the tracks on 'Pyroclast', it features more classic era pad sounds but suffers due to the over repetitive piano figure which is repeated all the way through.
'Eruption' is more string-based in nature with pulsing cello and skittering acoustic tambourine loops; the track is pleasant enough and functions well as switch-off chill-out fare. 'Fertile Soil' with its monk choral samples recalls a more ambient-sounding ENIGMA; a Minimoog-style solo, live-sounding drums and triplet delayed percussion sample provide an intriguing mix of textures throughout.
'Exothermic Energy' is less ambient then the preceding tracks on 'Pyroclast' and this upping of pace is welcome. The first five minutes are centred around a two chord sequencer part and laid-back 4/4 drum part with interspersed drum flourishes, whilst the conclusion of the track takes it into 'Oxygène' territory with lush pads and echoed synth parts. Closer 'Pyroclastic Flows' is arguably one of the strongest pieces on 'Pyroclast', again very hypnotic with vocal samples, guitar soloing and a Mellotron choir outro which ends the album in the mood that fits in with much of the ambient aesthetic of the album.
A pyroclast and a tephra are elements of volcanic material which are spewed out by volcanic activity and those approaching this album expecting a similarly 'wild' and untamed musical direction will find something which is almost the polar opposite.
If 'Pyroclast' has its place, then it is definitely as music for zoning out to and aiding relaxation; fans of THE ORB and the ambient genre will certainly enjoy much of the works here; but those seeking tracks which function as stand-alone listening will probably struggle with the 'background' nature of the album.
'Pyroclast' suits its demographic perfectly and from that perspective is a success, but just lacks that 'X Factor' which would convince new listeners to delve into repeated listening.
---
'Pyroclast' is released by Spheric Music on 1st April 2021, available as a CD direct from http://www.sphericmusic.de/
https://www.news-music.de/index_e.html
https://www.facebook.com/EM.Robert.Schroeder/
---
Text by Paul Boddy
24th March 2021