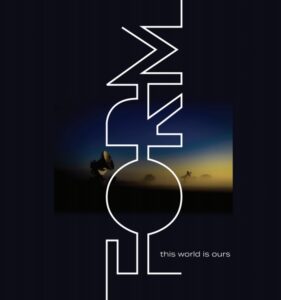 'This World Is Ours' is the sophomore album from FORM, following up 2018's debut offering 'Defiance + Entropy'.
The trio comprise singer Mark Bebb of SHELTER, Keith Trigwell of DEPECHE MODE tribute band THE DEVOUT and producer Rob Dust, whose studio prowess can be heard on works by dark European electronic acts such as DE/VISION, MESH and TORUL.
With songs written by Trigwell and Bebb, 'This World Is Ours' uses the one word song title aesthetic like Gary Numan's The Pleasure Principle', COCTEAU TWINS 'Treasure' and ULTRAVOX's 'Brilliant' did.
Beginning with a short but epic untitled gothic instrumental swathed in the spirit of Gary Numan, the album starts proper with the type of industrial Schaffel anthem done many times by MESH; 'You' is accomplished although it is unfortunate that Bebb sings of being "predictable". Whatever, this template continues to be favoured by acts aspiring to join the Amphi circuit and will remain popular with their crowds for years to come.
The opening salvo is followed by a pair of sombre complex ballads in 'Here' and 'Succumb' which will need an appropriate frame of mind to digest. Meanwhile the brooding 'Extinction' does build steadily but could have done with gathering more momentum in its progress. But the rhythmic 'Glitter' utilises cracking glam claps and grabs the bull by the horns with an electronic pop tune that THE HUMAN LEAGUE used to be so good at; a fabulous whirring synth solo from Trigwell in the style of Billy Currie is also a nice touch.
'Glitter' is followed by another instrumental interlude that takes its cue from DEPECHE MODE before they became a tedious blues influenced pseudo-rock combo… but FORM, please give these things titles in future because it is extremely annoying for reviewers that these worthy pieces have no identity or point of reference!
Battening down the hatches in the face of adversity, 'Protector' is another ballad but in waltz time, while 'Hazed' plays on the propulsive Schaffel thing again with Bebb hitting falsetto as it attempts to emulate 'Strict Machine' by GOLDFRAPP. The speedy thrust of 'Viva' is like a goth ERASURE doing 'I Feel Love' and the closest the album gets towards the more sparkly template of SHELTER, but 'Athenian' deals with toxic relationships with some suitably sharp backing.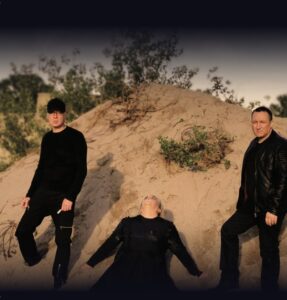 A four-to-the-floor dance anthem in 'World' closes the album on an optimistic note after all the intensity and could be considered FORM's own electro take on the ethos of 'I'd Like To Teach The World To Sing'. But has the album ended? No… and a final untitled instrumental sourced from the DEPECHE MODE B-side 'Christmas Island' sneaks in to present a reality check.
FORM have produced a worthy second album and if you enjoyed 'Defiance + Entropy', then 'This World Is Ours' is a natural progression that will also be appreciated. Followers of DE/VISION, MESH, TORUL, MACHINISTA and BEBORN BETON might find this musical statement on the fragility of the world up their dark alley as well.
---
'This World Is Ours' is released on 9th April 2021 by Infacted Recordings as a CD, pre-order from http://www.poponaut.de/form-this-world-ours-p-20193.html
Download available from https://infactedrecordings.bandcamp.com/album/this-world-is-ours
https://www.facebook.com/formhq/
https://twitter.com/FORMOfficialHQ
https://www.instagram.com/formhq/
---
Text by Chi Ming Lai
Photo by Andreas Lechleiter
2nd April 2021