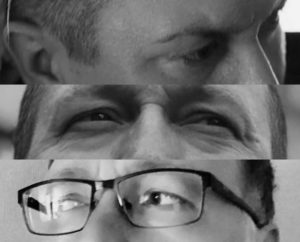 Dark synthpop trio FORM are SHELTER's flamboyant frontman Mark Bebb, Keith Trigwell from DEPECHE MODE tribute act SPEAK & SPELL and noted German producer Rob Dust.
Releasing their debut album 'defiance + entropy'
last Autumn on Infacted Recordings, home to TORUL and FROZEN PLASMA, their rousing vocals and acute understanding of the sound design delivered an impressive collection of songs and instrumentals.
From the industrial Schaffel of 'Poison' to how everything HURTS should have been with 'Surrender', 'defiance + entropy' told a story which would appeal to enthusiasts of alternative electronica. The trio chatted about the chemistry of FORM…
You were busy with your own musical vehicles, so what was the motivation for and genesis of FORM?
Mark: FORM was organic. No grand master plan, just a shared love of dark, electronic music. Stuff and ideas evolved and developed pretty easily really.
Keith: Mark wanted to do something dark and I wanted to write with someone creatively different to myself. It started casually working on ideas from a 'pool', and it just flowed, so we quickly started writing fresh tracks from the ground up.
How did you set about making music that was as distinct as possible from SHELTER and DEPECHE MODE?
Keith: Being in a technical / exacting tribute band is as far removed from a free original project as imaginable, so the projects and their reasoning were always going to be separate, but not in a forced way. DM will always be influential, but if the flow of what's going on in the room is heading one way, it would be stupid to steer it a different way? This is now so much the case that the two projects won't even share equipment.
Mark: There are no parallels between DM or SHELTER and it was a conscious choice to ensure that happened. Both independent projects are still our love and passion and they are what they are. No value or enjoyment in second grade replication, only in reinvention.
Were there any particular artists or approaches that inspired the concept of FORM?
Mark: Every electronic artist past and present will inevitably influence everything we do, but there's a vast difference between being inspired by something versus wishing to sound like something. We wanted to forge our own sound using our vast array of influences in whatever 'form' that takes
Keith: I think we find inspiration in the fearless attitude of several bands, and the distillation of ideas to something economic. Which is a journey in its own right and there's an entire history of pioneers in that regard.
Rob: At that time I had made a remix for SHELTER's 'iPop' project with Andy Bell. Mark liked it so much that he really wanted to do something with me. At some point he spoke to me again and told me that he had something new planned and if I wanted to join.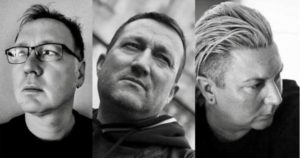 Is this how FORM became a threesome?
Mark: Rob had done some remix work previously and so unions had been forged much earlier and his production prowess speaks for itself. Check out his discography, it's like an A-Z of dark electronica plus he's an absolute diamond geezer is our lil Dustmeister.
Keith: To try to self-produce would have been problematic because writing would have been influenced by trying to produce at the same time and production would have been tainted by having written the tracks and heard them a thousand times. I think Rich Silverthorn from MESH knew Rob so Mark spoke to him and we ended up bouncing tracks back and forth. After a few passes, Rob homed in on the sound we wanted and wanted to keep it.
Rob: Mark and Keith send me their demos in advance. I listen to them and we talk on the phone and discuss what could best fit the track. Which feeling we want to transport, what kind of story behind it etc … then I try to add the certain something and to give the mix the necessary power … each one of us knows what he does and can do, so that we work together perfectly and complement each other!
What was the three way creative dynamic?
Keith: Mark and I write the material. I engineer and program it to a point that feels complete yet raw, then commit it to a production process with Rob and wait for the real magic, with different tracks at different stages of completeness. And this process works exceptionally well because it means we have defined areas to focus on, just trust in each other, accept what happens and relax into it. That in itself keeps the creative juices flowing. I think our record is writing and recording four songs in one extended weekend.
Mark: Keith and I write and arrange while Rob produces. The dynamic is fast-paced, mutually one-directional, professionally and personally sound. It's a very easy combo and one that generates musical ideation at a ridiculous pace. And makes everything very easy and effortless and therefore enjoyable as a process. We each know exactly what are roles are and we each bring to the table and we try not to cross into each other's arenas too much where at all possible
'Poison' wouldn't have sounded out of place on a MESH album?
Mark: MESH, especially the two Richards are good friends of mine and being compared to them and their musical talents makes me very happy indeed so thank you.
Keith: Yes, I heard that recently, probably because if the offbeat 'Strict Machine' bass swing. I saw Richard S recently and we talked about that. As far as I'm concerned, MESH are a real force so it's a great compliment. Here Chi, have a free snog x
Rob: Why not ?!? … ?
Marc Almond looms on the glam laden 'Sugar'?
Mark: That's likely to be down to me now and then frivolously wishing to push the envelope of my gender fluidity. Again, being mentioned in the same breath as a true icon kinda makes me feel all warm and fuzzy inside. You have a knack of doing that Chi. When are you gonna ask me out on a date then lol?
Keith: Yes 'Sugar' is an old pool track that came with a dollop of offbeat rock arrogance. But by the time it went through the FORM process, it took the seedy club reflection in what Mark and I have described as a "grubby knickers off" moment. With Mark's strong lyrical direction and the fearless, unrestrained performance it had that punch.
How did you best integrate the software and hardware available, both vocally and instrumentally?
Mark: We only used vocally and sound-wise just what we felt each track needed and nothing more. That has a two-pronged benefit; a) that being finished songs together quicker with less fuss and b) the melodies and ideas remain fresh and strong as they haven't been over-produced or unnecessarily tampered with beyond giving them what they need to be complete to us as a unit.
Keith: Yes there was a lot of new synths, equipment and software and we use all of them, but part of the discipline has been to resist switching gear on for the sake of it, otherwise it stops being an expressive process and becomes some strange sort of mental box-ticking exercise.
Rob: I owned tons of synth years ago (end of 90s – early 2000) and sold them to work completely 'in the box'. For electronic music, it's perfect in my opinion… so many great software synths and stuff out there… it's awesome!! But you need a great microphone and gear to record the vocals of course… but that's it! But it's true… It's more fun to work on a real synth…. 😉
What was the idea behind having those untitled instrumental interludes?
Mark: We wanted the listener to be taken in a journey (I know, I hate that cliché too but in this context, it's true), we wanted the listening experience to be one of seamless and each segue interlude is the connective tissue that interplays and introduces the next movement or feel of the tracks succeeding it.
Keith: For me it's two reasons. First, some modern albums don't feel like they document a period or purpose, feeling fragmented or compiled. The interludes join things in a purposeful way. The second reason is down to overcoming the fear of running out of ideas and hoarding them. I wanted to overcome this, to use the ideas, and then just trust the universe to send back more.
'Infinity' is one spirited album closer…
Keith: 'Infinity' has deep, personal meaning for me, being started with a determination to write about a vivid experience over a couple of nights in 2017, working the musical progression and programming the synths so it gave Mark space. Mark and I discussed the experience in some depth and then we then set about taking the ideas on to what is now my favourite track on 'defiance + entropy'
.
Mark: 'Infinity' is basically a song about dying but we tried to produce it in the most emotionally uplifting and joyous way possible. Death is inevitably very much guaranteed and therefore a huge part of life actually. Both ends of the spectrum are tightly interwoven and it's usually tougher for those left behind. That's essentially the fundamental sentiment behind that track. Vocally intense for me that one, but most of them are actually come to think of it on 'defiance + entropy'!
Which tracks from 'defiance + entropy' have been your own favourites and why?
Mark: I can't speak for the guys but for me personally, simply for the emotion and drama injected into them vocally would probably have to be 'Stranded', 'Infinity' and commercially possibly 'Override'. I think 'Surrender' has a beautiful ambience to it too and quite bitter sweet lyrical content about love and the threat of its loss
Keith: I'm pleased with the whole album, but stand out tracks are 'Infinity', 'Stranded' because of the sheer performance and statement with 'Addict', 'Poison' and 'Override' for the pace and energy.
Rob: Same as Keith … ?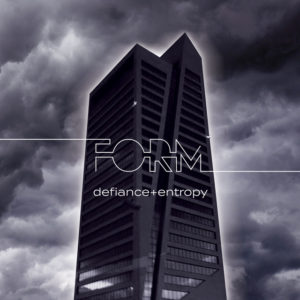 How have you found launching effectively a new act into the marketplace?
Mark: It's the easiest thing I've ever been a part of. As I mentioned above, the ideas flow at a rate of knots, the guys are incredibly talented at what they do, what's not to love. We have a fantastic label manager in Torben Schmidt who took a respected punt on us and with the chart positions of 'Poison' and the album have reached already have very lovingly and surprisingly validated the fact that there is a lil place in the market for us which is a lovely feeling, way more than we had expected.
Keith: We all did it for the love of dark melodic electronic songs, wanting to do the best we could with no self-inflicted limitations. When there's that freedom in a group who understand, respect, share and have trust, you end up very quickly benefitting, learning and constantly improving.
Have you been able to social media to your advantage?
Mark: There's lots of posts flying around and many lovely supportive words of love and support from fellow formlings around the globe coming on-board. Essentially people either like your music or they don't. We didn't wanna over-hype anything with FORM and probably won't. It's something we would rather be assessed on its musical integrity rather than bells and whistles. Let's see what happens.
Keith: Yes I think so. We're in different locations so it's not like we're permanently generating content. But because FORM's has a purpose, we can find things to say about what we're doing. Once we settle into the whole process, post 'defiance + entropy' and playing live we can meaningfully take social media forward in a measured and appropriate way.
What next for FORM? Is this a one-off project?
Rob: I don't think so… it's just the beginning… ?
Keith: Live dates are next so there's some umm'ing and ahh'ing about possible appearances that feel right for us and the label, so I'm looking at live delivery. As the creative process didn't stop after we sent the album off for mastering, we just kept writing and the next album was more than half written by the time we signed to Infacted. It's now pretty much written (and named) based on what we collectively found nourishing.
Mark: Probably not allowed to say anything which is exactly why I will as you know, but the second album is already written and recorded… so yes, this year it will be getting produced up by Rob in Berlin and no doubt at some point, just appear when we're all happy with it. Might be next year or late this year, no pressure though and that's also what we enjoy with such a supportive label as Infacted with Torben. It will be released when we feel it's ripe for release.
---
ELECTRICITYCLUB.CO.UK gives its sincerest thanks to FORM
'defiance + entropy'
is released by Infacted Recordings in CD and digital formats, available from https://infactedrecordings.bandcamp.com/album/defiance-entropy
https://www.facebook.com/formhq/
https://twitter.com/FORMOfficialHQ
https://www.instagram.com/formhq/
---
Text and Interview by Chi Ming Lai
Photos by Mark Poole
4th February 2019