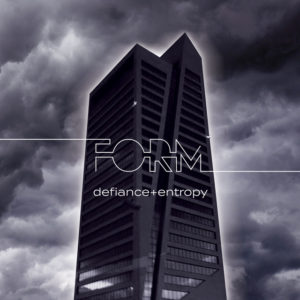 With twelve tracks over just under an hour, 'defiance + entropy' is a remarkably ambitious artistic statement for a debut long player.
FORM are SHELTER's flamboyant frontman Mark Bebb, Keith Trigwell – the production mastermind behind DEPECHE MODE tribute act SPEAK & SPELL and noted German producer Rob Dust whose credits include ALPHAVILLE, CAMOUFLAGE, DE/VISION, MESH, TORUL, CHROM and FRONT 242.
Basically, if you like your dark flavoured melodic synthpop, then FORM are the band for you.
Beginning with 'Prelude 47', this is a Depeche flavoured instrumental that crosses elements of 'Christmas Island' and 'Ice Machine' while demonstrating Trigwell's acute understanding of the sound design behind DEPECHE MODE. And as Gahan, Gore and Fletcher can't be bothered to sound like this anymore, then someone else should be able to take up the mantle.
With the rugged 'Override', there are shadier dynamics but also rousing vocals and danceable rhythms without dumbing down the set-piece. Meanwhile, the industrial Schaffel of 'Poison' sees Bebb adopt a lower register than many would be used to from SHELTER. Almost machine-like and deadpan but effective, with a fabulously catchy chorus, this is a track that MESH would be proud to call one of their own.
'Surrender' with its digital claps and deep Eurocentric atmosphere is everything HURTS should have been after 'Wonderful Life'; it's a much edgier proposition than the BROS Go To Bavaria stance that Theo and Adam adopted and a Speak & Spell machine even makes its presence felt to add a strange dystopian quality.
There's some real intensity to 'Enough', while the haunting epic of 'Stranded' is the darkest ERASURE song that Andy Bell and Vince  Clarke never recorded. With elements of 'Running Up That Hill' slowed to a canter, Bebb belts his heart out over a rumbling percussive backbone, but double tracked to his own whisper to create that air of mystery which loomed on THE DOORS 'Riders on the Storm'.
A relative of 'Poison', 'Sugar' has a more frantic 6/8 pace like an electro-glam ERASURE. Borrowing a few sounds derived from 'Some Great Reward', 'Lies' utilises further use of the swung Schaffel rhythms again as does 'Fire', a track which boasts an amazing swirling synth solo to behold.
'Everlasting' is perhaps the moment which is closest to SHELTER as a pure thrusting synthpop moment. More four-to-the-floor, 'Addict' penetrates the mind with its pulsing bass and wild synth lines.
A rich piano dressed ballad 'Infinity' closes 'defiance + entropy'
and echoes SHELTER's recent album 'Soar', something that is highly appropriate as Bebb's vocal certainly does that while Trigwell's swooping solo provides another highlight on this cinematic epic.
In common with a number of MESH albums, there are various instrumental interludes segued into the tracklisting; ranging from RECOIL inspired soundscapes and discordant doom laden romps, these largely work. But the final hidden track which comprises of Numan-esque rumbles and schizo voices for that horror movie effect, while interesting, sticks out like a sore thumb and sonically sounds out of place with the rest of the long player.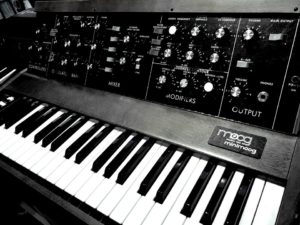 'defiance + entropy' is impressive, if a bit long and probably could have done with one less song, one less interlude and the hidden track.
But this is a debut that has a good number of excellent songs that should scare the competent if slightly stagnant German alternative electronica scene, who have been peddling the loop laden 6/8 darkness for over 20 years and really need a rocket up their software.
'defiance + entropy' uses the following synthesizers: Minimoog Model D, Sequential Prophet 6, Dave Smith Instruments Pro-2, Moog Sub-37, Arturia V-Collection 5, Native Instruments Komplete 11, Native Instruments Maschine Studio, SynthMaster Collection, AJL VProm LinnDrum LM-2
---
'defiance + entropy'
is released by Infacted Recordings in digital formats, available direct from https://infactedrecordings.bandcamp.com/album/defiance-entropy while the CD can be obtained from http://www.poponaut.de/form-defiance-entropy-p-18037.html
https://www.facebook.com/formhq/
https://twitter.com/FORMOfficialHQ
https://www.instagram.com/formhq/
---
Text by Chi Ming Lai
26th October 2018