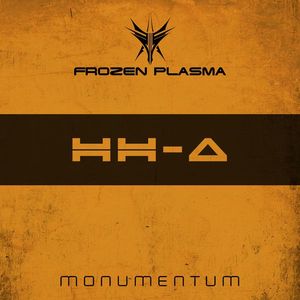 The greatness started when Vasi Vallis from NAMNAMBULU met DIORAMA's Felix Marc…
FROZEN PLASMA formed in 2005 and in the November of that year, the first single was released. 'Hypocrite' enjoyed a good position on German Alternative Charts and the first album 'Artificial' received positive reviews in many electronic publications at the time, praising the natural progression from NAMNAMBULU. Most recently, the duo have enjoyed success with hugely popular 'Dekadenz', hailed by chosen German reviewers as the best thing since sliced bread. (Oh… SLICED BREAD, the greatest electronic band of all!)
Joking aside, signed to Infacted Recordings, FROZEN PLASMA continue to make sensational synthpop albums and, consciously or not, have been copied by many new artists from around the globe. The recent productions from Utah based RARE FACTURE, and Swedes DESTIN FRAGILE plus many others all replicate the familiar synthscapes of FROZEN PLASMA in their own recordings.
Back in 2009, the hungry synth lovers eagerly awaited the second album, and in May that year, 'Monumentum' was finally revealed to the yearning public. The "momentum" was certainly achieved with that one; an album which still marks those glorious moments for Vallis and Marc.
The ethereal and floaty 'Open' kicks the album off with gentle strings, pleasant melody and this uncertain gut feeling one gets upon waiting for something grand and wonderful to come. Cinematic, atmospheric and truly beautiful, the track really does not herald what the production is about to transform into.
And so it comes, unprecedented synth with those magnificent vocals by Marc in 'The End-Deliverance'. Doom, melancholy and grief, all of which are skilfully wrapped up in an epic dance track.
'The Speed Of Life' is quintessential FROZEN PLASMA as we know it nowadays, an urgent lyrical call to stop the rat race, in which many people are enveloped as of late.
It couldn't be more current, even after six years since the album release: "Let's cease the day, let's go astray, there is no reason to be shy", "running at the speed of life" to escape the ordinary, leave your worries behind and submerge into the simple pleasures of existence.
'Phoenix' marks the sound for which the duo have been endlessly praised, and which has been recreated in many recent releases by various artists. It's a bouncy floor filler, marked with meaningful lyrics and a longing vocal. 'Natural Born Liars' bears the characteristics of quintessential FROZEN PLASMA. This semi-industrial instrumental is sci-fi inspired, and quite a lengthy track for a non-worder at 6:42.
The anthemic 'Tanz Die Revolution' bursts in next. Having previously been released separately, this epic production expands beyond the imaginable. It really had to be performed in German just to have this extra punch and aggression, which is essential for such a legendary track. A magnificent dance tune; one can just imagine the black adorned crowd stomping on the dance floor; it is impossible to sit through this one!
'Earthling' follows, with ringing synth and poignant lyrics "And I realise there is no peace of mind….there is no remedy inside, wipe me from this cruel reality, until my kingdom comes…"; it's a heavy-hearted and gloomy realisation that nothing matters and we are as good as God's puppets. 'Almond Flower', the longest track on the album at 7:09, bar the extended version of 'The Speed Of Life', is a melancholic depiction of a broken love affair, marked by a gentle keyboard pattern and ballad-like quality.
'Touching Ground' continues the solemn mood, yet bears the sign of hope ("to discover what is still unknown", "participate in this sensation… you will be no enemy of mine"), while 'Murderous Trap', with its ominous title, returns to the classic FROZEN PLASMA sound. A story of a seductive girl, weaving her sexual trap over an unsuspecting man could be perceived as controversial nowadays… not that it hadn't been done before (eg DEPECHE MODE's 'Little 15'); "she played her game so well", but "sweet 16 it's time to let you go".
The debauchery is broken up by a stunning instrumental 'Forgotten Earth'; divine, statuesque and sophisticated in its simplicity, an ambient female backing vocal drives the melody through corners of the human mind, leading up to equally elegant 'Close' which concludes the making.
After six years, 'Monumentum' still has that charm of seductive synth ballads, interspersed with heavy, dance floor-worthy anthems. It clearly rings many bells for numerous artists, who try and recreate the mood, which Vallis and Marc have been spoiling audiences with since 2005.
If you have never come across FROZEN PLASMA yet, this album would be a good place to start. Beware however, you may love it too much…
---
'Monumentum' is still available as a CD or download via Infacted Recordings
https://www.facebook.com/FrozenPlasma
---
Text by Monika Izabela Goss
31st October 2015