Chinese-born avant-pop songstress Fifi Rong released her debut album 'Wrong' in 2013 and attracted the attention of YELLO who she later collaborated with a few years later on two tracks from their 'Toy' album.
Integrating traditional elements into western popular music, her sound is simultaneously melancholic and sensual. After releasing a number of EPs and singles in a wide range of styles including 'Figure of 8' with Mark Reeder, she became less inhibited artistically and reconnected with her Chinese heritage. The end result is her new self-produced double opus.
Having once stated 'Love Is A Lonely Thing', when that relationship ends, 'There Is A Funeral In My Heart, For Every Man I Loved'. Self-explanatory, it comes in an English language version (which will be available singularly to the international market) and in her native Mandarin, although for now, this double package will be exclusively available to her ever expanding army of crowdfunders.
With a whisper, opener 'Out Of Clock' sets the downtempo intentions with bent double bass and reversed sounds combining for a deathly kiss. Mildly picking up the pace with a primitive drum box, 'Only Man' is classic Fifi Rong with its hushed angelic vocal tones, harmonies and effects capped by a fabulous tape manipulation ending.
The bent double bass returns on 'Love Yourself First' with some exotic synth textures before moving along at a subtle 3/4 mood recalling COCTEAU TWINS, while 'Another Me' is another classic Fifi Rong track, sparse and emotive, doing exactly what her fanbase love her for. 'Distance' sees our heroine take to guitar while 'Beg For More' is more vibey. 'I Refused To Break Down' acts as a determined spoken interlude before leading into 'Alchemist' which makes the most out of the songstress' authentic vocal presence.
The piano-led 'Dream On' follows a similar path as 'I'm Enough' ramps proceedings up with a slice pace variation and some wonderfully atmospheric interplay. The marvellous 'Stay Away' makes the most of the melancholy in a slice of ambient trip hop before an acapella reprise of 'Another Me' closes 'There Is A Funeral In My Heart, For Every Man I Loved'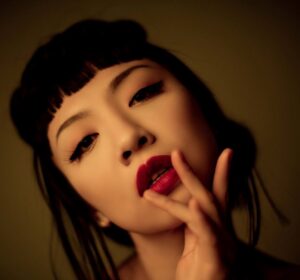 This is heavy but beautiful listening, where the vocals are central with the musical backdrop providing them with a haunting embellishment. "To let my music live, I had to let everything else die in my heart" Fifi Rong said, "But the ghosts of doomed romances had nowhere to go…"
Five years in the making, this is an intense intimate body of work with a timeless soulful quality via its heartfelt ambition. Becoming broken hearted is an aspect of the human condition will never change but as with all good melancholic music, it does so with hope and with melody.
---
'There Is A Funeral In My Heart, For Every Man I Loved' is released on 10th December 2021, available from https://fifirong.bandcamp.com/
https://www.facebook.com/fifirongmusic/
https://www.instagram.com/fifirong/
---
Text by Chi Ming Lai
Photo by Dylan Chubb
8th December 2021