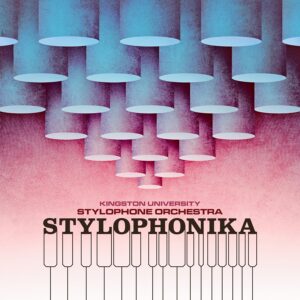 The Dubreq Stylophone created by Brian Jarvis was for many people, their first direct experience of an electronic music instrument.
Operated with a stylus in contact with a metal keyboard that was etched as part of a printed circuit board, musical notes were created via different-value resistors connected to a voltage-controlled oscillator when the circuit was closed. Entering production in 1968, the Stylophone was seen as a novelty instrument until Marc Bolan introduced the pocket sized device to David Bowie who subsequently used its otherworldly qualities on his breakthrough hit 'Space Oddity' in 1969.
Over the years, tracks using the distinctive tones of the Stylophone have included 'Style' by ORBITAL which was constructed out of samples rather than played live and BELLE & SEBASTIAN's 'Mayfly' with its buzzy solo. From stylus to stardust, the KINGSTON UNIVERSITY STYLOPHONE ORCHESTRA was created by Dr Leah Kardos in early 2019 after legendary producer Tony Visconti introduced her to Dubreq who donated a collection of new and vintage Stylophones to Visconti Studio's instrument archive based at the University.
The idea of a performing ensemble using these unique instruments took shape in Kardos' head. After a notice was posted up, a number of curious students showed up for the first rehearsal. Despite the Stylophone's known limitations, its restrictions were to inspire creativity and ingenuity with a unique collective noise.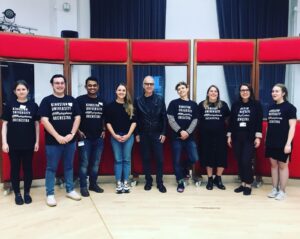 The worldwide pandemic meant regular rehearsals were impossible so a collaborative recording project which could be worked on remotely was conceived using not just the original Stylophone series but Dubreq's newer instruments from the same family like the Gen X-1, Gen R-8 and Beatbox, along with Korg Volca sample sequencers, Theremins, Omnichords, a Moog Grandmother and the human voice. When Kinston University opened up again in March 2021, the orchestra returned to Visconti Studio finishing their long playing debut.
Entitled 'Stylophonika', half the album pays homage to electronic music's pioneers and while those delightful cover versions act as entry points, the original material that was composed specifically for 'Stylophonika' also excels. Takes on Jean-Michel Jarre's 'Oxygene (Part 4)' and the Tony Visconti-produced 'Space Oddity' featuring some commendably authentic vocal phrasing from Ershad Alamgir and Jack Holland are very enjoyable.
But 'Blade Runner (End Titles)' sounds glorious with the Stylophone ensemble playing the main melody and it could be argued that their grainier timbres add an even greater dystopian quality to the iconic Vangelis theme. The same goes for the rework of Wendy Carlos' 'Music For The Funeral Of Queen Mary' from 'A Clockwork Orange' with assorted variants of Stylophone penetrating the backdrop of Moogs.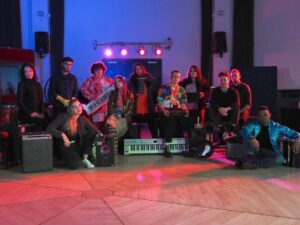 As the album's closing piece de resistance, the piercing Stylophone tones sound magnificent (complete with just about audible "keyboard taps") in the affecting sonic cathedral that is Brian Eno's 'An Ending (Ascent)'.
Composed by Zuzanna Wężyk and building into a multi-layered soundscape, 'Akoustiki' utilises some eerie cyclic choir phrasing and an angelic lead vocal by Arte Spyropoulou alongside bursts of vintage Stylophone set to a rhythmic mantra that is distinctly ritualistic.
However Leah Kardos' own 'Brundle Beat' soothes with a dramatic swirling soundscape while the elegiac 'Olancha Goodbye' acts as her touching musical eulogy to the late Harold Budd with a hushed blend of Omnichord drone, glistening electronics, soothing choir and appropriately understated percussion. If Harold Budd was the master of "soft pedal", then this is "soft stylus", constructing its own dreamy pavilion.
Directed and produced by Leah Kardos to capture a Yesterday's Tomorrow aesthetic via the Stylophone's classic component vibrato and glide, 'Stylophonika' is a fine tribute to the instrument that also explores its strange future possibilities with love and affection. If you love the Stylophone, then you will adore this album.
---
'Stylophonika' is released by Spun Out Of Control on 28th January 2022 as a limited edition Protein Pills Purple or Pink & Blue Cosmic Swirl vinyl LP and download, pre-order available from https://spunoutofcontrol.bandcamp.com/album/stylophonika
https://www.facebook.com/styloorch
https://www.instagram.com/styloorch/
---
Text by Chi Ming Lai
6th December 2021