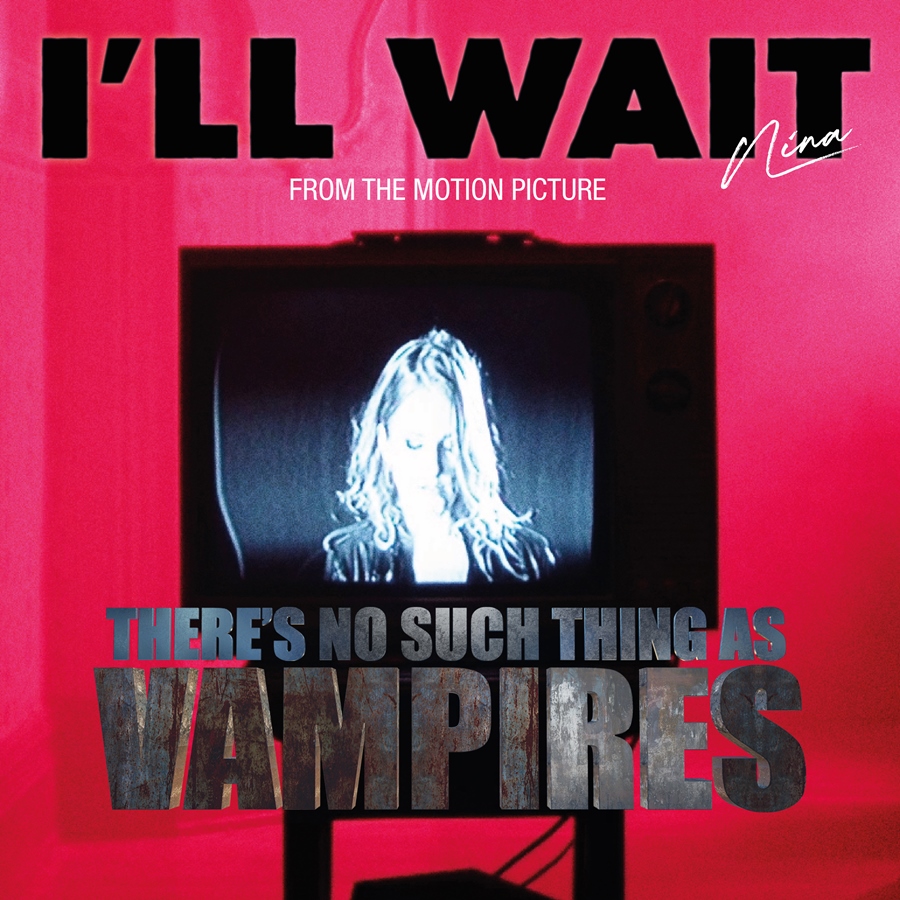 Utilising samples from Cliff Martinez's 'Drive' score, the 'Control' EP released at the end of 2020 was possibly Nina's darkest work yet.
A couple of solo songs 'Carnival Night' and 'Gold Heart' have since followed but her new single 'I'll Wait' is something altogether different. It is from the upcoming horror movie 'There's No Such Thing As Vampires' directed by Logan Thomas.
The story sees two strangers, Joshua and Ariel, crash into each other's cars in the dead of the night. They then find themselves pursued across the North American desert, the target of an unstoppable supernatural force!
Composed by Logan Thomas and produced by Oscillian with additional instrumentation by Greg Beaton and extra vocals from long-term collaborator Lau, 'I'll Wait' begins with a sparse backdrop where Nina gives a wonderfully emotive performance over a heart murmur and sparkling understated arpeggios, before a Phil Collins style drum barrage takes hold; 'I'll Wait' could be her very own 'In The Air Tonight' or 'Mama'!
Nina and Logan Thomas spoke to ELECTRICITYCLUB.CO.UK about both song and film…
'I'll Wait' is something of a departure, was this prompted by it be specifically for the film or where you are heading musically now? Any particular inspirations?
Nina: The film's director, Logan Thomas wrote the original song and then asked me to sing it. I naturally made it my own and brought on one of my collaborators Oscillian to produce the final recording. Dark romanticism has always been part of my musical DNA and I am definitely embracing it more with songs like 'I'll Wait' and my previous single 'Carnival Night'.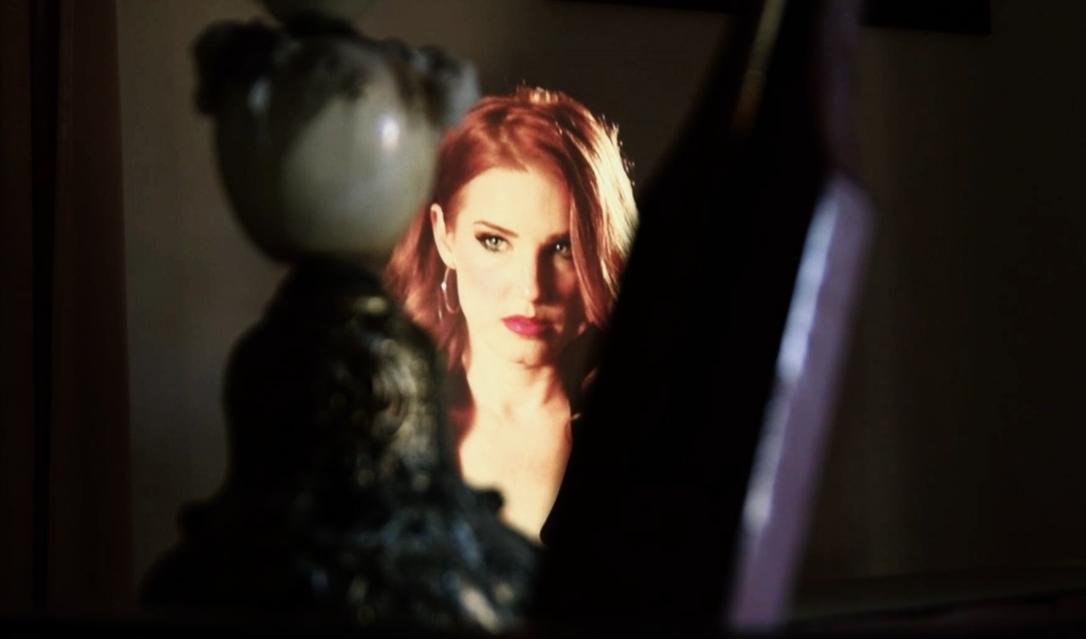 Was there a brief or a free reign?
Logan: I was composing the synth score for the new feature film 'There's No Such Thing as Vampires' and was deeply influenced by the Synthwave movement while I was directing and cutting that movie. We eventually brought in songs by FM84, Jessie Frye, Marsheaux and Nina.
But I also wanted an original love song for the film. You gotta have an original song in a movie like this! Think Annie Lennox's song for Coppola's 'Dracula'! It needed that kind of longing, and I knew Nina was the perfect voice for that! Now, I had only been focusing on directing and composing since I'd moved to Los Angeles, but before that I was heavily into song writing.
So I crawled back into my studio and worked out a melody and lyric that I hoped would build in layers. Almost a hypnotic roundabout until the song reached its climax. So I recorded a demo here and sent it to England for Nina to record it for the film. They finished and sent it back to us in LA. Greg Beaton and I went back in and I added some more synths. Then Greg did some remixing and added that big, wonderful 'In the Air Tonight' drum track! So it was definitely a cross continental collaboration with a lot of artists.
So "what" are you waiting for?
Logan: HA!… Well, I suppose you have to see the movie to know that..
Nina: For me, it's all about music and love. I will wait forever for romance and the song I have not yet written. I hope I never lose that feeling of endless desire.
How did the video come together as a concept?
Logan: Ah, the video… Well. So originally we (the production company) had set up everything to shoot the video here in CA. We crewed up. Had the location, and even began building Nina's wardrobe. Nina was set to fly here and we would shoot for 2 days. It was going to be a very 'The Hunger' inspired music video. Big 80s glam with smokey gothic interiors. Think early Tony Scott and Russell Mulcahy. The COVID restrictions were sure to finally lift in June 2021, allowing international travel to America… and then… they didn't.
Now we had everything in place and couldn't get Nina here. So, gotta think pretty fast!… we set up a short session in Berlin to have Nina filmed just singing at, or past the camera. Very simple. Then, for 2 days, we took the footage of Nina and projected it all over the location that we had set in Los Angeles for the original video. Ironically, this method of "projection" ties in very nicely with it being a song for a "movie"! I just love that video. So necessity was definitely the mother of innovation there.
You are living in Berlin again, have you settled back into the groove of the city yet? Has anyone said you are speaking German in an English accent?
Nina: It's great to be back in my home city with family and friends. I try my best to enjoy life as normal as possible (COVID restrictions). I spend most of my time in my home studio writing/producing and playing with my adorable Snow Bengal 'Kimba'. Berlin has a unique atmosphere that I find very inspiring, so my creative process is different in a very special way. Yes, some people do notice a little twist in my accent, and I like it!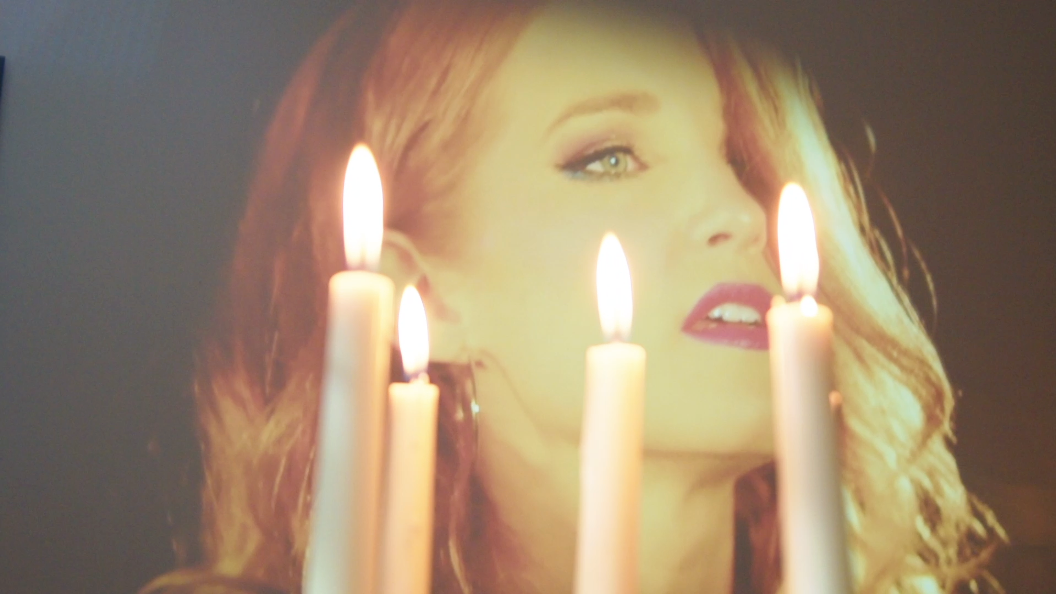 How are the other new songs coming along, what's next, anything you can tell people about?
Nina: The new songs are coming along very well, thank you. I am taking my time with Nina Vol 3 because I am trying new things. In the meantime, I am completing collaboration projects with Kid Moxie and Radio Wolf. 2022 is going to be a very fun year for releases!
---
ELECTRICITYCLUB.CO.UK gives its warmest thanks to Nina and Logan Thomas
'I'll Wait' is released as a digital single via Ascent Releasing
The film 'There's No Such Thing As Vampires' is released on 12th December 2021 in North America and Great Britain on Video On Demand and BluRay
https://www.iloveninamusic.com/
https://www.facebook.com/iloveninamusic
https://twitter.com/iloveninamusic
https://www.instagram.com/ninasounduk/
https://www.neardarkfeatures.com/
https://www.facebook.com/theresnosuchthingasvampires
https://www.instagram.com/theresnosuchthingasvampires/
---
Text and Interview by Chi Ming Lai
3rd December 2021