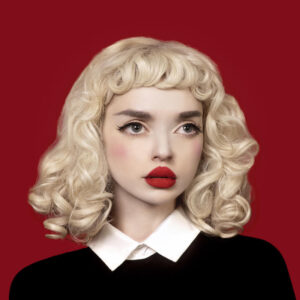 Described as "black lodge music for the blue youth of the internet age", GLÜME is the Los Angeles-born "Walmart Marilyn Monroe".
Like a tattooed Norma Jeane Mortenson dropped into Twin Peaks, having been a child actress and studies music before being diagnosed with a serious heart condition, GLÜME often reflects on her fragile hold onto life and how it keeps her detached from the real world in which she has live in.
But while her music often projects a tragic heartfelt quality, it is also strangely engaging and delightful.
Beginning with the forlorn Marilyn homage 'Arthur Miller', the afflicted drama accompanied by electric piano, organ, solemn strings and music box signals the forgotten yesterday mood that colours her first long player 'The Internet'. Meanwhile 'What Is A Feeling' places GLÜME into a synthwave backdrop of sombre staccato bassline sand melancholic counter melodies. Highlight her own insecure emotions with the world are "my undoing", this contrast of Norman Jean meeting 'Drive' only makes the scenario even more otherworldly and engaging.
The indie synth anxiety of 'Nervous Breakdown' dials largely down the Marilyn coos for some appealing melancholic pop while more off-kilter and detuned is 'Crushed Velvet' which recalls Nordic artists such as FARAO and GRETA.
Constructed around a distorted synth arpeggio, the haunting 'Body' reflects on illness with an emotive resigned acceptance with further tension provided by electric guitar. But things get glorious for the brilliant roller coaster of 'Get Low', the combination of rumbling synthbass and electronic stabs musically not that far off an experimental OMD B-side or LADYTRON!
The eerie chill of 'Blossom' outlines American suburban wifey aspirations like a 'Twin Peaks' song that Lana Del Rey wouldn't shy away from and as the dream decays, GLÜME asks "which god do you prey to?" before stating "you can be really mean?".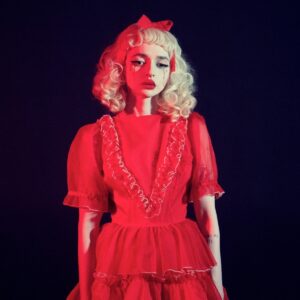 The vibey 'Don't @ Me' is a metronomic spoken word piece with echoes of JOY DIVISION's 'Decades' in its repeated riff while utilising real strings blended with sparkles of synth, the finger-clicking album title song confronts online trolls and stalkers with references to a "worldwide bitch".
A burst of a brass ensemble punctuates the film noir atmosphere of 'Heatwave' with some frantic if understated guitar work to accompany GLÜME's Lana-like delivery albeit without the rasp. 'Porcelain' offers Trans-Atlantic trip-hop, before the orchestrated ballad 'Chemicals' closes 'The Internet' with the frustrations of medication and wanting them to "play nice".
While it does not include her marvellous chilling cover of THE FLEETWOODS' 'Come Softly To Me', 'The Internet' will satisfy anyone intrigued by GLÜME's singles. With a variation of atmospheres and tempos plus an aura of charming vulnerability, featuring one of the best songs of the year in 'Get Low', the album is more than consistent with the Italians Do It Better brand identity and showcases GLÜME as their shimmering new star.
---
'The Internet' is released by Italians Do It Better on 30th April 2021
https://italiansdoitbetter.com/glume/
https://www.facebook.com/babyglume
https://www.instagram.com/babyglume/
---
Text by Chi Ming Lai
29th April 2021