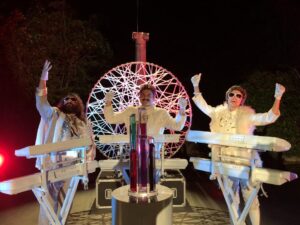 "There is only one hope for humanity… the synthesizer!"
Adult Swim is the night time wing of the Cartoon Network and frequently airs adult animation, mockumentaries and sketch comedy. Although 'Live At The Necropolis: Lords Of Synth' first aired in 2016, this little gem of a video is the gift that keeps giving for any fan of electronic music, especially the originators: Vangelis, Wendy Carlos and Giorgio Moroder.
For those that haven't had the pleasure of seeing it, the skit adopts a wonderfully droll US sports commentary-style approach to a 'synth-off' (or as they word it, a "battle of fingoric dexterity") between Xangelix, Carla Wendos and Morgio Zoroger. Each of the synth heroes are lovingly characterised with Zoroger being portrayed as a hard-drinking Italian (who harbours a long-running grudge against Xangelix and an ex-relationship with Wendos), Xangelis (a reclusive musician who is rarely seen in public) and Carlos Wendos (previously known as Carlton Wendos).
Also worthy of mention are the two US sports-style commentators, both named in homage to German electronic pioneers TANGERINE DREAM (Edgar Tangram and Zedd Centuari) who oversee the musical scoring of the return of Halley's Comet to earth. The winner being subsequently crowned 'Lord Of Synth'.
The parody was inspired by Greek-American musician Yanni's extravagant 1993 'Live At The Acropolis' concert which was seen in 65 countries and Public Broadcasting Service who originally promoted it. What adds to the overall enjoyment factor of 'Live at the Necropolis' is the attention to detail throughout, there are so many fantastic touches that it's impossible to highlight all of them.
For a start, the synth equipment on stage is all appropriate to the individual 'synth lords' with Wendos having a Moog modular system, Moroger with a Jupiter 8 (fed through guitar pedals a la Johannes Schmoelling of TANGERINE DREAM) and a variety of other classic synths (including an Emulator I and a Prophet 5).
When it come apparent that Halley's Comet is going to destroy earth and none of the Synth Lords (individually) will be able to halt its deadly trajectory, our trio combines forces and after sending a synth Morse Code to each other, metamorphosize into a streamlined all-white wearing synth 'power trio' with new keyboards to match.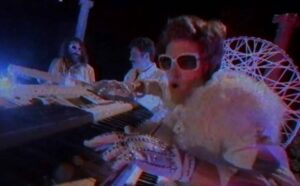 With their collaborative performance, the "sheer coolness of the jam" cuts the heat from Halley's Comet, a star constellation of Pegasus is summoned and a final triumphant chord sends a beam of light to the heavens and freezes the comet before it obliterates the Earth. Once it becomes apparent that humanity has been saved, former US President Gerald Ford returns (he had previously evacuated in a space pod) to bestow gold medals on our three Synth Lords.
ELECTRICITYCLUB.CO.UK can't recommend 'Live At The Necropolis: Lords Of Synth' highly enough, it is a joy from start to finish and repeated viewings reveal many fantastic comedic touches that may get missed first time around.
---
The Adult Swim YouTube channel is at https://www.youtube.com/channel/UCgPClNr5VSYC3syrDUIlzLw
https://www.facebook.com/adultswim
https://www.instagram.com/adultswim/
---
Text by Paul Boddy
27th April 2021