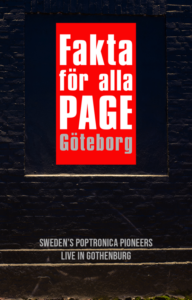 An observer in a music documentary once stated "Oh God, from Sweden? Pop? How can that work?"
But the Scandinavians are having the last laugh these days, having produced some of the best electronic pop of the last decade or more and certainly surpassing much of the derivative fare emerging from the UK and Germany, two nations who were the trailblazers but have since been left behind.
However, this pop domination would not have been possible without those Swedish acts inspired by the likes of Messrs Hütter, Schneider, Bartos, Flür, Numan, Foxx, Marsh, Ware, McCluskey, Humphreys and Clarke. One of those was acts was PAGE; the classic incarnation of Eddie Bengtsson and Marina Schiptjenko released their first single 'Dansande Man' in 1983.
In October 2019, they performed at Gothenburg's Sticky Fingers venue for their first concert video presentation 'Fakta För Alla Göteborg'. Produced by Swedish friendly media and culture platform Cold War Night Life, 'Fakta För Alla Göteborg' comprises of footage captured by a combination of professional camera operators and audience members, coupled to a supremely fine-tuned and well recorded live sound.
More recently Bengtsson has been re-exploring the post-punk synth innovations of TUBEWAY ARMY and this ethos to "Numanize" the sound of PAGE is reflected in a setlist drawn primarily from material released since their 2010 reunion. The 'Fakta för alla', 'Det är ingen vacker värld men det råkar vara så det ser ut' and 'Nu' albums are represented although only one song from the 2014 long player 'Hemma' is present.
In a sea of vertical neon tubes, strobes and a misty mauve tinge to the stage lighting, Bengtsson and Schiptjenko come armed with a Little Phatty and Sub 37 respectively to indulge in a delightful battle of the Moogs with oscillators set to stun.
The 'Fakta för alla' song and 'Kloner' see Bengtsson enthusiastically getting into the Moog with his soloing while the 'Tracks' inspired 'Start' from the 2018 EP of the same name showcases one of the best adaptations of the machine music era of Gary Numan for the 21st Century. Meanwhile, the stark heart murmur of 'Blöder du?' adds a touch of mood to the Moog but the more Vince Clarke derived 'Som ett skal' provides some respite from the Numan mining, as does the delightfully catchy 'Kom så andas vi', the latter  from the 2010 comeback album 'Nu'.
The pacey 'Lägger av' makes the most of Bengtsson expressive stage persona in his engagement with the crowd, while 'Ett SOS' provides some glam Schaffel relief, showcasing another of PAGE's musical influences. Having only played 21st Century material, the duo finally concede with something from their dim and distant past in the encore with the chanty 'Förlåt' from 1995's 'Glad', supplemented by another album favourite 'Står i din väg'.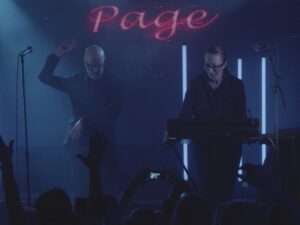 And that final pair of songs highlights that if there is a fault with 'Fakta För Alla Göteborg', it's the lack of earlier material and hits with 'Dansande Man' being the most noticeable absentee. Also with the emphasis on promoting 'Fakta för alla', the Numan-esque buzzes and whirs do at times get tiresome.
But synth hooks galore, Schiptjenko's wonderful smile, Bengtsson's animated delivery and a variety of camera angels, the energy of a show is projected in successfully bursts if confined by the limitations of the small screen.
As with most concert videos, you have to have been there or one before to truly appreciate the spectacle, as an independent synth duo on a small stage can only do so much despite the number of cameras of various capabilities on hand. Saying that, as a document to remind us all why concerts are very special events, 'Fakta För Alla Göteborg' does a fine job and will be greatly appreciated by PAGE aficionados.
---
'Fakta För Alla Göteborg' is released through Cold War Night Life as a limited edition bundle that combines a Vimeo streaming licence with a physical package comprising a DVD with extra features; a numbered photo book; and a unique Polaroid photograph of the band; it will be available for pre-order from https://hotstuff.se/page/x-7640
The unlimited streaming licence on Vimeo is available from 30th April 2021 at https://vimeo.com/ondemand/faktaforallagoteborg
https://www.facebook.com/PageElektroniskPop
https://www.instagram.com/page_svensk_pop/
---
Text by Chi Ming Lai
24th April 2021, updated 6th July 2021