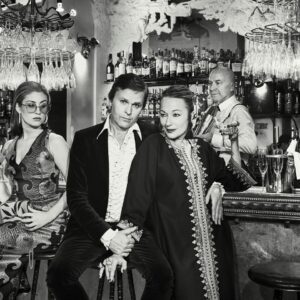 'For Beautiful People Only' is the second full-length album from JULIAN & MARINA, the follow-up to 2014's 'Absence & Distance'.
Comprising of Julian Brandt and Marina Schiptjenko, the couple are both veterans of the Swedish pop scene. Brandt was a member of BOBBY and is the current bass incumbent in LUSTANS LAKEJER while Schiptjenko is best known for her instrumental roles in PAGE and BWO.
The concept of JULIAN & MARINA is what can only best be described as crooner electro.
So imagine Matt Monro or Charles Aznavour over laid-back sophistipop backing utilising drum machines, synths and virtual orchestrations. Such are Julian Brandt's loungey mannerisms, occasionally harmonised by Marina Schiptjenko's larynx treatments, that the combination is strange and otherworldly yet ultimately romantic and classic.
It all begins with the 'For Beautiful People Only' title song, the song which is closest to being quite traditional sounding with its cinematic pomp and circumstance. 'Someone To Cling To' though recalls smooth PET SHOP BOYS ballads like 'Liberation' or even 'Requiem in Denim & Leopardskin' but with the orchestrated flavour of Percy Faith. Though 'Vintage Wine' follows a not entirely dissimilar feel, Brandt enunciates more like a Scandinavian Neil Hannon.
Heading to the South of France, 'Destination Cannes' is a great instrumental which captures exactly what it says on the tin while 'Full Moon Over St Tropez' conjures up that understated but catchy Gallic quality. The dashing 'Hello Darling' makes good use of synths and vocoders as well as adding a surprise rap from an alluring Schiptjenko.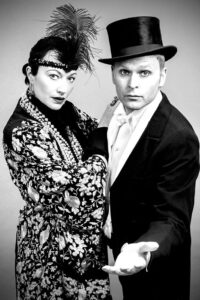 But featuring a beautiful string line and a music box motif, 'Girl In The Gallery' could actually be about Schiptjenko herself, a playful celebration by Brandt of the enigmatic art curator with key changes to boot.
Brandt's delivery recalls the late Liverpudlian crooner Michael Holliday on his hit 'Starry Eyed', a 1960 UK No1 co-written by Moog pioneer Mort Garson and later covered by CHINA CRISIS.
Despite its title, 'Saddest Girl' is enormously sunny and uplifting with hints of Hollywood Elvis, but 'Love On A Summer Night' offers a subtle disco duet which could be another PET SHOP BOYS collaboration with Patsy Kensit that also throws in a synthetic brass section for a more robotic style of 'Domino Dancing'.
With a piano and soprano sax providing a twist in the electronic backdrop, 'Going To Nice' closes the album with a happy optimistic vibe like all the good film romances should.
This is an enjoyable Eurocentric album with a sumptuous aural palette. If you can appreciate the guilty pleasures of classic easy listening, then on days like these , 'For Beautiful People Only' is the perfect escapist album for a trip along the Riviera.
Those wanting darkness, doom and edge though should turn away now…
---
'For Beautiful People Only'
is available via the usual digital platforms
https://www.facebook.com/JulianandMarina/
https://www.instagram.com/julianochmarina/
https://open.spotify.com/artist/3BzeqZj5Gziti68PyLLr4J
---
Text by Chi Ming Lai
Photos  by Pierre Björk and Conny Fornbäck
15th February 2020