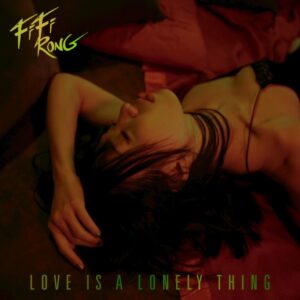 Following on from her three part singular release 'Red Moon Voyage' for Halloween 2019, Fifi Rong turns her attention to Valentine's Day 2020 with a bittersweet trilogy under the title of 'Love Is A Lonely Thing'.
It is a three-chapter tragic romantic story with a cinematic sonic parallel to 'Mood For Love' by Wong Kar-Wai.
Despite a spirit of newly found independence, the Beijing born songstress enters a forlorn world inhabited by many, where all unrequited love desperately seeks a way to prove its own existence.
She said to ELECTRICITYCLUB.CO.UK: "I channel my emotional pain through every heartbreak, and sing for those who can't express their emotions through music".
Accompanied by three videos directed by Zee Marla Osh, the mutant reggae of Part 1 states"How much I cry for your smile", before being haunted by "A ritual that repeats" while Part 2 has more of a nocturnal anguish; when the realisation hits home when the love is not reciprocated, she asks in cut-up collage "don't you wanna be the one?"
Part 3 takes on a smoky trip-hop stance and a sense of resignation with goodbye looming. With the surprise of dysfunctional electro-dub, Fifi Rong is intriguing as ever with her enigmatic whispers that "I still don't believe in love".
With her prolific artistic impulses now being the main driving force, The 'Love Is A Lonely Thing' trilogy is a result of Fifi Rong re-establishing control of her own artistic destiny over the last two years, releasing material of varying concepts as she sees fits to her loyal fan base.
While 'Red Moon Voyage' and 'Love Is A Lonely Thing' have been trilogy concepts, her currently being recorded new album is her most ambitious project yet, embarking on a cultural fusion that combines her native tongue of Mandarin with the universal pop language of English.
---
The 'Love Is A Lonely Thing' trilogy is available direct from https://fifirong.bandcamp.com/
https://www.facebook.com/fifirongmusic/
https://www.instagram.com/fifirong/
https://open.spotify.com/album/6QZtsByiKYIICESBU0UhAh
---
Text by Chi Ming Lai
14th February 2020