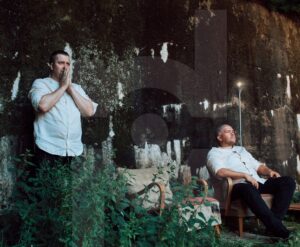 Jonas Groth and Truls Sønsterud are PISTON DAMP and the Norwegian duo are hoping to be 'Making The World Great Again' with their soon-to be released debut album.
Groth has been making music mostly with his old brother Stephan and his band APOPTYGMA BERZERK and on their most recent EP release 'Nein Danke', contributed lead vocals to the electronic ballad 'Nearest'. Meanwhile the classically trained Sønsterud is known for remixes under the TRÖLL moniker.
The first PISTON DAMP single 'Something In Me' was a classic synthpop statement while the other 12 tracks on 'Making The World Great Again' vary from interlude soundscapes to EBM while dropping in hints of DEPECHE MODE, A-HA and THE BEATLES in between.
PISTON DAMP spoke collectively to ELECTRICITYCLUB.CO.UK about their genesis of their debut album and why it has taken them 20 years to arrive at this point.
'Making The World Great Again' is a rousing album, it has to be said!
Wow! Thank you so very much. We've put a lot of time and energy into making it a positive / celebrative album. Not like party-party, but an album with a clear message as to how we see the world and the people in it.
The 'Making The World Great Again' title song pays homage to 'Black Celebration' in the intro and optimistically declares "we won't make the same mistakes as them", was it important for you to make this kind of statement?
This is the last song to be written for the album – actually after the title was already on the table.
The line "we won't make the same mistakes as them" refers to "them" as being those who came before us.
When Jonas started writing the song, it was with a clear intention to make it a follow-up to the song 'Hearts On Fire'. Both are meant as fight songs or speeches to a lost generation, if you will. The Internet has made us, as a species, feel lonelier and more disconnected from each other. We don't necessarily need to get rid of the Internet, but we need to make people understand that there is more to life than what it seems like at the moment.
The relatively new phenomenon Social Media is trying to substitute real relationships, and this is what Jonas is talking about in these lyrics – Starting a movement that shows people how important it actually is to be social and that the reason why love (as a concept) has become a cliché, is that it actually works and that more people probably should be spending time on trying to give and receive love, rather than distancing oneself behind a screen. 'Black Celebration' and the following three DM-albums are indeed inspirations for most of the songs on this album, both lyrically and musically.
You formed in 2000 so why has it taken so long to release music? Are any songs from those formative years on the album?
We formed as a fun project, working out of Jonas's brother Stephan's studio whenever he wasn't there. He had an Apple computer and loads of synthesizers, especially the Waldorf Q and XTk were exciting ones to experiment with.
Jonas wrote a lot of songs for this project, and at least 7 exist in demo form from that period. In 2001, Jonas became a father and life just and several other music projects happened to both of us for the next 15 years. The last five years, we have tried to get together and re-record some of the songs on several occasions, but something always came up.
In the spring of 2020, Truls called Jonas and basically told him that since it still hadn't happened, he wanted to get it out of his system and just ban the entire project for good. This sparked something in Jonas, and he wrote 'Something In Me' (or rather the Danish version 'Noget I Mig') that same evening. Upon hearing this they decided to give it one last try, and here we are! Hehehe…
The album tracks:
1 ШУМ (new)
2 Hearts On Fire (reworked from Jonas' 2014 demo)
3 Runaway (Original PD track from 2000)
4 Something In Me (new)
5 Depth Of Your Eyes (Original PD track from 2000)
6 Factor Out (new)
7 Never Thought It Would End (reworked from Jonas' 2010 demo)
8 Making The World Great Again (new)
9 Don't (reworked from Jonas' 2012 demo)
10 Loose Ends (Original PD track from 2000)
11 Sacred Secret (reworked from Jonas' 2016 demo)
12 Testimony (Original PD track from 2000)
13 Another Pain (reworked from Jonas' 1994 demo)
The first single 'Something In Me' announced that PISTON DAMP was very much a synthpop act, which artists had been inspirations in developing this sound?
For Jonas, it's DEPECHE MODE (83 – 98), ERASURE (86 – 97), OMD, APOPTYGMA BERZERK, DURAN DURAN and ELEGANT MACHINERY, while for Truls, it's PET SHOP BOYS, ERASURE, APOPTYGMA BERZERK and A-HA.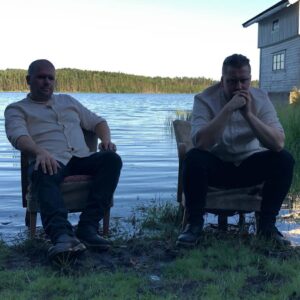 'Hearts On Fire' recalls Swedish combo THE MOBILE HOMES, does that formative period of Nordic new wave pop which also includes bands like LUSTANS LAKEJER and PAGE deserve more recognition outside of Scandinavia?
Absolutely. Sweden in particular has had an enormous and impressive electronic scene that we Norwegians have loved since it started. When Jonas has toured with APOPTYGMA BERZERK, he has often been confronted with band names like ELEGANT MACHINERY, SISTA MANNEN PÅ JORDEN and COVENANT, even in places like South America and Israel. So maybe it has more to do with exposure rather than recognition…?
Did you use vintage synthesizers to achieve your aims or are you software based?
Truls has built quite a large synth studio, and we use hardware almost exclusively when we record our music. Some synthesizers are used in almost every song, and some are more randomly used, like if we're looking for a particular sound. Roland Juno-106 is a classic, and of course we use that. For strings, we prefer Roland RS-505. It has some massive, powerful strings, but they can also be tender and soft.
For bass, we use a wide variety of synths, for example Roland SH-101 and Minimoog Voyager. We also use modular stuff, drones and a lot of pedals, like the Moogerfoogers. The sonic possibilities both in vintage and new synths are endless in the creative process. The experimentation with hardware is important both for creating the sound and for inspiration to develop and expand the sonic and musical landscape. Among the rarer stuff is, for example, the Elektron SidStation and it is made with the original C-64 sound chips. This is the main synth on the theme and ARPs on 'Another Pain'.
The anthemic 'Runaway' had the remix treatment from MESH and DIE KRUPPS when released as a pre-album bundle, how do you feel when you let others adapt your work?
Oh, we love it. The interpretations are always really exciting to hear. And listening to the four remixes of that song back-to-back is still great (MESH, DIE KRUPPS and SUBSTAAT plus the Extended version).  Getting talents we admire to reinterpret our basic ideas is an amazing way to get inspiration for moving on to whatever comes next. This is also a cool thing about the 'Something In Me' single where (apart from the A-side), the TECHNOMANCER remix is the version mostly played on Spotify. On YouTube, this version is by far our most played track.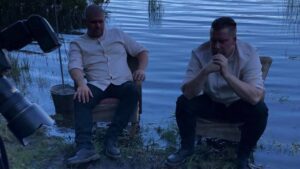 The energetic 'Don't' is the closest PISTON DAMP get to EBM and sees an old friend COMPUTORGIRL return for a cameo vocal, how was this reunion?
It was great fun. Especially since 'Don't' originally was intended as a band song much inspired by THE CURE's 'A Foolish Arrangement', and we only picked it up because we needed a B-side for the 'Loose Ends' single.
The track listing for the album was more or less finished, so we wanted a separate track as B-side. The middle part was instrumental, and we considered several solutions for this part including a spoken German poem, noises and effects, and other stuff.
One night Jonas was listening to one of his favourite albums – 'Forever' by CRANES – and the voice of Alison Shaw reminded him of Benedicte who is COMPUTORGIRL, whom he immediately wrote the vocal part for. Jonas did the vocal pre-production of the COMPUTORGIRL EP in 2002. Luckily, she was excited to do it, and the vocals were recorded the very next day. The song title was made up just as a word to save the song as when it was written. The word never came up in the lyrics, and therefore it became obvious that COMPUTORGIRL's lines should all begin with that word. Eventually the song was nearly considered to be the A-side of the single, and ultimately it was given a place on the album too.
With its 6/8 signature and orchestrations, 'Depth Of Your Eyes' is quite different from the other tracks on 'Making The World Great Again'?
Indeed, but it is actually the song that has changed the least since its 2000 demo form. This is the way it was intended to sound. The only difference is that the strings have now been played rather than being programmed. Tarjei Nysted and Kaja Pettersen play the exact notes that Jonas programmed 20 years earlier. The inspiration from the 86 – 93 DEPECHE MODE period is obvious here. We allowed ourselves to do stuff that wasn't necessarily "genre correct", simply because we wanted to do it, much like DM did when they brought in guitars, live drums etc.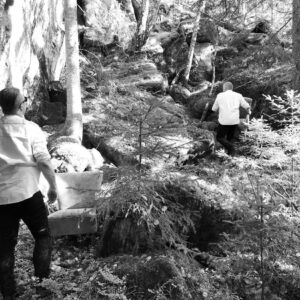 'Never Thought It Would End' is almost hymn-like and comes over like U2's 'I Still Haven't Found What I'm Looking For' mashed-up with DEPECHE MODE's 'Waiting For The Night'?
It's hard to define 'Never Thought It Would End' without commenting on 'Factor Out' which leads into 'Never Thought It Would End'. 'Factor Out' was made as an intro, but quickly proved to have a life of its own. Truls kept expanding it both time wise and sound wise, which made the transition into 'Never Thought It Would End' much more exciting. They can both be viewed as separate tracks, but also as part 1 and 2 of the same song.
Jonas's love of harmony vocals became a powerful tool here, and we wanted the song to have a lot of air in the mix (hence the panning of the vocals which vary throughout the song). The demo of the track was recorded with acoustic guitar on a laptop while the rest of the house was asleep, which makes it a very quiet and emotionally sore sounding demo. We tried to keep that vibe going in the electronic PD version.
'Testimony' borrows the guitar line from DM's 'Precious' and sort of morphs into CAMOUFLAGE, how did this song come together?
'Testimony' was the only song we actually made a proper release-worthy version of 20 years ago. Due to Jonas working as a Label Manager Assistant at Hard:Drive (partly owned by Stephan), at the same location as where Sebastian Komor from ICON OF COIL had his studio.
Seb produced the track for us and gave us a clearer direction for the song. Most of his additions were very 2000/2001, and have thus been subtracted from the new version again. But the guitar part is the same now as then, and DM's 'Precious' is from 2005, so who knows – maybe the borrowed it from us? Hahaha… Somewhere on the Internet you will probably still be able to find the 'ICON OF COIL mix' of 'Testimony'.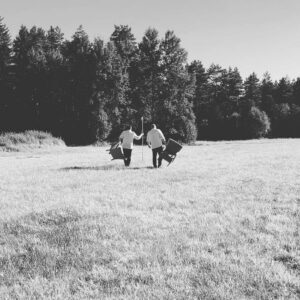 The album closer 'Another Pain' appears to reveal THE BEATLES as an influence which perhaps is an unusual template for electronic pop?
Being one of the first songs Jonas ever completed (1994), it is very much a Beatles influenced song. THE BEATLES have always been a huge thing for Jonas (when asked about his top three favourite bands he usually replies: "THE CURE, DEPECHE MODE and KENT, but that's just because THE BEATLES is a given and I don't need to use up a place for them". The sound collage at the end of 'Another Pain' is inspired by the latter years of THE BEATLES, but also by PINK FLOYD, which is a huge deal for Truls.
We share a love of the same kinds of music, but rarely the same bands. The album version of 'Another Pain' was the first one to be made, and the 'Blue Hearts Version' which was used as a B-side for 'Something In Me' was made from this version. If you listen closely, you can hear an element of each of the other album tracks in this outro.
Which are your own favourites on 'Making The World Great Again' and why?
For Jonas, this changes all the time. At the moment it is 'Don't', but his favourite one to record was 'Making The World Great Again'.
This changes for Truls as well. Right now he would say 'Testimony', but he had a plan very early in the making of this album, that it was going to be musically arranged and produced so that each song should set the mood for the song after, and as well be a contrast to the foregoing song. And that makes it hard to pick a specific song out of the context. The songs make each other good, and the combination of them makes them even better than when they stand alone.
What are your future plans, if you have been able to make any?
Well first of all, we're planning a virtual release party for the album on June 5th where you can hear all the songs from the album 5 days before the release, and we'll perform 3 songs live, do some interviews, giveaways, competitions etc. So, we're quite looking forward to that, as it will give us an early indication of what people think of the album.
We have already started on the next single, and we are planning what to do for the next album. There are still some really strong songs left from the original demos, and we want to use some of them for a follow-up album as soon as possible. We'd love to play live shows, and we have a few gigs already being planned, so we're just hoping for the world to open up so we can help make it great again!
We're both very keen on getting on stage to try our songs out on a live audience as soon as time permits, so both festivals, club-gigs and support gigs for other acts are what we're planning and looking for, to be honest. Safe to say, PISTON DAMP is hard at work, and there will be more coming from us in all shapes, sizes, and forms in the months ahead!
---
ELECTRICITYCLUB.CO.UK gives its sincerest thanks to PISTON DAMP
Special thanks to Per Aksel Lungreen at Sub Culture Records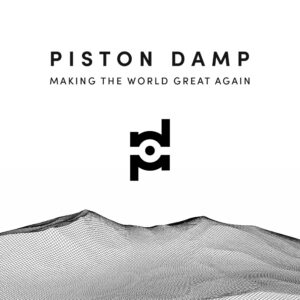 'Making The World Great Again' is released 21st June 2021 by Sub Culture Records, available direct from https://subculturerecords.bandcamp.com/album/making-the-world-great-again
The PISTON DAMP Virtual Release Party takes place on 5th June 2021 at 1700 UK time via Facebook, details at https://www.facebook.com/events/369780110999711
https://www.facebook.com/pistondampcom
https://www.instagram.com/pistondamp/
---
Text and Interview by Chi Ming Lai
Photos by Kine Jensen
31st May 2021