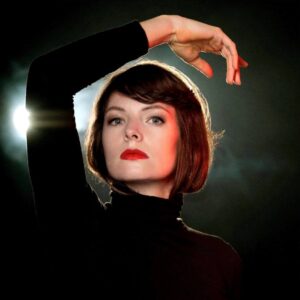 A dark reality check swathed in largely improvised synths and sax, 'Human Again' was a fine debut long player from Jorja Chalmers released in 2019 by Italians Do It Better, home to CHROMATICS, DESIRE and GLÜME.
Australian multi-instrumentalist Jorja Chalmers was a member of HOTEL MOTEL, a stylish new wave pop trio that also featured front woman Marika Gauci and guitarist Oliver Blair who as RADIO WOLF recently recorded a joint award winning soundtrack with PARALLELS for the film 'Proximity'. She then joined Bryan Ferry as his sax and keyboard player for live work.
It was while touring the world with the ROXY MUSIC leader that 'Human Again' was conceived, capturing the hotel room comedown after facing adulation from concert crowds only hours earlier. Her recently issued second album 'Midnight Train' was a product of lockdown and recorded nocturnally at her spare room studio.
Although a natural development of its predecessor, 'Midnight Train' added more refinement, structure, sax and vocals, as well as three cover versions of songs made famous by artists as diverse as THE DOORS, SIOUXSIE & THE BANSHEES and ENYA.
Jorja Chalmers spoke to ELECTRICITYCLUB.CO.UK about feeling 'Human Again' and taking the 'Midnight Train'…
Looking back, you've had an amazing musical journey, coming to London from Australia, opening for Claudia Brücken of PROPAGANDA and Paul Humphreys of OMD, joining Bryan Ferry's band and now releasing your own music on Italians Do It Better…
It's been full of surprises! I've been fortunate to work with so many great artists like Marika and Oliver from HOTEL MOTEL and Bryan Ferry and his incredibly talented band. All of these encounters shape the music that you make. Italians Do It Better have helped me to be able to share the music I'm making which is a dream come true.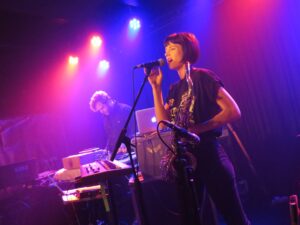 Is sax your first instrument? What led you to becoming more of a multi-instrumentalist?
Actually, piano is my first instrument. I started playing when I was really young and learnt mostly by ear which helped me to start writing my own songs. I joined the school band when I was 11 and asked to play the saxophone and fell in love with the sound. It's nice to be able to play a few different instruments if you're producing your own music. I'm also learning to play guitar so there may be some guitar in the live shows soon.
Your first band in London HOTEL MOTEL attracted some interest, Mark Moore from S-EXPRESS was a fan while there were some recording sessions with producer Bob Kraushaar who worked with PROPAGANDA, ERASURE and PET SHOP BOYS. There was also a video for 'Sucker Man', so are these nice memories to look back on?
Absolutely, HOTEL MOTEL will always be dear to my heart and I'm lucky to call Marika one of my closest friends after all these years.
One of the last HOTEL MOTEL tracks was 'No Way' in 2006 which you had a prominent role in, but the band appeared to lose momentum after that, what happened?
It was a shame, really. 'No Way' was a fun song to write but we could have taken it so much further. It was at a time when many bands were still leaning heavily on outsourcing engineers to make the music. I think if it had been a few years later, I would have had the skills to help Marika craft the songs. I was also at the early stages of getting into synths and wanted to write darker, more experimental songs and it didn't really fit with the HOTEL MOTEL sound.
How did you come to work with Bryan Ferry? Are there any particular Ferry or Roxy songs which you particularly enjoy playing live?
HOTEL MOTEL were playing a gig at Bar Music Hall for Marika's club night, 'Computer Blue'. I think it was 2007. Bryan's PA at the time came to the gig and the next day I got a Myspace message asking me to audition for Bryan's band. I got the job and have been working with him ever since. My favourite songs to play live are 'Don't Stop the Dance', 'Windswept', 'If There Is Something', 'Editions Of You', 'Bitter Sweet'… too many to name! They are all so fun to play. Andy Mackay is a genius at writing lyrical and simple melodies that say so much. I always try to do the same with any sax parts that are in my songs.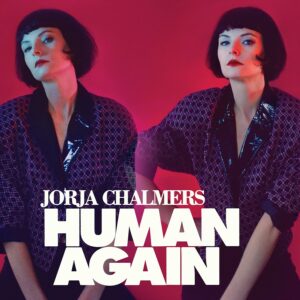 Much of your debut album 'Human Again' was conceived while touring with Bryan Ferry, what had been the catalyst to start composing?
There can be a lot of time spent alone in hotel rooms on the road which can be a bit isolating. I started taking a mini studio with me on the road and wrote the album on days off and after shows.
The 'Human Again' title track was quite an abstract song but captured many emotions and is almost 'Blade Runner' like? Was the film or Vangelis an inspiration at all?
I read a book called 'Eleven Kinds Of Loneliness' written by Richard Yates and it's been a constant source of inspiration for me. It's a series of short stories that explore the human condition. I've always been interested in these themes of connection and isolation and it runs through a lot of my music. That coupled with my love of Vangelis and 'Human Again' was born.
At what point do you decide that a piece of music remains instrumental or needs a vocal, however abstract?
I've never really identified as a singer so when I sing, I see it more as an extension of an instrumental which is why it often sounds abstract. The new album is different from 'Human Again'. There's a lot more singing and saxophone. It feels good to sing out finally.
'The Sum Of Our Sins' from 'Human Again' with its doomy synths could have come from a horror movie, is that a film genre you enjoy?
I do love cinematic music. It originally stems from my love of classical composers like Rachmaninoff. The sense of melodrama really appeals to me as fun and not at all gloomy. The funny thing is I'm not particularly into horror films, although I love the aesthetic of the old horrors like Dario Argento's 'Suspiria'. So it's the look and sound I love.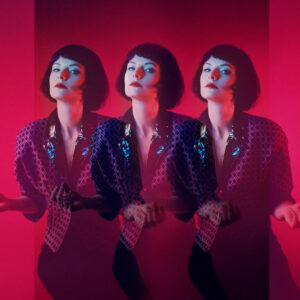 How did Italians Do It Better become interested? The connection naturally points to 'Twin Peaks' and 'Drive', but what soundtracks have musically touched your soul?
I wrote the demo of 'Human Again' and thought nothing would come of it but quite spontaneously sent it to Italians Do It Better and Johnny Jewel got back to me right away to say he loved it and wanted to release it. I was of course thrilled to be working with them as I'd been following the label for a number of years. The 'After Dark' compilation, released in 2007 was THE soundtrack for our friends and the London party scene we were in at the time.
Composers like Goblin, John Carpenter, Angelo Badalamenti, Brad Fiedel and of course, Vangelis had a huge impact on my musical taste.
While your new album 'Midnight Train' is a natural progression from the last record, there is undoubtedly an increased sound to it, especially in the use of your voice and the wider palette of instruments. What were the main inspirations behind this new record?
The first album is more a series of jams and this one is more considered. I think I got a little braver with my song writing for this album so there's more meat on the bone.
There's also the use of live drums on this album too, like on 'I'll Be Waiting' which does have a rather lovely floaty feel?
I wanted to introduce some live drums for this album. I asked my friend Joe Ryan to play and gave him a reference to make it sound like Bill Ward from BLACK SABBATH. When Joe plays drums, he's adding so music musically. His parts are so beautifully interesting. He helped me to create a back bone for what could be a light and fluffy song without drums. It makes a hypnotic and emotional ride.
Your sax style evokes Berlin-era Bowie, had those instrumentals like 'Subterraneans' and 'Neuköln' influenced you?
I'm heavily influenced by Bowie and Eno, mainly because they didn't worry about following the rules. It was strange music even back then but people trusted them as artists and listened and loved what they heard.
The dramatic sequence of 'Rabbit In The Headlights', 'Boadicea', 'Love Me Tonight' and 'Nightingale' could almost be considered movements of a much bigger piece, had the idea of a 10 minute track been the original concept?
Not really. The order of tracks wasn't decided until the very end.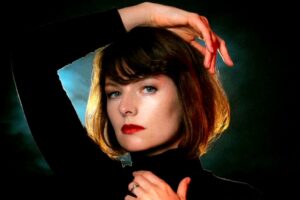 What inspired you to do 'Riders On The Storm'?
I've always loved this song. My dad had these amazing speakers he built and one rainy day when I was little, he sat me down and played that track and I fell in love the sound and memory of it. When I was writing this album, I thought I'd like to add some covers and 'Riders On The Storm' felt like a special tribute to my dad and his love for music.
There is more song-based material on 'Midnight Train'… some of it like the wonderful 'Rhapsody' comes across a bit like eerie avant garde Cyndi Lauper and that is meant as a compliment… how did that one come together?
I was asked to contribute to a SIOUXSIE & THE BANSHEES covers album that's coming out this summer and it gave me a chance to cover one of my favourite tracks. I loved it so much it had to go on the album.
'On Such A Clear Day' and the 'Midnight Train' title song, there are some great synth passages and arpeggios, what were you using to construct those?
I'm using the arpeggiator for some elements of those tracks. I like to write long instrumental tracks where you can explore themes and variations, just like in classical music. I'd love to hear these tracks played by an orchestra one day.
Both 'Human Again' and 'Midnight Train' are albums in the true sense, they have to be listened to all the way through, but do you have any personal highlights from either?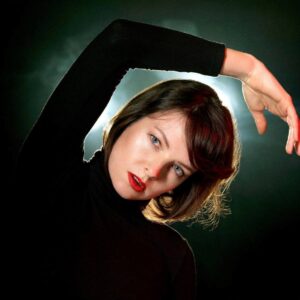 My favourites from 'Human Again' would have to be 'She Made Him Love Again' and 'Copper Bells'. Favourites from 'Midnight Train' are 'I'll Be Waiting', 'Riders On The Storm' and 'Rhapsody'.
With everything going on, it is difficult to make plans but what do you hope is on the cards for you in the future?
Since I've been off the road, I've been enjoying teaching saxophone and piano. I hope to keep writing and releasing music and play some live shows, too.
---
ELECTRICITYCLUB.CO.UK gives its warmest thanks to Jorja Chalmers
Special thanks to Frankie Davison at Stereo Sanctity
'Midnight Train' is released by Italians Do it Better in CD, vinyl LP and digital formats, available from https://jorjachalmers.bandcamp.com/album/midnight-train
https://italiansdoitbetter.com/jorja-chalmers/
https://twitter.com/jorja_chalmers
https://www.instagram.com/jorjachalmers/
https://open.spotify.com/artist/4AB4sOhd7x98tjAMB4SgNY
---
Text by Chi Ming Lai
Photos by Caitlin Mogridge, Karolina Paczkowska and Chi Ming Lai
2nd June 2021