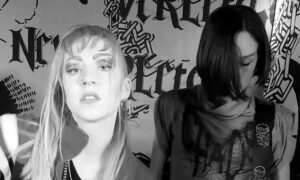 British duo CAPITAL X are back after their 2019 'Unlocked' album and with signs that the world can come out to play again, they are all 'Go!'…
With themes of strength in the face of adversity and calls to action, the gritty 'Go!' also comes in remixes from the likes of DAME BONNET and BISSSPUREN. There's a video filmed by James Knights as well.
Comprising of Ruth C and Julz J, their straight up slices of hard electro compliment their riotous attitude of empowerment, as exemplified by the feisty 'Stingray' which was included on the recently released 'Trans-Global Excess Volume 1' compilation from Specchio Uomo.
CAPITAL X chatted to ELECTRICITYCLUB.CO.UK about 'Go!' and becoming 'Unlocked'…
How have your attitudes changed since you released 'Unlocked', is that why things are all 'Go!'?
'Go!' is the only track to be taken outside the context of 'Unlocked'. We weren't going to lift any singles from the album, just concentrate on creating a series of videos for our favourite tracks 'Majesty', 'Teeth' and 'In Us We Trust'. The videos came out great and 'Unlocked' was released at the end of 2019, with a launch party at Madame Claude in Berlin to kick everything off. Then suddenly everything was cancelled, and we've been waiting along with everyone else in the scene for live shows to return.
'Go!' has become a perfect soundtrack to the anticipation and the sentiment fits perfectly with preparing for what's next, so it had to have its own release. It's a reminder to show the world what you're about and to never stop pushing.
How did the 'Go!' EP come together, were there any particular inspirations?
Since our first ever release 'Club Midnight', every single has had strong remix contributions. We like to reach out across genres and do something unexpected. We've worked with Steve Bond (CHIKINKI), CJ (THE WILDHEARTS), Maethelvin (VALERIE COLLECTIVE) and VICE SQUAD before, and wanted to keep to the idea of taking the track in different directions for 'Go!'
Our good mate Dame Bonnet gave us his atmospheric new wave post punk take on the track, and we flipped to something totally different with some techno from BISSSPUREN. 'Go!' also marks the first ever CAPITAL X release on lathe cut vinyl. Our merch is always limited edition, but for this one we only made one copy… it's out there somewhere!
Filming a video during the current conditions is not straightforward, how did you come up with the concept?
All three of the suite of videos from 'Unlocked' were made entirely by us, and although we've added visuals to a remix for this last one instead of the main track, it had to fit the set. If you like our trademark black-and-white chop-and-zooms and the idea of a one-woman garage techno party you're in for another treat.
---
ELECTRICITYCLUB.CO.UK gives its grateful thanks to CAPITAL X
Special thanks to James Knights
'Go!' is available as a download bundle from https://capitalxmusic.bandcamp.com/
https://www.facebook.com/capitalxmusic/
https://www.instagram.com/capitalxmusic/
---
Text and Interview by Chi Ming Lai
3rd June 2021