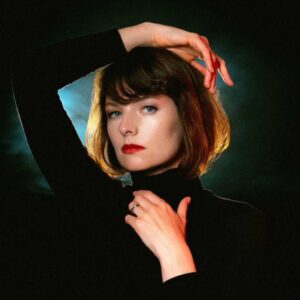 Although a seasoned musician as the sax and keyboard player for Bryan Ferry over the past 10 years, Australian multi-instrumentalist Jorja Chalmers did not release her first album until 2019.
Released by Italians Do It Better, 'Human Again' captured the lonely hotel room comedown after facing adulation from a concert crowd only hours earlier, a dark reality check swathed in largely improvised synths and sax. Jorja Chalmers' second album 'Midnight Train' develops on its predecessor and adds more refinement, structure and vocals, as well as perhaps unexpectedly three cover versions.
Constructed during lockdown in her spare room studio after she put her children to bed, the stark nocturnal atmosphere proved to be inspirational, capturing a decadent European mood not far off the instrumental suite on David Bowie's 'Heroes' album which itself was recorded in the then-divided Mauerstadt of Berlin.
Gentle synth introduces 'Bring Me Down', a marvellous and captivating opening waltz. "It's about the fragility of the perfect housewife" said Chalmers, "It's basically about a woman that's trying to be everything, and is cracking psychologically". By inhabiting that persona away from her own domestic bliss, it harks back to the stylish artifice of classic pop; after all David Bowie did not actually come from outer space and Gary Numan was not a real android. In these days where authenticity is over-craved, this element of imagination and role play (which is lauded in acting but often dissed in music) is most welcome.
Bringing in the extra dimension of live drums from Joe Ryan and expressive sax straight out of 'Neuköln', 'I'll Be Waiting' signifies that this album is indeed a refined progression of 'Human Again'. Then the next section of tracks acts like a four movement suite…
With minimal bass pulses and sporadic percussion, 'Rabbit In The Headlights' is given resonance by Chalmers' appealing voice that comes over like a avant garde Cyndi Lauper; then her slinky multi-tracked sax harmonies takes centre stage. Seamlessly merging into Enya's 'Boadicea', the windy air and unusual shuffle presents an otherworldly interlude before the arpeggio laced 'Love Me Tonight' offers place for a vulnerable soprano and powerful drums that manage not to overblow the atmosphere. The suite concludes with the eerie sax collage ambience of 'Nightingale'.
Then there's a wonderfully ghostly reinterpretation of 'Riders On The Storm'. Known as the last song recorded by all four members of THE DOORS with lyrics inspired by the spree killer Billy Cook, the sinister overtones are conveyed while smothered in reverb, reflecting human existence at its most basic disturbed state.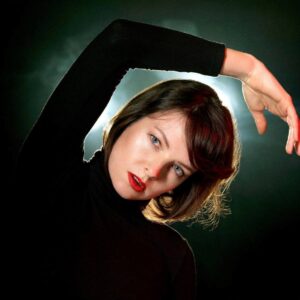 The superb take on SIOUXSIE AND THE BANSHEES 'Rhapsody' off their ninth album 'Peepshow', uses an intriguing electronic warble within its stripped down arrangement; from its claustrophobic cocoon, Chalmers sounds trapped in an unsettling icy soundscape of synthetic strings and choirs.
'The Poet' instrumental evokes more Berlin-era Bowie before leading into 'The Wolves Of The Orangery', a song that retains that air of mystery while being hypnotically alluring. Playing with a sequence of modulars, 'On Such A Clear Day' sweeps and bends in homag to German electronic exponents like Klaus Schulze and Wolfgang Riechmann.
The 'Midnight Train' title song is a more sedate variation on the theme of 'I'll Be Waiting' before the speedy sequences return as the backbone like a more understated 'On The Run' for the 21st Century. 'Underwater Blood' acts as the abstract if hypnotic closing instrumental with cascading keys that leaves the listener wanting more.
Mixed by Dean Hurley, who is best known for his work with David Lynch including 'Twin Peaks: The Return' and DURAN DURAN's 'Unstaged', 'Midnight Train' is a shimmering and elegant body of work with the right balance of darkness and light. With surreal cinematic unease sitting side-by-side with arthouse glamour, it is a transcendent triumph that is the running to be one of the best albums of 2021.
---
'Midnight Train' is released on 28th May 2021 by Italians Do it Better in CD, vinyl LP and digital formats, available from https://jorjachalmers.bandcamp.com/album/midnight-train
https://italiansdoitbetter.com/jorja-chalmers/
https://twitter.com/jorja_chalmers
https://www.instagram.com/jorjachalmers/
---
Text by Chi Ming Lai
Photos by Caitlin Mogridge
24th May 2021