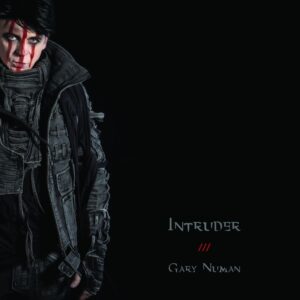 Herr Numan ist zurück…
Gary Numan began his recording career in 1978,  but the electronic pioneer has been celebrating great victories with his last few releases, satisfying his die-hard fans as well as gathering new younger audiences, partially by introducing his daughters to the mix, alongside cult collaborators like IAMX.
Continuing to crowdfound his endeavours to successfully finance the enterprise and while also giving his followers a tasty insight into his artistic processes, the daddy of synth brings out his latest long player 'Intruder'.
While its predecessor, 'Savage' depicted a deserted post-apocalyptic world, clad in darkness, 'Intruder' delves into the planet's feelings upon the destruction humanity causes. "The planet sees us as its children now grown into callous selfishness, with a total disregard for its well-being" Numan said, "It feels betrayed, hurt and ravaged. Disillusioned and heartbroken it is now fighting back. Essentially, it considers human kind to be a virus attacking the planet. Climate change is the undeniable sign of the Earth saying enough is enough, and finally doing what it needs to do to get rid of us, and explaining why it feels it has to do it."
With this in mind, Numan introduces a different feel from 'Splinter' and 'Savage', still produced by Ade Fenton, who aims to deliver "what Gary wants". The opus also features Elizabeth Bernholz and Gorkem Sen, who remotely worked their magic to enrich the production.
The eponymous single, with a video directed by Chris Corner aka IAMX once more, was the first song Numan shared with the audiences, at first struggling to find the appropriate chorus. The tale of the planet tired of being perpetually misused, rid of its resources and raped tirelessly by human kind, now fighting back is what he presents here. While musically not too dissimilar to his last two releases, the track is melodic and airy, retaining the adequate amount of heavier elements to ground it down, almost emulating the Camel Pose in yoga; being pulled from the heart, still very much attached to the source.
'I Am Screaming', alongside the classic Numan-esque sound of the electric piano, welcomes the Turkish musician Gorkem Sen, who brings the ethnic instrument of the Yaybahar into the mix. The use of this unique addition introduces quite an alien element into this electronic ballad, which is also quite poppy at times, wholesomely rounded by his haunting vocals.
Further Eastern influences can be palpable on 'Saints & Liars', while the cleverly cut 'Now & Forever' snips through the Earth's funeral march with sparsely placed elements. Although gloomy, there's hope here, accented with warm female vocal over lustrous synth. The song has double meaning, also being a love offering to his wife, as well as being a requiem for the dying planet.
Elizabeth Bernholz aka GAZELLE TWIN features on 'The End Of Dragons' bringing her uniqueness and melancholy. The track, in two versions, is otherworldly, eerily filmic and bursting with melody, possibly the most accomplished on the album.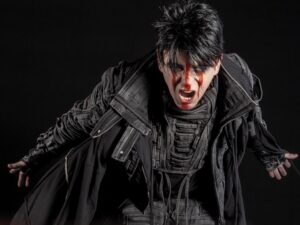 The opening track 'Betrayed' with its off beat rhythm and wistful vocals, meanders in and out of consciousness, while the gritty 'Is This World Not Enough?' pumps the energy out into the damaged atmosphere. 'The Gift' with a further contribution from Gorkem Sen, retains the Eastern influences, weaving in and out of the gloomy rhythm.
A beautifully executed piano sequence ushers in 'A Black Sun', filled with fabulous sounds throughout, just to wrap up gently in a more classical way.
'The Chosen', in opposition, is fast paced and filled with pleading messages; Numan attacks again and again, just to progress to 'And It Breaks Me Again'. This slower paced piece nods to the classic tonality of the electronic master, leading to pushy and driven 'When You Fall'.
Numan, brilliantly engaging with his audiences, not only through the crowd funding, but his social media too, has proven that even a weathered artist can attract new blood. His honest and down to earth persona, the tight family and friendships with talented collaborators attract many, who will willingly place three red stripes down their faces and let it go viral.
And on top of that, the new album is not too shabby either!
---
'Intruder' is released by BMG in a variety of formats
Gary Numan 2022 UK and Ireland tour dates include:
Cardiff University Great Hall (28th April), Bristol O2 Academy (30th April), Brighton Centre (1st May), Birmingham O2 Institute (2nd May), Bournemouth O2 Academy (5th May), Plymouth Pavilions (6th May), London Wembley SSE Arena (7th May), Edinburgh Corn Exchange (9th May), Glasgow O2 Academy (10th May), Newcastle O2 City Hall (11th May), Leeds O2 Academy (12th May), Northampton Royal & Derngate (14th May), Norwich UEA (15th May), Nottingham Rock City (16th May), Manchester Albert Hall (18th May), Sheffield O2 (20th May), Dublin Olympia (24th May)
https://www.facebook.com/GaryNumanOfficial/
https://twitter.com/numanofficial
https://www.instagram.com/garynuman/
https://open.spotify.com/album/19yUEGYFCaXyuiI9wPZ0fL
---
Text by Monika Izabela Trigwell
21st May 2021