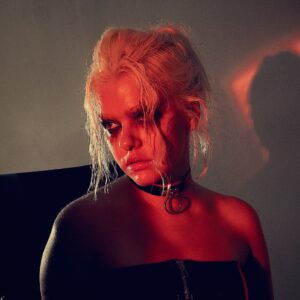 After JOON and BARK BARK DISCO from Malta along with DLINA VOLNY from Belarus, Italians Do It Better venture further east across Europe to Russia for its next long playing adventure.
Russian duo LOVE OBJECT first appeared on the 2020 compilation 'After Dark 3' with 'Holodnoe Solnce' while they also appeared on their label's self-titled in-house collection of Madonna covers with a deadpan mechanical take on 'Frozen'. Now as 2021 concludes, they have their debut album 'New Flesh'. Comprising of singer / DJ Dasha Utochka and producer Danya Mu, LOVE OBJECT are about mind and control, producing electronic noir pop with a stark dancefloor friendly backbone.
An erotic overtone lingers over LOVE OBJECT, perhaps unsurprising when it is learnt that Utochka is a co-founder of a magazine entitled 'Areola' whose mission statement is "To help people become more liberated and freethinking!". With an appealing allure, opening song 'The Kill' explores what a funkier 'Music For The Masses' era DEPECHE MODE might have sounded like fronted by an robotised Russian goth girl.
Appropriately, a song actually called 'Robot' is more KRAFTWERK-like with a vocodered presence and a colder machine mood but the catchy electroclash of 'Abyss' thumps wildly as its close cousin 'Animals' utilises octave shifts at the bottom end to recall LADYTRON.
The doomer hip-hop vibe of 'Virus' is rather on point and features a harsh rap of truths that comes over apocalyptic while without raising a smile, 'Circus' is supercharged industrial pop but still embroiled in mystery.
'Object of Desire' (which was the duo's original name in Russian) deviates rhythmically into looser stuttering techno and a deep narration from Mu before Utochka takes over. Meanwhile, 'No Smiling' is allowed as a sombre bass sequence that could be DAF takes hold with the enigmatic vocal akin to Miss Kittin reading Cyrillic script.
Closing with the frantic 'Transparent Woman', this speedy slice of tech-pop burlesque is laced with an unsettling vocal presence in a contrast of ghostly and almost sweet treated deliveries. With percolating percussive metallics, overall it musically recalls Ferry Corsten in his full SYSTEM F pomp.
Like midnight undressing, 'New Flesh' is sinister dance music for after dark and embroiled a twisted detachment that will appeal to those who miss the gritty synthcore hedonism led by the likes of FISCHERSPOONER and TIGA just over two decades ago.
---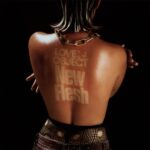 'New Flesh' is released by Italians Do It Better on 3rd December 2021 via the usual online platforms
https://italiansdoitbetter.com/love-object/
https://www.facebook.com/theloveobject/
https://www.instagram.com/the.love.object/
---
Text by Chi Ming Lai
1st December 2021